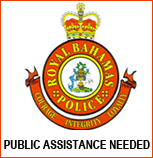 Freeport, Grand Bahama - Police in Grand Bahama need your assistance in locating the culprits, who robbed a business establishment on East Sunrise Highway, Grand Bahama.




Reports are that shortly before 2:00am on Sunday 13th May 2018, police were called to a business establishment on East Sunrise Highway that was reportedly held up and robbed by two culprits armed with firearms. The culprits then robbed the establishment of an undetermined amount of cash before making good their escape on foot.

Police are actively investigating these matters and are appealing to the general public for any information that they can give, to call them at telephone numbers 350-3107 thru 12, 911/919 or contact your nearest police station.





POLICE ARE APPEALING TO ANYONE WITH INFORMATION REGARDING ANY CRIME, NO MATTER HOW SMALL OR INSIGNIFICANT (THE TIP) MAY SEEM, TO ANONYMOUSLY CALL POLICE AT 919 OR CRIME STOPPERS AT 328-TIPS (8477) (NEW PROVIDENCE) OR 1-242-300-8477 (FAMILY ISLANDS





CRIME PREVENTION TIPS – CONFLICT RESOLUTION



Look for ways to settle arguments and disagreements without violence. Remember: if you resort to violence to settle disputes, a child may well follow your example. Be a good role model.
Use good manners to help ease tensions that can lead to violence. Teach kids that showing respect for themselves and for the needs of others can prevent crime.