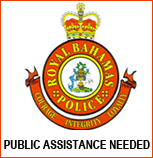 Reports are that on Wednesday 17th July 2019, shortly after 8:00am, police were called to a business establishment on East Beach Drive where the body of a female with stab wounds was discovered in the trunk of a vehicle. Emergency Medical Personnel were called to the scene and reported no signs of life.




Police are aggressively investigating this matter and are appealing to the general public for any information that can assist with this investigation, to contact them at telephone numbers 350-3107 thru12, 911/919 or call your nearest police station.





POLICE ARE APPEALING TO ANYONE WITH INFORMATION REGARDING ANY CRIME, NO MATTER HOW SMALL OR INSIGNIFICANT (THE TIP) MAY SEEM, TO ANONYMOUSLY CALL POLICE AT 919 OR CRIME STOPPERS AT 328-TIPS (8477) (NEW PROVIDENCE) OR 1-242-300-8477 (FAMILY ISLANDS) OR THE CENTRAL DETECTIVE UNIT AT 350-3106/12.




PERSONAL SAFETY TIPS -
Think about your safety before you leave home; make sure someone knows where you are going, who you are with and what time you are likely to return.
Fully charge your mobile phone and keep it with you so you can keep in contact with your friends and family and ring police should you need to.
Walking home in the dark is never a good idea, but if you absolutely must, try to walk with a friend, keep no busy, well-lit roads even if it means taking a longer route.
If you think someone is following you, go to the nearest place where there are people and ask for help, or, if you can't find somewhere or you are worried about someone's behaviour towards you in any way, call 919
Don't be afraid about being wrong or over-reacting; the Police would rather be called only to find that all is well, than be dealing with an incident because someone was afraid of calling them.
Always try to be aware of what and who is around you and avoid putting yourself in a potentially dangerous situation.
And remember, it might not be you that is in danger - if you see anything you think is suspicious call the police - better safe than sorry!