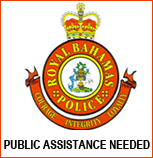 POLICE IN GRAND BAHAMA ARE INVESTIGATING AN ARMED ROBBERY THAT OCCURRED OVERNIGHT


Freeport, Grand Bahama - Reports are that on Sunday 12th May 2019 shortly after 1:00am, police were called to a residence in Queens Cove, where it was reported that two armed males entered a home and robbed a male occupant of personal items and cash before making good their escape.





Police are actively investigating this matter and are appealing to the general public for assistance with any information, no matter how miniscule the information may be, you can call the Central Detective Unit here in Grand Bahama at 350-3107 thru12, 911/919 or call your nearest police station.




SIGNIFICANT ARREST IN THE NORTHERN DISTRICT




Officers of the Northern District inclusive off Grand Bahama and Abaco, in the past twenty four hours made a number of arrest of person wanted by the Magistrate Court for outstanding warrants in New Providence and Grand Bahama.




The Royal Bahamas Police Force especially here in the Northern District, would like to take this opportunity to thank members of the community, who partner with us daily in the fight against crime.




CRIME PREVENTION TIP - CONFLICT RESOLUTION



Look for ways to settle arguments and disagreements without violence. Remember: if you resort to violence to settle disputes, a child may well follow your example. Be a good role model.
Use good manners to help ease tensions that can lead to violence. Teach kids that showing respect for themselves and for the needs of others can prevent crime.