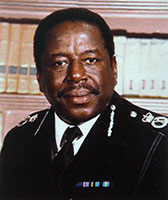 Military Funeral

Road Closures

- Nassau, Bahamas - Full Military Funeral for the Late Bernard Kenneth Bonamy Sr. CMG, LVO, QPM, LL.B, CLE, Commissioner of Police (Retired), will be held at 11:00 am on Friday 8th March, 2013 at St. Francis Xavier Cathedral, West Street.Police wish to inform that during the funeral the following roads will be closed.
Commencing at 7:00am until the conclusion of the service the following streets will be close to vehicular traffic.WEST STREET – BOTH LANES, (Between Meeting Streets to Virginia Street) WEST HILL STREET – BOTH LANES, (Between Blue Hill Road to West Street) AUGUSTA STREET – BOTH LANES, (Between Virginia Street and Meeting Street) DELANCEY STREET - BOTH LANES, (Between West Street and Augusta Street)
From 12:30 pm until after the motorcade passes the following streets will be closed to vehicular traffic:-BAILLOU HILL ROAD between Dillet Street and Cumberland Street SCHOOL LANE between Market Street and Baillou Hill Road CUMBERLAND STREET between Balliou Hill Road And Marlborough Street BAY STREET between Navy Lion Road and East Street.
EAST STREET between Bay Street and Gaol Alley.
From 2:00 pm until after the parade passes, the following streets will be closed to vehicular traffic:- John. F. Kennedy Drive between Prospect Ridge and Gladstone Road and Gladstone Road between John F. Kennedy Drive and Bahamas Waste.
Additional information regarding traffic diversion can be obtained by visiting our webite www.royalbahamaspolice.org.
Murder & armed robbery suspects arrested - In keeping with the Commissioner of Police 2013 Policing Plans, "Tackling Crime, Reducing violence and driving down the fear of crime, police throughout New Providence conducted an operation which targeted prolific offenders.The operation was conducted between the hours of 4:00 pm and 11:00 pm on Wednesday 6th March, 2013 and targeted the communities of Grants Town, Kemp Road, Nassau Village and Carmichael Road.
The operation resulted in forty- eight (48) persons being arrested and two (2) clubs located on Lazaretta Road, being shut down.
Twenty-seven (27)people were arrested for questioning reference to Armed Robbery

Eight (8) people arrested for questioning reference to Murder

Eight (8) people reference to Shooting

Five (5) males Possession of Dangerous Drugs
TODAY'S CRIME TIP: If you are driving and feel that you are being followed remain calm and use common sense. Check to make sure that your doors and windows are locked and contact the police, providing them with a good description of the vehicle.
Don't show signs of fear like speeding up and trying to lose the suspect or the vehicle. Additionally, do not drive to your residence. Drive to the nearest police station.