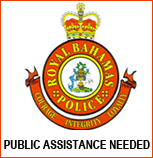 Nassau, Bahamas - Police on New Providence are actively investigating the circumstances surrounding a shooting incident Friday, 20th March, 2020 which has left an adult male dead.





According to reports, shortly after 3:00am, three men were standing outside a home on Albatross Road, Stapledon Gardens, when a silver vehicle pulled up. A male exited the vehicle, armed with a firearm, and shot one of the men, before getting back into the vehicle and speeding away. Paramedics were called to the scene, however; they were unable to revive the victim. He was pronounced dead at the scene.




Police are appealing to members of the public, who may have information that can assist with this investigations, to contact the Central Detective Unit at 502-9991/2, Crime stoppers at 328-TIPS (8477) or the nearest police station.





15 FIXED PENALTY NOTICES ISSUED TO DRIVERS BY MOBILE

DIVISION OFFICERS IN PAST 24 HOUR





Officers from the Mobile Divisions conducted road checks in various parts of the island. Their efforts, which were intended to educate, reduce crime, and to minimize the ability of criminals to commit criminal activity, resulted in the arrest of one (1) person for Damage the past 24 hours.





Additionally, 15 drivers were ticketed for various traffic violations.




CRIME PREVENTION TIP OF THE WEEK

- If a crime occurs – report it! Everyone should consider it his/her responsibility to report crime. Many criminals target favorite areas and have predictable methods of operation. When you report all the facts about a crime, it helps the police assign officers in the places where crimes are occurring or where they are most likely to occur. If you don't report crime, this allows the criminal to continue to operate without interference.




In many cases, it is the information provided by victims and witnesses that leads to the arrest of a criminal. So tell the police as much as you can; no fact is too trivial. The police need the eyes and ears of all citizens.