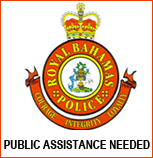 POLICE INVESTIGATES ARMED ROBBERY
Nassau, Bahamas - Police on New Providence are seeking the public's assistance in identifying and locating the men responsible for an armed robbery, which occurred Wednesday, 4th December, 2019.
According to reports, shortly after 6:00pm, two men armed with firearms entered a convenience store on Peardale Road off Wulff Road, held an employee at bay and robbed the establishment of cash, before making good their escape in the community.
Investigations are ongoing.
ARMED ROBBERY SAFETY TIPS –
PERSONNEL SAFETY FIRST! MONEY AND MERCHANDISE ARE NOT IMPORTANT AND CAN BE REPLACED
Stay calm and don't resist.
Do as instructed and don't make sudden moves.
Keep your hands visible at all times.
Get a look at the robber if possible, but don't stare.
Activate the alarm only when it's safe to do so.
If possible, get a look at the robber's vehicle and the direction travel.
Do not follow the robber.
Install surveillance cameras and ensure that they are in working condition