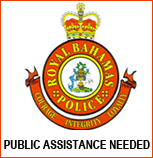 POLICE INVESTIGATES ARMED ROBBERY





Nassau, Bahamas - Police on the island of New Providence are seeking the public assistance in identifying and locating three male suspects believed to be responsible for committing an armed robbery which occurred on Friday 29th May 2020.




According to reports, shortly after 5:00pm, a female while parked on East Bay Street, when a light blue Nissan Cube pulled in front of her with three occupants. One of the males armed with a handgun, exited the vehicle and approached her, then robbed her of a 2017 silver Chevrolet Silverado truck. Both vehicles left the area heading in an eastern direction.





POLICE RECOVERED ILLEGAL FIREARM





The efforts of the men and women of the Royal Bahamas Police Force has led to the discovery and removal of an illegal firearm from the streets of New Providence.

According to reports, shortly before 9:00pm, officers from the Mobile Units, while patrolling on Davis Street became suspicious of a male walking along a track road. On seeing the officers, the suspect fled on foot. The officers chased the suspects, while doing so, officers discovered a black CP-X 9mm pistol with three unfired rounds of ammunition. The suspect was able to make good his escape.





Police are appealing to members of the public, who may have information that can assist with these investigations, to contact the Central Detective Unit at 502-9991/2, Crime stoppers at 328-TIPS (8477) or the nearest police station

Investigations are ongoing.





Please visit the Royal Bahamas Police Force Website at www.royalbahamaspolice.org or Facebook page at www.facebook.com/rbpforce for Latest News, Daily Crime Reports and additional Crime Prevention Tip.