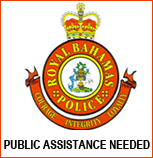 POLICE ARE INVESTIGATING THE COUNTRY'S LATEST HOMICIDE.
Nassau, Bahamas - Police on New Providence are investigating a shooting incident, Tuesday, 13th August, 2019 which has left an adult male dead and two others with injuries.
According to reports, shortly before 6:00pm, a group of persons were sitting in a yard on Amos Ferguson Street off Palmetto Avenue, Coconut Grove, when they were approached by two armed men who opened fired in their direction, injuring three of them, before making good their escape. One man was pronounced dead on scene, while the other two were transported to hospital and listed in stable condition.

Police are appealing to members of the public, who may have information that can assist with this investigation, to contact the Central Detective Unit at 502-9991/2,

Crime stoppers at 328-TIPS (8477) or the nearest police station.
Investigations are ongoing.
SAFTEY TIPS FOR MOTORISTS
Slow down and obey ALL traffic laws and speed limitsSpeed limits in school zones is 15 MPH from 7:30am to 9:00am and 2:30pm to 4:00pm
Be extra cautious around school crossing areas
When driving in school zones or in neighbourhoods, watch for children who may be in a hurry to get to school and may not be thinking of their safety
Watch for children walking in the street, especially where there are no sidewalks. Be alert and ready to stop.
Always stop for a school bus or jitney that has to stop to load or unload passengers.
Before entering a pedestrian crossing area, be sure there are no children in the lane or adjacent lanes.
When passing a parked vehicle, check for children who may run into the street
Allow children waiting at a pedestrian crossing to cross the street
BACK TO SCHOOL SAFETY TIPS FOR STUDENTS
Find an easy way to walk to and from school or the bus stop and use the same route every day.Always walk with a brother, sister, neighbour or friend or with other students. Strength is in numbers.
Don't talk to strangers, don't go anywhere with them or take anything from them. If a stranger approaches, tell your parents or a trusted adult such as a teacher.
Never get into a vehicle with a stranger, or with anyone without your parents' permission.
Look both ways before crossing the street.
Never run into the street from between parked cars.
Know you parents full name, your parents telephone numbers and your address (street name and house number). If you have trouble remembering them, write them down and keep in a safe place.
POLICE ARE APPEALING TO ANYONE WITH INFORMATION REGARDING THIS OR ANY CRIME, NO MATTER HOW SMALL OR INSIGNIFICANT (THE TIP) MAY SEEM, TO ANONYMOUSLY CALL POLICE AT 919 OR CRIME STOPPERS AT 328-TIPS (8477) (NEW PROVIDENCE) OR 1-242-300-8477 (FAMILY ISLANDS)