Last Updated:

Nov 6, 2017 - 10:19:42 AM
---
RBPF Nassau: Police searching for a 4 armed robbery suspects - Seize another illegal gun, 2 males in custody -14 arrested, 18 drivers ticketed


By Stephen Dean RBPF
Nov 6, 2017 - 9:25:39 AM


Email this article
Mobile friendly page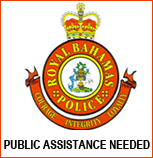 POLICE SEARCHING FOR A FOUR ARMED ROBBERY SUSPECTS

Nassau, Bahamas - Police are searching for four males responsible for an armed robbery that occurred on Monday 6th November 2017.

According to reports, shortly after 12:00am, a man had just pulled up at his home located at Yorkshire Drive, when four males armed with firearms in a white Hyundai jeep approached and robbed him of his 2012 Mercedes Benz license plate # AM9605 before speeding off.

Investigations are ongoing.

POLICE SEIZE ANOTHER ILLEGAL GUN, TWO MALES IN CUSTODY

According to reports, shortly after 8:00pm, Drug Enforcement Unit officers, acting on intelligence went to Gambier Village where they accosted two males who aroused their suspicion. The two males along with a Honda vehicle were searched and a Taurus pistol with three rounds of ammunition was found inside the vehicle. The two males were subsequently taken into custody.

14 ARRESTED, 18 DRIVERS TICKETED BY MOBILE DIVISION OFFICERS DURING 24 HOURS PERIOD

Mobile Division targeted patrols intended to reduce crime, and to minimize the ability for criminals to commit criminal activities, has resulted in the arrest of twenty (14) persons during the past 24 hours for, murder, armed robbery, armed robbery, stealing, firearms, causing harm and outstanding court warrants. Additionally, 18 drivers were ticketed for various traffic violations.

POLICE ARE APPEALING TO THE PUBLIC TO SHARE INFORMATION ON ANY
ILLEGAL/SUSPICIOUS ACTIVITIES IN THEIR COMMUNITIES, NO MATTER HOW SMALL OR INSIGNIFICANT (THE TIP) MAY SEEM, MEMBERS OF THE PUBLIC ARE URGED TO ANONYMOUSLY CONTACT THE POLICE AT 919 OR CRIME STOPPERS AT 328-TIPS (8477) (NEW PROVIDENCE) OR 1-242-300-8477 (FAMILY ISLANDS)

CRIME PREVENTION TIP OF THE WEEK - If a crime occurs – report it!

Everyone should consider it his/her responsibility to report crime. Many criminals target favorite areas and have predictable methods of operation. When you report all the facts about a crime, it helps the police assign officers in the places where crimes are occurring or where they are most likely to occur. If you don't report crime, this allows the criminal to continue to operate without interference.

In many cases, it is the information provided by victims and witnesses that leads to the arrest of a criminal. So tell the police as much as you can; no fact is too trivial. The police need the eyes and ears of all citizens.






© Copyright 2017 by thebahamasweekly.com

Top of Page