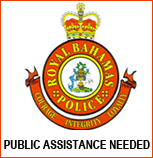 POLICE SEEK PUBLIC'S HELP IN SOLVING ARMED ROBBERIES



Nassau, Bahamas - Police are asking members of the public to come forth with any information they may have in solving an armed robbery which occurred on Thursday, 22nd February, 2018.

Shortly after 11:00pm a man was sitting in his vehicle, a Nissan Volk, at Lincoln Boulevard, when he was approached by two males armed with a firearms. The gunmen ordered him from the vehicle, robbed him of cash, before getting into his vehicle and speeding off.

Investigations are ongoing.



ILLEGAL FIREARM RECOVERED



Thanks to members of the public and the dedicated work of the men and women of the Royal Bahamas Police Force, officers were successful in recovering two firearms from the streets of New Providence.


In the first incident, shortly before 1:00pm, Thursday, 22nd February, 2018, Drug Enforcement Officers, acting on information went to Carmen Close, South Beach, where they saw a group of men gathered. Upon seeing the officers, the men ran from the area. Officers conducted a search of the area where the men were standing and recovered a

9 millimeter pistol and 4 rounds of ammunition

.

In the second incident, shortly before 3:00pm, Drug Enforcement Officers went to Dunmore Street off Baillou Hill Road, conducted a search of an unoccupied building and recovered a

9 millimeter pistol and 10 rounds of ammunition

.

No arrests were made in these matters.




DANGEROUS DRUG RECOVERED



Shortly after 7:00om on Thursday, 22nd February, 2018 South Central Division officers, acting on information, went to Derby Road, Yellow Elder Gardens, conducted a search of a bushy area and recovered a quantity of marijuana. No arrest was made in this matter.

Weight: 9.2 pounds.

POLICE ARE APPEALING TO ANYONE WITH INFORMATION REGARDING ANY CRIME, NO MATTER HOW SMALL OR INSIGNIFICANT (THE TIP) MAY SEEM, TO ANONYMOUSLY CALL POLICE AT 919 OR CRIME STOPPERS AT 328-TIPS (8477) (NEW PROVIDENCE) OR 1-242-300-8477 (FAMILY ISLANDS)

WEEKLY CRIME TIP – IF YOU SEE OR SUSPECT A CRIME IS BEING COMMITTED; PAY PARTICULAR ATTENTION TO THE FEATURES OF THE OFFENDER/S AND ANY VEHICLES INVOLVED.