Last Updated:

Feb 24, 2018 - 12:13:02 PM
---
RBPF Nassau: Police seek public's help in solving country's latest homicide - Illegal firearm and dangerous drugs recovered, 1 male in custody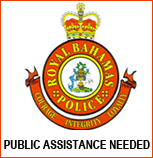 POLICE SEEK PUBLIC'S HELP IN SOLVING COUNTRY'S LATEST HOMICIDE

Nassau, Bahamas - Police are searching for the suspects responsible for a shooting incident on Friday, 16th February 2018, which has left two males dead.

According to reports, shortly after 8:00pm, a group of men were gathered under a car port at a residence on Saffron Street, Pinewood Gardens, when two men drove up to the residence on a scooter. Both men were armed with firearms. They pointed the weapons at the men gathered and fired at them, hitting three of them, before fleeing on foot. Paramedics were called to the scene and transported two of the men to hospital in serious condition. A third man was confirmed dead on scene. A short time later, a second male was pronounced dead at the hospital.

Investigations are ongoing.

ILLEGAL FIREARM AND DANGEROUS DRUGS RECOVERED, 1 MALE IN CUSTODY

Shortly before 8:00am on Friday, 16th February, 2018 officers from Drug Enforcement Unit, acting on information, conducted a search of a home on Market Street and recovered two AK-47 Rifles, 71 rounds of ammunition and a large quantity of marijuana and Hashish.


One adult male was taken into custody and is expected to be formally charged before court next week.

Weight of the drugs: Hashish - 15.4 pounds Marijuana: 2 pounds

REGARDING ANY CRIME, NO MATTER HOW SMALL OR INSIGNIFICANT (THE TIP) MAY SEEM, TO ANONYMOUSLY CALL POLICE AT 919 OR CRIME STOPPERS AT 328-TIPS (8477) (NEW PROVIDENCE) OR 1-242-300-8477 (FAMILY ISLANDS)

PREVENTION CRIME TIP – IF YOU SEE OR SUSPECT A CRIME IS BEING COMMITTED; PAY PARTICULAR ATTENTION TO THE FEATURES OF THE OFFENDER/S AND ANY VEHICLES INVOLVED.






© Copyright 2018 by thebahamasweekly.com

Top of Page