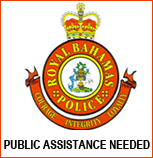 POLICE ARE INVESTIGATING THE COUNTRY'S LATEST


HOMICIDE.





Nassau, Bahamas - Police on New Providence are actively investigating the circumstances surrounding a shooting incident Monday, 17th February, 2020 which has left an adult male dead.



According to reports, shortly before 8:00pm, a man was standing in front of a home on Toote Shop Corner off East Street, when a Honda vehicle pulled next to him. An armed man came from the vehicle and shot the victim before getting back into the vehicle and speeding away. Paramedics were called to the scene; however, the injured man was pronounced dead on scene. No one else was injured during this incident.





Police are appealing to members of the public, who may have information that can assist with this investigations, to contact the Central Detective Unit at 502-9991/2, Crime stoppers at 328-TIPS (8477) or the nearest police station.





Investigations are ongoing.




POLICE INVESTIGATES ARMED ROBBERY




Police on the Island of New Providence are seeking assistance in identifying and locating two men responsible for an armed robbery which occurred Monday, 17th February 2020.




According to reports, shortly after 11:00am, two armed men, forced their way into a home on Baillou Hill Road, held the loan occupant at bay and robbed him of a cell phone, before running away.





No injuries were reported during this incident. Investigations are ongoing.




98 FIXED PENALTY NOTICES ISSUED TO DRIVERS BY


TRAFFIC DEPARTMENT OFFICERS IN PAST 12 HOUR





Officers from the Traffic Department conducted road checks in various parts of the island on Monday, 17th February, 2020. Their efforts, which were intended to educate, reduce crime, and to minimize the ability of criminals to commit criminal activity, resulted in 98 drivers being ticketed for various traffic violations including failing to keep left and driving in access of the speed limit and driving unlicensed vehicles.




Think about your safety before you leave home; make sure someone knows where you are going, who you are with and what time you are likely to return.
Fully charge your mobile phone and keep it with you so you can keep in contact with your friends and family and ring police should you need to.
Walking home in the dark is never a good idea, but if you absolutely must, try to walk with a friend, keep no busy, well-lit roads even if it means taking a longer route.
If you think someone is following you, go to the nearest place where there are people and ask for help, or, if you can't find somewhere or you are worried about someone's behaviour towards you in any way, call 919
Don't be afraid about being wrong or over-reacting; the Police would rather be called only to find that all is well, than be dealing with an incident because someone was afraid of calling them.
Always try to be aware of what and who is around you and avoid putting yourself in a potentially dangerous situation.
And remember, it might not be you that is in danger - if you see anything you think is suspicious call the police - better safe than sorry!