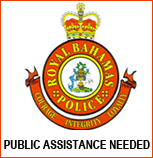 Nassau, Bahamas - Police on the island of New Providence are investigating a drowning incident which occurred on Thursday 2nd July 2020.




According to reports, shortly after 3:00pm, a male was swimming on Goodmans Bay along with others, when he began to tire and ingest sea water. One of his companions managed to assist him to the shoreline and performed cardiopulmonary resuscitation. However, the male was unresponsive. Emergency Medical Services was summoned and following their examination of the body they found no visible signs of life. Investigation into this matter continues.





Police are appealing to members of the public, who may have information that can assist with our investigations into this incident and other criminal matters, to contact the Criminal Investigation Department at 502-9991/2, Crime stoppers at 328-TIPS (8477) or the nearest police station




Please visit the Royal Bahamas Police Force Website at www.royalbahamaspolice.org or Facebook page at www.facebook.com/rbpforce for Latest News, Daily Crime Reports and additional Crime Prevention Tips.