From the earliest days Wallace Groves the founder of Freeport was ably assisted by the redoubtable Keith Gonsalves who was attracted away from a very senior position with Barclays Bank. One of the earliest residents of Freeport was Doug Silvera who yo-yoed between Freeport Construction Company and the Port Authority doing sterling work for both companies. Newly arrived from Nassau and having left a senior position with the Royal Bahamas Police was Albert (later Sir Albert) Miller OSMG who initially did fine service with tourist promotion worked his way up to being appointed as one of three Co-Chairmen of the Port and its associated companies. Sir Albert was recognized for his exceptional organizational abilities and was later made, while still with the Port Authority, president of BEC and Batelco two major Bahamian utilities based in Nassau.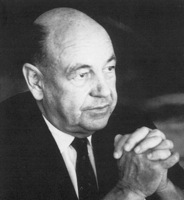 Wallace Groves


In 1965 Groves employed Martin Dale an economist who was formerly economic advisor to Prince Rainier of Monaco. He did not stay on the island for long. The incorrigible ex-Royal Artillery Major 'Bernie' Bernard (who was understandably quite deaf) was Corporate Secretary of the Port Authority in the early days and Ray Tower was the aggressive legal counsel who overstepped the bounds and challenged the new government's policy towards Freeport. He was soon on a plane back to Canada. Major Bernard too had to leave and took up a short-lived position as the CEO of an Australian development company in the South Seas. He finally ended up working in Hong Kong. At the time there were a bunch of American executives who worked mainly for the Development Company. General Fisher, a retired USAF airman, being prominent among them. Another of them, Ken Catren, had an untimely death and was buried at the Garden of the Groves. All of them left the island shortly after majority rule.

There were shady characters too, some of whom came to work with the El Casino at the invitation of 'Big' Lou Chesler. The shenanigans of these people has been ably recorded by an occasional visitor to the island from Massachusetts on his website: www.jabezcorner.com/Grand_Bahama/month2.htm

George Kates was the dynamic president of the Grand Bahama Development Company (Devco) for a time and, under his wing Albert Grey, rose to prominence in the company. Kates oversaw a giant land sales programme in Lucaya and, to simplify the paperwork involved in selling to US residents, the Devco land was accepted as being, for all intents and purposes, part of the United States! Horace Gay was in charge of public landscaping and with a budget of millions was able to soften the streetscape of Freeport/Lucaya. After Ray Tower left Michael Boyce took over the legal reins working for a short time with Willie Moss as legal counsel. Kates was dismissed by the St George/Hayward duo when they took over the Port Authority and ended up living in Tehachapi in California (an overseas venture of the Port Authority created after they decided to diversify away from the Bahamas).

Grand Bahama Port Authority executives (all expatriate white guys!) a little while before Bahamian independence. From the left: George Moore (Airport Company), General William Fisher (Devco), Keith Gonsalves (President-CEO), Martin Dale (Vice-president), Ray Tower (Legal Counsel), Major Bernie Bernard (Corporate Secretary), Ron Golding (Comptroller).


After Sir Jack Hayward and Edward St George stepped into Wallace Groves' shoes their tenure at the Port Authority was even longer than that of Groves but for many good reasons they did not accomplish as much. After St George died Willie Moss was elevated to the position of Chairman of the Port Authority a position she later shared with Julian Francis for a year. Since then several people have been appointed interim Chairmen of the Port Authority presumably marking time until a new owner appears… assuming the Port ownership spat has been finally been put to rest.

Peter Barratt is an architect/town planner who was formerly in charge of the development of Freeport. He writes with first-hand knowledge of the Bahamas having first visited the country in 1960. Because of his long experience in the islands he has been able to record many interesting insights, observations and historic moments that readers should find intriguing.

He has published several books about the island nation: Grand Bahama, Freeport Notebook and Bahama Saga, (the latter a historical novel about the islands). He has also written a full colour work entitled: Angelic Verses and two other works are near publication: The Port at War and St Peter Was Never There .

Disclaimer: The views expressed here are solely those of the author in his/her private capacity and do not in any way represent the views of TheBahamasWeekly.com