---
For Richer or Poorer..?
-
Jun 28, 2012 - 1:05:31 PM
Wedding Season! Women are running around like chickens with no heads frantically trying to make last minute decisions. Last minute adjustments, last minute weight loss, last minute changes, last minute expenses. They are single-handedly crafting the perfect day to their perfect men and praying to any god that would listen for a perfect wedding and NO RAIN! And the men that love them are sitting in their own corner rocking and wondering, "Did I propose to the bride of Chucky or what?"

Weddings are not only stressful but they can also be expensive. However, following a basic breakdown can help put a lot of things in perspective. Here's an example...
Swine is fine!
-
Mar 7, 2012 - 6:28:45 PM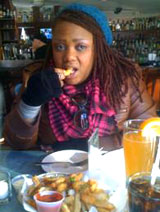 I have long joked that one would never have to worry about me being in anyway affiliated with left-wing Muslim groups, because there is no way on this sweet earth that I could ever, ever, ever stop eating Pork! Ok, ok, I jest, but I mean seriously, is there anything more delicious? From crisp and chewy, perfectly marbled bacon, to golden seared and juicy stuffed Pork Loin, to the Holy Grail of them all, succulent braised Pork Belly! How can you resist it?

Mmmmmmm, Pork Belly! Is there anything better? That perfect blend of salt, fat and tender sweet meat blending together oh so perfectly, into one foodgasmic bite. Excuse me while I wipe my tears of JOY! And pork in its leaner forms is actually quite good for you. There are lots of cuts that can be incorporated into a very healthy...
The 3F's of Super Bowl Satisfaction
-
Feb 4, 2012 - 3:35:58 PM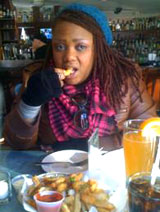 This Sunday will be my favorite grilling "holiday"-- You know holidays where grilling is an essential part of the festivities, ie. Independence Day, Memorial Day, Labor Day, the first day of that feels like summer, and my all time favorite, Super Bowl Sunday. Aaah Super Bowl Sunday! It's time to brush the cobwebs, dust or snow off of the old 'Barbie' and get that great grilling machine going.

Every year I begin the countdown to Super Bowl and from New Year's Day I begin creating my checklist. Clean the grill, check. Stockpile charcoal and wood-chips, check. Shop prices for ribs, check. Look for plumpest wings, check, and so on and so forth. It was a tradition for me to throw a Super Bowl party every year, save for last year due to my newly moving to Nassau...
Summer is in the Air, or is that a Grill I Smell?
-
Jun 8, 2011 - 11:36:48 PM
Your Crash Course in Grilling Basics
Ahhhhhhhh! As the cool transitional breezes of spring fade and the sultry sweltering heat of summer looms just on the horizon I am consoled by just one thing…. Grilling! Ah yes! The time of year when it's so freaking hot, what else is there to do but cook over an open flame outdoors. And while you have your run-of-the-mill grillers, I my friends, am not she! Oh no… I am a grill aficionado on a constant hunt for a challenge. Stuffed flank steak, whole pigs (we'll get into that later), calamari and mussels , pizzas-- you name it and I'm up to try and make it happen. Oooh yes my friends… I am a girl most happy with her grill!
A Paradise of Plates indeed!
-
Jun 2, 2011 - 4:22:10 PM
Nassau, Bahamas - May 21st was the annual Hands for Hunger event, Paradise Plates on Paradise Island. Various restaurants, caterers and vendors all came out in support donating their time, resources and creative efforts to the annual charity event. While I was officially there in a work capacity, I was also there as an avid Culinarian. The event was any food lover's dream. You get to walk around a room all night full of delicious and creative bites, sample wines and beer, be entertained by amazing bands, schmooze with friends and all for a good cause. It was a who's who of the culinary elite.

D

une and

Mesa Grill were both

represented for the Atlantis and One and Only hotel chain.

Mesa Grill

o

ffered the bold flavors of a Bahamian Spiced Chicken Skewers with Yogurt Sauce

,

while Dune offered up a delicious and fresh

Grouper Aromates-Herb Mash

.

Dune's presentation was bright and beautiful with a stunningly nonchalant grouper as their table centerpiece...
Where has all the street food gone? Long time passing…
-
Mar 20, 2011 - 2:39:27 PM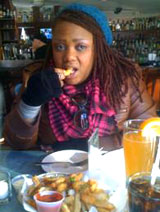 So I've been having this reoccurring dream… or nightmare depending on how you look at it! I'm walking down this street and it's lined on either side with food carts, their native flags flapping in the wind. It's as though every ten steps another cart lures me to its window with those cartoon fingers summoning me to see what delicious goodies lay inside. Cart after savory cart, I float from window to mouth watering window drooling over and sampling all the different offerings. I stop at the first cart with the German flag and I'm greeted my sausage, Kielbasa and Bratwurst, grilled to perfection with onion poppy seed rolls and sautéed onions. I stroll to the next cart I recognize the flag as Chinese, and there are a variety of Chinese dumplings; steamed, pan-fried and deep fried to perfection, filled with seafood and meat; dumplings fit for an Emperor! I head to the next cart and it's filled with Mexican Grilled corn and the next, noodles and the next, gyros and souvlaki...
It's enough to make you cry...Literally!
-
Feb 11, 2011 - 1:48:34 PM
There are a few items that can always be found in my kitchen; things that I seriously don't think that I can live without. They are simple items, but important ones none the less. If I had to name my top five they would be Garlic, Unsalted butter, Olive oil, Sea Salt and Onions. Simple yet necessary! I put them in everything that I cook. And when it comes to Onions I usually have a variety of them on hand; scallions, red onions, shallots, yellow onions, Spanish Onions, I usually have at least three varieties on hand. Whether sautéed, grilled, or caramelized, these tasty bulbs usually manage to find a place in every recipe I cook up.

What can I say…? I LOVE ONIONS!
Food Memories
-
Jan 21, 2011 - 10:38:25 AM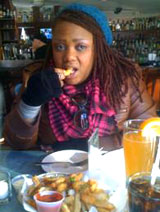 Have you ever been eating a particular food and been reminded of a person, place or moment from your past? Or how about being with someone, or in a place or moment that reminded you of a particular food experience?
If you look up the word ' food' in the Dictionary you would find something along these lines:
Food [noun}: any nourishing substance that is eaten, drunk, or otherwise taken into the body to sustain life, provide energy, promote growth, etc.
While that is true as a basic definition, food, to me, is so much more. Food to me is the comfort of home; it is the memory of Sundays with Grammy...
New Food Column, "Chew on This!" comes to The Bahamas Weekly
-
Jan 13, 2011 - 7:40:56 PM
The Bahamas Weekly is pleased to offer you another interesting column!



Chew on This!

by

Maurisa Glinton

will commence over the next week and we are please to have her on board. Ms Glinton was the winner of Chef Noel at Festival Noel in 2009.



Maurisa hopes to bring you confidence in experimenting with different foods. She hopes to share recipes and techniques that can empower you to think of cooking as more than a chore, and instead entice you to embrace and enjoy it...
<< prev page next page >>