---
Bimini Rewind and Power Boat Frenzy
-
Jan 5, 2012 - 10:03:31 PM
Bimini, Bahamas -
If you missed the live broadcast from Bimini Sands Resort & Marina, you missed a great show! Radio Man and History Lady will be definitely doing a rewind of their Bimini New Year's weekend. From the End of the World Saloon, fried whole snapper at CJ's, and fresh Bimini bread delivered by Santa to conch salad and ice cold Kalik's at Stuart Conch Stand and Ebbie's Bonefish Club, flaming B52's at Mackey's Sand Bar, magic buses, and a wild Junkanoo rushout, you will hear all the details of another great Bahamas remote.

Is there the possibility of a revival of a great Stuart tradition...
Talkin' Tourism radio show to broadcast live December 30 from the island of Bimini in the Bahamas
-
Dec 29, 2011 - 7:58:13 PM
STUART, FL -

Talkin' Tourism

, a Treasure Coast based radio talk show that airs on WPSL 1590 AM and streams live over the Internet, will broadcast live from the island of Bimini in the Bahamas this Friday, December 30.
Show hosts Gary Guertin and Robin Hicks-Connors will hype New Year's activities on the Bahamian island closest to Florida's coast and explore the historical, business and cultural connections between Florida and this particular "island in the stream" famous for its crystal clear waters and abundant marine life.
"With over 700 islands and cays—so close to our shores, Florida...
Boom-Pineapple Wine...Dolla' 50 all da' time
-
Jul 14, 2011 - 4:57:51 PM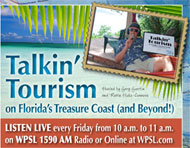 Taking some time off from being a tourist (recent visit to Nassau and shows from Abaco, Grand Bahama twice, and Heathcote Botanical Gardens), Talkin' Tourism will be back in its home studio at Sailfish Marina, Stuart, Florida. Joining Radio Man this week will be special guest co-host Ed Griffith, the general manager of the Courtyard Marriott-Hutchinson Island.

Ed had the opportunity to visit Gregory Town Eleuthera, Bahamas for the town's annual Pineapple Festival and Talkin' Tourism wants to hear all the details. This is particularly big news since a major Treasure Coast "connection" exists between Jensen Beach, Florida and Gregory Town, Eleuthera; these two towns have shared a 20-plus year Sister City relationship. Pass the pineapples (or BOOM pineapple wine) please!
Back to Grand Bahama for some Mango Man, Flamingo Bay, Red Beard's and Nature Tourism
-
Jun 30, 2011 - 10:18:32 PM
The trip to Grand Bahama Island several weeks ago with the Bahama Tourist Office's Summer Boating Fling to Port Lucaya was just enough to tempt

Talkin' Tourism

to go back and find out more cool stuff about the closest island to the Treasure Coast and the "Gateway to the Northern Bahamas." With Robin still attending weddings and getting into "nuptial tourism," Radio Man will have the pleasure of sharing hosting duties with none other than

Bimini Mango Man.
Mango Man is no stranger to the Treasure Coast and is one of the most popular "one man band" acts in The Bahamas. While residing on Grand Bahama, Mango can be found engaging audiences on many of the Family Islands. Mango will probably cover Grand Bahama "wildlife" from an entertainers point of view...
Bahamas: Island dreams are just a few hours away
-
Jun 25, 2011 - 4:33:52 PM
The following article is from TCPalm.com and is a feature on Talkin' Tourism's Gary Guertin:

Grand Bahama Island, Bahamas — There has always been a strong connection between Treasure Coast boaters, anglers and divers and the nearby island nation of the Bahamas.

Its close proximity is a strong selling point — just 68 miles to Grand Bahama Island. Its crystal clear, pristine and warm waters welcome visitors. And the diversity of marine life available to catch, observe, spear, collect and dine on has captured ...
Bahamas Boating Flings and Grand Bahama, baby!
-
Jun 16, 2011 - 10:23:33 AM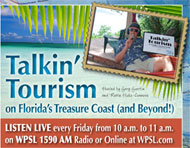 It's summer time and the boating season we all have been waiting for is finally here! Talkin' Tourism is getting in on the action and heading over to Grand Bahama Island on one of the Bahamas Ministry of Tourism Boating Flings
on Friday, June 17th
to bring you this week's show from Port Lucaya Marina, Grand Bahama.

The boating flings are organized by the Ft. Lauderdale, Florida Bahamas Tourism Office to promote boating to the Islands of the Bahamas. The primary purpose of these summer flotillas is to familiarize boaters who have never made the Gulf Stream crossing. Only 68 nautical miles away from the Treasure Coast, Grand Bahama Island is our nearest island neighbor and this beautiful island is no stranger
Been, been, been to Abaco! (And ready to return!)
-
Jun 3, 2011 - 9:32:59 AM
Another great road and sea trip, this time featuring the fun and adventure of Abaco, Bahamas. If you missed this show, you missed one of the best.

Sitting in for co-host Robin Hicks-Connors, Michael Albury, the president of the Abaco Chamber of Commerce and Abaco Community Tourism Foundation, jumped right into the groove in the co-host seat and was right at home even before the show began.

The conversation was fast and flowing. Judy Fortenberry, manager of the Abaco Inn, our host venue for the show, shared all the details of this fabulous property focusing in on the "Barefoot Excellence"...
Talkin' Tourism coming to Abaco this Friday!
-
May 25, 2011 - 2:08:24 PM
This week, Talkin' Tourism will not just be talking about tourism, we'll be the tourist as we bring the show to you live from the Abaco Inn, located on Elbow Cay, in Abaco, Bahamas. This great oceanfront property is perfectly suited for a great broadcast location. Just steps away from the sea, our studio will be spectacular!
We have put together a stellar line-up of guests who best represent all that is great about Abaco. Michael Albury, president of the Abaco Community Tourism Foundation and the Abaco Chamber of Commerce, will give us an overview of current tourism and business trends in Abaco. Michelle Mikula, the public relations and group business representative for the Abaco Tourist Office, will be on-hand to share some of...
Talkin' Tourism to focus on Grand Bahama
-
May 5, 2011 - 7:18:32 PM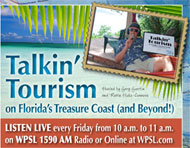 On this Friday morning's show, in addition to our topic of upcoming Treasure Coast, Florida fishing tournaments, we will be featuring Grand Bahama as a destination for the upcoming summer season. The overall concept of the show is to promote and educate our listeners about the importance of tourism and promote tourism in the Florida/Bahama region.

Some of you may be familiar with Talkin' Tourism as we have done live remotes from Old Bahama Bay, UNEXSO and Pelican Bay Hotel in the past.

Talkin' Tourism features Old Bahama Bay and Sustainable Tourism
-
Dec 7, 2010 - 10:32:33 AM
West End, Grand Bahama - According to Wikipedia, S

ustainable Tourism

is an industry committed to making a low impact on the environment and local culture, while helping to generate future employment for local people. The aim of sustainable tourism is to ensure that development brings a positive experience for the local people, tourism companies and the tourists themselves. This week's show, hosted by the luxury boutique and marina of Old Bahama Bay and the Bahamas Ministry of Tourism, was a prime example of sustainable tourism and how the Blue Flag Programme plays a role to ensure the sustainability of Bahamian ocean and coastal environments and how participating destinations are making a positive impact on local communities...
Talkin' Tourism - This week, LIVE from Old Bahama Bay!
-
Nov 30, 2010 - 10:18:45 AM
Talkin' Tourism on Florida's Treasure Coast (and Beyond!) is once again focused on the "beyond" as the team crosses the Gulf Stream to Grand Bahama Island to bring you a show live from Old Bahama Bay, located at West End, on Grand Bahama Island.

With over 700 islands and cays and 100,000 square miles of pristine ocean and coastal environments, the Bahamian government knows that if the marine environment degrades so does their tourism industry. The Sustainable Tourism Division of the Bahamas Ministry of Tourism is responsible for helping to insure the protection of Bahamian waters and is the administrator of the Blue Flag Programme.
<< prev page next page >>