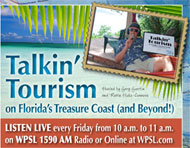 Taking some time off from being a tourist (recent visit to Nassau and shows from Abaco, Grand Bahama twice, and Heathcote Botanical Gardens), Talkin' Tourism will be back in its home studio at Sailfish Marina, Stuart, Florida. Joining Radio Man this week will be special guest co-host Ed Griffith, the general manager of the Courtyard Marriott-Hutchinson Island.

Ed had the opportunity to visit Gregory Town Eleuthera, Bahamas for the town's annual Pineapple Festival and Talkin' Tourism wants to hear all the details. This is particularly big news since a major Treasure Coast "connection" exists between Jensen Beach, Florida and Gregory Town, Eleuthera; these two towns have shared a 20-plus year Sister City relationship. Pass the pineapples (or BOOM pineapple wine) please!

Ed and Gary, will touch upon a number of topics that you will find of interest including;

How merchants and retailers help make a difference on the high cost of gas. We all need a little help in easing this burden of the cost of travel!

Nine thrifty travel tips. Who doesn't need "thrifty?"

How to get the most happiness out of a vacation. Isn't that what vacations are all about!

Hot tips for Travelers: The coolest, most overlooked vacation destinations for the summer. Definitely need a break from the summer heat…but where?
And, a look at personal travel rituals (PTR). Do you have one? If you do, and are willing to share, email us at talkintourism@gmail.com and we'll share your PTR with our listening audience.

And, to round out the hour, expect all the usual Bahamas info and Treasure Coast happenings.

Join us this Friday at 10:05 a.m. on your radio dial at WPSL 1590 AM or catch the live stream from your computer !
Gary Guertin, Host and Robin Hicks-Connors, Co-host




Broadcasting every Friday from 10:05 a.m. to 11:00 am on WPSL 1590 AM




Streaming live at

www.wpsltv.com


Blog: Talkin Tourism on Florida's Treasure Coast (and Beyond)


http://talkintourism.blogspot. com
Facebook at www.facebook.com/talkintourism
Email: talkintourism@gmail.com