Last Updated:

Feb 6, 2017 - 2:32:04 PM
---
Your Crash Course in Grilling Basics

Ahhhhhhhh! As the cool transitional breezes of spring fade and the sultry sweltering heat of summer looms just on the horizon I am consoled by just one thing…. Grilling! Ah yes! The time of year when it's so freaking hot, what else is there to do but cook over an open flame outdoors. And while you have your run-of-the-mill grillers, I my friends, am not she! Oh no… I am a grill aficionado on a constant hunt for a challenge. Stuffed flank steak, whole pigs (we'll get into that later), calamari and mussels , pizzas-- you name it and I'm up to try and make it happen. Oooh yes my friends… I am a girl most happy with her grill!

Nothing makes me happier than setting up some wood chips and charcoal and heating up the perfect flavor imparting cooking machine, fire… we created fire, and let me tell you, no invention since can even compare. Nothing reminds me more of summer than the smell of a grill. Hot coals, red with fury, ready to persuade whatever meat may pass its way to cook and sizzle just so. Grilling food enhances their flavors in a way unlike any other cooking preparation. It brings out the best in meats, seafood and vegetables alike. Even fruits seem to burst forth once grilled-- pineapple and mango are particularly delicious.


There are so many wonderful things to do with so many different foods on the grill; the possibilities are endless. I'm actually in need of a new grill as the one I've been borrowing since my move has proven less than adequate for some of my more adventurous undertakings. Try grilling a 10 lb brisket evenly on a 14" grill… EPIC FAIL! But I will not be dissuaded; I am going to find a grill that allows me to take on some long awaited challenges. I love to grill and fortunately my friends love to eat, so my summer will be hopefully chock-full of delicious new experiments. I fully intend to make the most of a sure-to-be deathly hot summer with coolers full of cold beverages, lots of friends, and fabulous food on the grill.


People tend to get very intimidated when it comes to grilling. I don't know if it's the fear of burning food or ourselves, but most people tend to run scared at the thought of "manning" the grill. The truth is grilling is not much unlike cooking on a gas stove, especially with all the different options these days. Gas grills are the easiest, literally the turn of a switch and you're cooking over an easily managed flame. Charcoal and wood are a little trickier, but the flavors that they contribute totally make it worth it. Obviously the heat is higher and somewhat harder to regulate, but it's a technique easily perfected. My preference is a combination of charcoal and wood chips depending on what I'm grilling. Fish, such as salmon are particularly good cooked over wood, while I prefer charcoal with things like beef and lamb.


Regardless of intimidation, I think it's fair to say that everyone enjoys grilled food. So, if you love the idea but just don't know where to start, here's your

crash course in grilling basics

. Take a breath, pause and simply ready yourself. Here are some tips to get you through the grilling season with your eyebrows intact and a full stomach of delicious food.

Getting started:
Never use an outdoor grill indoors even in a garage space. Always grill on a heatproof surface as far away as possible from buildings, trees and shrubs or brushes. Always have extinguishers on hand i.e. sand, water or a kitchen extinguisher.

Now you're cooking!


The key to tender, moist, tasty meat and fish is the cut you choose, and the proper thickness. Steaks = Cuts should be at least 1 inch thick with 1/8 inch fat--this reduces grease drippings and minimizes open flames. Burgers= Ground beef should be about 15 to 20 percent fat. Fish= 1 to 1 1/2 inches thick. Pork= Chops should also be 1 to 1 1/2 inches thick.
Marinating meat is the best way to quickly tenderize meat and add additional flavor. For best results, marinate at least one hour. Bigger cuts i.e. whole pork butts should marinate overnight. The marinade should completely surround the food. Never put cooked meat back into its original cold marinade, because duh… it had raw meat in it!
When grilling with a BBQ pit closed, pour beer (or wine with seafood) over the hottest part of the fire. The beer will boil and vaporize inside the grill. This keeps the roasting meats moist, while adding flavor.
When grilling, try to turn the meat only once. When grilling meat to a medium or greater doneness, use the lid to decrease the cooking time.

These tips should get you started, but have no fear I'll be here to coach you through the summer; and there is so much more to learn along the way. What better way to pass those hot weekends and vacations than sitting under some shady trees in the back yard or on the deck with the aroma of perfectly seared meat wafting through the air, and an ice cold beer or even better --- mango margaritas (you'll get that recipe later). Or how about taking it to the beach? Why not pack a lunch and the portable grill and head out for some open air fun. Whatever your preferred location, just remember these tips! Now go on…get out there and start grilling!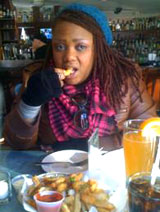 About the author: Maurisa Glinton is a Grand Bahamian native. She is an Entrepreneur, Chef and Writer. She has a B.A. in Psychology and Writing, as well as Diplomas in Culinary Arts and Culinary Management. She is a Festival Noel winner and the Head Chef/ Owner of Social Butterfly Catering Services . Evidence of her passion for food and its surrounding culture comes across clearly in her cooking and her writing. Maurisa is also the writer of her own Food Blog, Chez Mo Truth . Maurisa currently resides in Nassau and can be reached at chezmotruth@gmail.com . You can also follow her on Twitter as @ChezMoTruth .





© Copyright 2011 by thebahamasweekly.com

Top of Page