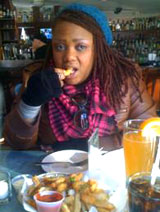 This Sunday will be my favorite grilling "holiday"-- You know holidays where grilling is an essential part of the festivities, ie. Independence Day, Memorial Day, Labor Day, the first day of that feels like summer, and my all time favorite, Super Bowl Sunday. Aaah Super Bowl Sunday! It's time to brush the cobwebs, dust or snow off of the old 'Barbie' and get that great grilling machine going.

Every year I begin the countdown to Super Bowl and from New Year's Day I begin creating my checklist. Clean the grill, check. Stockpile charcoal and wood-chips, check. Shop prices for ribs, check. Look for plumpest wings, check, and so on and so forth. It was a tradition for me to throw a Super Bowl party every year, save for last year due to my newly moving to Nassau and just recovering from fatigue (busy catering season). But this year I am ready, able and more than willing. But what if you aren't a great griller, simply don't have a grill, or can't be bothered to go through the whole setup? No problem - these recipes that follow are just for you!
It doesn't matter if your pulling for The Patriots, The Giants or if your team has been out since long before the play offs began (Go Redskins!), everyone knows that great food and beer is the key to enjoying this adrenaline packed day. There are 3 key criterions to great party food. I call them the 3 F's of football-- finger food, flavor and fun. Now I have a number of recipes that fall under at least any two of these categories, but I want to share a few of my crowd favorites. Whether tailgating, or throwing a Super Bowl party at home there are a few recipes that are sure to keep the football masses happy. My Pulled Jerk Pork Sliders with sweet slaw, Zesty Honey Garlic Wings, Asian Beef Baby Back Ribs and Lobster bites with Lemon-dill Remoulade are sure to be huge crowd pleasers, and you can use these recipes over and over again. So break out the grill crank up the oven and prep the deep fryer because we are going on a fun, flavor packed finger food journey sure to be remembered.

Mini Pulled BBQ Jerk Pork Sliders w/ sweet and sweaty slaw (goes great with Guinness!)
So this recipe starts with a nice juicy fat on Pork Butt. Now contrary to what it sounds like a Pork Butt is actually the pork shoulder so don't let the terminology confuse or deter you. Place a 5-7 lb. Pork Butt in a large and deep pan. Combine 4 dried Bay leaves, 3T Coarse Salt, 2T brown sugar, 1T ground cloves, 1T garlic Powder, 2T Chili red pepper flakes and 1T Cumin Seeds in a spice grinder or food processor. Rub Pork with mixture cover with foil and let sit in refrigerator for at least an hour. Preheat oven to 300 degrees. Place the Pork in the oven and let cook slowly for about 6 hours or until meat is falling apart, removing the foil for the last half hour.
For the Jerk Sauce combine 1 ½ C cider vinegar, 1C brown mustard, 1C ketchup, 1/3C packed brown sugar, 1t liquid smoke, 2 garlic cloves, smashed, 1t salt, 1t cayenne, 1T crushed red pepper flake, ½ t freshly ground black pepper, and ½ C of your favorite Jerk seasoning in a saucepan and heat for about 10 minutes until sugar is fully dissolved.
To make the Slaw, thinly slice 1 head of cabbage and grate 2 carrots and 1 red onion and place into a bowl. Combine 1T cider vinegar, 1t lemon juice, 1 ½ C Mayo, 1T sugar, a pinch of salt and pepper and 1T hot sauce. Coat slaw ingredients with the mixture and toss. Set aside in refrigerator for at least an hour.
Remove the pork from the oven and place on a large platter. Let the meat rest for about 10 minutes. While it's still warm, take 2 forks and "pull" the meat to form shreds by steadying the meat with 1 fork and pulling it away with the other. Place the shredded pork in a bowl and pour 1/2 of the sauce on the shredded pork to completely coat the meat.
To serve, spoon the pulled pork mixture onto the bottom 1/2 of the dinner rolls or buns, and top with the spicy slaw. Serve with pickle spears and the remaining sauce on the side.
These are sure to be the best sliders anyone has ever tasted, try pairing them with Guinness and watch the flavors come alive!

Zesty Honey Garlic Wings (try these with any Light beer!)
Brine (soak) 10lbs of chicken wings in water and a ¼ cup of salt for at least 2 hours or overnight in the refrigerator. Drain and pat dry. Sprinkle with salt and pepper and place on a greased baking pan. Cover with foil and bake about 40 minutes at 350 degrees.
In a saucepan combine 2T crushed garlic, 1T crushed red pepper, 4T honey and a ¼ cup Orange Juice and heat to an almost boil. Combine 1T cornstarch and 1T water and mix into a slurry. Whisk slurry into the sauce mixture and remove from heat, let cool.
Remove wings from oven and coat wings in sauce and place back in oven uncovered and bake an additional 15 minutes.
Simple as pie juicy flavorful wings! Wash them down with a Coor's or Miller Light to meld with that zesty Garlic Flavor!

Asian Baby Back Ribs (great with a beer like Sapporo, but Beck's is also a good bet!)
Place 3 racks of beef baby back ribs in a wide and deep pot. Add a ¼ C soy sauce, a ¼ C Mirin (sweet Japanese wine; you can use a simple syrup of sugar and water if you can't find Mirin), 4 cloves of garlic, chopped, 2T sesame oil, 2T brown sugar, 2 whole star anise and 2T of grated ginger into pot with ribs. Cover with water and bring to a boil. Reduce heat and cover allowing ribs to simmer for about 1 ½ hours.
To make BBQ sauce combine ¼ C soy sauce, 1 Cup Hoisin Sauce, ½ C ketchup, 1t liquid smoke, ½ C pineapple juice, 1T sesame seeds, 1T crushed Garlic, 1T grated ginger, 2T brown sugar, 2T rice wine vinegar and 1T red pepper flakes.
Preheat Grill / Preheat Oven to 350 degrees. Coat ribs with 2/3 of sauce and place in oven on pan covered, for about 30 minutes. Uncover and bake an additional 15 minutes.
Cover with remaining sauce and chopped green onion.
Delicious finger licking ribs that will have everyone begging for more! These are great with an Asian Beer such as Sapporo or even Tsingtao, but if you can't find those try something like Beck's to compliment those bold flavors!

Zesty Lobster Bites (great with Kalik!!)
For this recipe it is best to buy lobster meat as opposed to the whole lobsters as it tends to be much more cost effective. If you can't get just the meat then go ahead and buy the tails. Cut 5 lobster tails into bite size (about 1 ½ inches) pieces and sprinkle with salt and pepper and a touch of cayenne pepper.
Whisk 3 eggs together with a ½ C of heavy cream and 2 T of water. Place Lobster in mixture let sit about 15 to 20 minutes.
Heat vegetable oil in a deep fryer or heavy pot to 350 degrees.
Dredge the lobster pieces in flour coating them completely. Drop into deep fryer and fry until just golden brown, remove and place on paper towels or in strainer.
In a separate bowl combine 1T picked dill, 1T lemon zest, 1t of lemon juice, 1 ½ C mayo, a dash of Worcestershire sauce, 1t sugar, 1t horseradish and a pinch of cayenne.
Serve Bites with dipping sauce and enjoy.
Easy and quick succulent Lobster bites that just can't miss! Wash it down with a Kalik with Lime to mimic that burst of refreshing citrus!

And there you have it, Super Bowl food done right—paired with beer and full of finger licking, fun and flavor! These recipes are great for any get together; try these recipes at your next party or family gathering. But make sure you make enough because trust me these tasty bites are sure to be a TOUCHDOWN!
About the author: Maurisa Glinton is a Grand Bahamian native. She is an Entrepreneur, Chef and Writer. She has a B.A. in Psychology and Writing, as well as Diplomas in Culinary Arts and Culinary Management. She is a Festival Noel winner and the Head Chef/ Owner of Social Butterfly Catering Services . Evidence of her passion for food and its surrounding culture comes across clearly in her cooking and her writing. Maurisa is also the writer of her own Food Blog, Chez Mo Truth . Maurisa currently resides in Nassau and can be reached at chezmotruth@gmail.com . You can also follow her on Twitter as @ChezMoTruth .