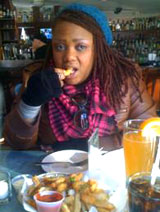 Have you ever been eating a particular food and been reminded of a person, place or moment from your past? Or how about being with someone, or in a place or moment that reminded you of a particular food experience?
If you look up the word ' food' in the Dictionary you would find something along these lines:
Food [noun}: any nourishing substance that is eaten, drunk, or otherwise taken into the body to sustain life, provide energy, promote growth, etc.
While that is true as a basic definition, food, to me, is so much more. Food to me is the comfort of home; it is the memory of Sundays with Grammy. The exploration of culture; it's a history lesson and a milestone of humanity. It lends itself to our definition as a people and as a culture. Food has the ability of bringing us together in the most uncanny ways. We eat when we celebrate, whether wedding or birthday, and we eat when we're sad, whether funeral or heartache. Food is a complex social medium that connects us all-- something so seemingly simple and yet so innately essential.
Food is so eerily connected to my memories; it's as if I was destined to be in this field my entire life. When I think back on some of my most memorable moments in life, I can directly correlate them to foods. It's as though my life is a recipe book of memories. For example, my first time away from home at Summer Arts Camp was definitely marked by Peanut Butter Soup. If it sounds strange to you even now, imagine me at the naive age of 10 years old, fresh from these Bahamian shores where soup was a souse of chicken, mutton or pig feet, or a stew involving salt-beef, pork, vegetables and dumplings. Looking at the bubbling, brown broth, reeking of pure Peanut Butter-- no soup as I knew it for hundreds of miles-- trust me, not an easily forgotten memory. It was where my world of food as I knew it began to open up.
Thanksgivings for me always make me think of Italian food. When I began Boarding School, those first Thanksgivings away from home and family were marked by Eggplant Parmesan and Linguini Al'Olio. It was also the beginning of my love affair with Italian food. My Korean best-friend and her Italian family made me feel at home those cold days in November, and her Grandmother became the second Grandmother Chef in my world of food! She taught me how to make my first Eggplant Parmesan, a recipe which I still use today and one which is still the best I have ever tasted!
Many of our firsts are often marked my some sense memory. First dates, first loves, first heartaches… But very often those memories can be directly connected to a food memory, or more specifically, we can remember what we ate or were eating at that time. My first heartache, was without a doubt marked by a Ben & Jerry's Mint Chocolate Cookie binge. And the day I found out that my Great-grandmother (and first Grandmother Chef) had died, that was a combo of a whole White pizza and a pint of Ben & Jerry's Cherry Garcia-- and lots of wine!
Whether happy moments or sad you'd be surprised by how many times you could correlate a meal with a significant time in your life. Think about it! What foods remind you of special moments or people? Your
grandmother? Your mother? A birthday or anniversary? A first love? A lost love? Losing a loved one? Meeting a new friend?
The same way many moments remind us of food, likewise, many foods remind us of moments. Food or more specifically taste as a sense memory is a common denominator for all of us. It is tied to memories the same way sight and smell are. We can think about eating something and almost instantly recall how we felt as we bit in and/or tasted the food melt on our palettes. The textures, the flavors, the spices—though we may not be able to recall the actual taste we can easily recall how we felt when eating it. Like the perfect slice of pizza, or the best steak you've ever had, you can literally get chills thinking about the way it changed your very concept of that food as you ate it. Taste is a memory sense unlike most others, in that it can evoke feelings having to do with both food as well as what you may have been feeling or doing at that time.
My love affair with food is one that started at the hem of my great-grandmother's apron at the tender age of five and is one that I will continue until I can no longer hold knife and fork. It's a part of me the same way the game is a part of an athlete, the debate is a part of an attorney and saving a life is a part of a doctor. It has been the constant in a life full of delicious memories. And as I embark on this new chapter in my life's recipe book, I hope to create new ones and share them with all of you, and I look forward to hearing about yours as well.
Here's to making some great food memories together!
About the author: Maurisa Glinton is a Grand Bahamian native. She is an Entrepreneur, Chef and Writer. She has a B.A. in Psychology and Writing, as well as Diplomas in Culinary Arts and Culinary Management. She is a Festival Noel winner and the Head Chef/ Owner of Social Butterfly Catering Services . Evidence of her passion for food and its surrounding culture comes across clearly in her cooking and her writing. Maurisa is also the writer of her own Food Blog, Chez Mo Truth . Maurisa currently resides in Nassau and can be reached at chezmotruth@gmail.com . You can also follow her on Twitter as @ChezMoTruth .