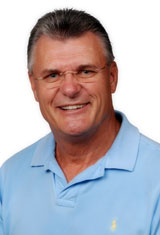 Over the many years of my practice of chiropractic both here in The Bahamas and in Canada the story has been similar among many of my female patients. "Doctor Blower, my husband and I have been trying to conceive and cannot. Is there anything you can do as a chiropractor to help us?"

Often chiropractic spinal manipulation can help the processes of conception. Many women in my practice were able to go on and successfully conceive after just a few months of chiropractic care.

Our spine is a "pipeline" and a "lifeline" connecting the brains to every tissue cell of the body.

It seems that reducing stress upon our bodily systems through spinal and joint manipulation allows the "drawn up tight" tissues like those of the hollow organs to relax.

By restoring a normal balance in our nerve supplies we help the female patient's blood flow intra-abdominally along with ensuring a more proper cyclical cellular buildup and sloughing off of the uterine walls. And normal nerve balance from the spine, pelvis and brainstem may improve the diameter of the fallopian tubes which carry the mature egg to the uterus.

Within female patients with difficulty conceiving there is often a nerve root lesion existing as a vertebral subluxation (spinal misalignment) at the level of the upper lumbar spine. That area is just below the ribs at the lower mid back and reflects an area prone to injury through twisting of the upper body. It may be an area influenced structurally by a fall or sudden torque of the body and this may have happened years and years before presentation. All of those years and years subluxation may be there and we don't feel it, it is the "silent killer."

Whenever we have a subluxation we get altered functions in our body. Depending on the place of misalignment in the spine or at the place on the "pipeline" the subluxation will change and weaken specific tissues usually fed and nurtured by their before altered nerve supply.

Add to this alteration of normal nerve balance at the local spinal level further compromise of the autonomic nerves with additional and very commonly encountered subluxations at the level of the pelvis and upper neck.

The results of subluxations are a push-me-pull-you staccato nerve dance confusing the healthy steady ongoing tissue functions of the organs nerves and muscles.

Altering the circadian clock of our body through subluxations may alter the cyclical hormonal and organ rhythm. The nervous systems are responsible for our health but can only meet that ability when they are un-phased, uninhibited.

Subluxations pose resistance on our nerve phase or timing. Chiropractic removal of subluxations helps restore health to their supplied tissues. Adjustments take our body from being "offline" and puts it squarely back onto the grid. Over time bodies may reverse and recover from damage.

It is safe to attend a chiropractor right through pregnancy to termination. Then especially be helped by the chiropractor in returning the spine and pelvis back into their correct positions and form right after birth.

Most lower back pain that accompanies pregnancy and often later while breastfeeding, can be easily and safely reduced with proper chiropractic care.

Chiropractors are trained to be safe with spinal manipulations upon pregnant women as well as children.
About the author:

Dr. Brian Blower has been a licensed chiropractor for 35 years practicing Applied Kinesiology and has been in private practice on Grand Bahama Island for the past 10 years. He is a founding member of Applied Kinesiology Canada and was educated at the Canadian Memorial Chiropractic College. He has treated many celebrities and also specializes in sports medicine. Dr Blower is currently in practice at the
Family Wellness Center across from the Rand Hospital, Freeport. He can be reached at 242-351-5424 or 727-2454.
You can also find Dr. Blower on Facebook HERE

Feel free to contact Dr. Blower with any of your questions or comments at BodyByBlower@yahoo.com