Last Updated:

Sep 10, 2017 - 10:53:22 AM
---

The Tick

A fresh deconstruction of the modern superhero tropes with a great sense of comedic timing.

One of the taglines for this series: Say Hello To The Hero You've Been Waiting For. An accountant with a history of mental problems comes to the realization that the city he lives in is being controlled by a super villain everyone believes is dead. He becomes the reluctant ally of an enigmatic and somewhat dimwitted superhero as he tries to get proof to the conspiracy he has uncovered in order to bring the super villain to the attention of the city.

The Tick is a nigh invulnerable powerhouse of justice with no idea where he originated but wants nothing more than to rid The City of evil with the help his friend and sidekick Arthur. Arthur Everest is an accountant who witnessed the death of his father from collateral damage of a battle with The Terror and is secretly gathering evidence to prove the villain is still alive. Dot Everest is Arthur's sister who works as a paramedic but does side work patching up injured henchman at the local roller rink and wants nothing more than to keep Arthur out of harm's way. Ms. Lint is the ex top operative of The Terror's villainous army who has been working for a lesser villain ever since his apparent death while fighting the hero Superian.

The Tick is a fun and funny look at the current superhero genre that takes the subject matter seriously but not itself. It has just the right tone for a series based on a comic book that was not afraid to make fun of the tropes that populate superhero stories as a way of bringing them down to Earth. Peter Serafinowicz, Griffin Newman, Valorie Curry, Jackie Earle Haley & Yara Martinez do amazing jobs with the characters they portray that gives a nice verisimilitude to this particular world of superheroes and supervillains. I have been a fan of Ben Edlund's work for years in the entertainment industry and seeing the character he created done right with a modern twist is exhilarating. Since I am a true blue member of The Mystic Order of Arachnid Vigilance it is a joy to see a version of The Tick that brought to mind old school tv shows like Automan and Sledge Hammer! with its unique sense of humor. This series gives us a fresh take on superheroing for the modern viewer in a way that sets it apart from the comic book it is adapted from and the previous attempt at a live-action portrayal of the subject matter. I rate this first season of The Tick a rating of 4 & 1/2 out of 5.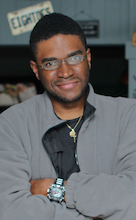 See other reviews by Rouén HERE.




Rouén Robinson

has been an avid moviegoer since childhood and has been critiquing motion pictures for almost a decade. He has been a film critic for

The Cinemas

on Tempo and was a judge for

FLIFF On Location: Grand Bahama Island

, an off shoot of the Fort Lauderdale International Film Festival (FLIFF). Rouén lives in Grand Bahama and can be reached at redr1976@icloud.com and on Twitter @thereelrouen





© Copyright 2017 by thebahamasweekly.com

Top of Page