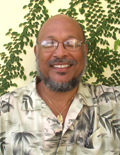 When Gladstone (Moon) McPhee intimated to me a few days ago that he was being unceremoniously dismissed as Assistant Director of Sports, I told him that in no way, shape or form would I believe such an atrocity until I saw it in writing. It is, therefore, almost impossible for me now, having heard the dictum, to pen the words necessary to express my total surprise, disgust and disappointment at such a reprehensible and evil act. Whoever the persons may be who concocted such a despicable course of action should hide themselves in shame.
This disdainful decision could only be based upon puerile banana republic political gimmickry. I refuse to even label it as political victimization, for no one could ever victimize Gladstone Moon McPhee. He, as so powerfully and truthfully emulated by Oswald Brown, in his Friday morning commentary in the Freeport News, stands so tall above any political figures in this country, they could never in a thousand years match the stature of this noble citizen. Therefore, their action simply reverberates back to them and will haunt them for the rest of their political life and beyond.
Bar none, there is no individual in this country with greater passion, sense of dedication and absolute self-sacrificing spirit to measure even half way to Moon's insatiable desire in working for the benefit of the young in this nation, and specifically on Grand Bahama. His renowned reputation in the world of sports has reached international levels and has facilitated for a multitude of young Bahamians places in the highest echelons in the field of athletics.
For the thirty-three years that I've been on Grand Bahama, Moon has been my best and closest friend. He and I have had some of the most heated political arguments in which any two individuals could ever engage; sometimes he infuriated me to an unbelievable extent, and I'm sure I did the same to him. But in all of this, our friendship grew stronger and stronger. The more I got to know Moon, at the school I administered for twenty years, and elsewhere in his myriad of activities in support of our youth, the greater my respect and esteem grew for him.
This is a bitter, much too bitter pill for this nation, and especially the Grand Bahama community to swallow. It's a dose for long-term depression. And according to the communication to Moon, he is being requested to demit office as of this Monday, November 2. I, therefore, beg our Prime Minister to rescind this unfortunate and grim decision and thus restore the respect and honor due this sports icon, noble citizen and compassionate human being.
Joseph Darville
Vice-President, GB Human Rights Association
30 October, 2009