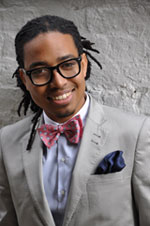 Imagine my surprise upon reading the first line of the Tribune article entitled, "Call for Ban on Porn," which appeared in last Friday's paper. I was especially taken aback by the report that members of the Bahamas Christian Council (BCC) sat through 12 X-rated films. Comforted by the fact that they were doing this for a purpose, to confirm that pornography was un-Christian and should be banned, I was still left with a few questions which I hope to work through publicly in the piece.
Why is it that at this moment pornography should be banned? What purpose does banning pornography serve? Did I miss something; was Bishop Randy out on bail? And, why did it take 12 X-rated movies to come to this conclusion (because most people who watch that much porn come to a very different conclusion, if you catch my drift)?
Innuendo aside, and in keeping with Biblical tradition, let's start with the last question first and answer the first question last.
That the BCC could sit through 12 graphic, uncensored X-rated films highlights, perhaps, what is an obvious fact: members of the BCC are not like most people. Indeed, they are the protectors of the faith, sentinels of decency and guardians of our nation's morality. Members of the council are imbued with a greater tolerance for temptation and necessarily so. They stand between us and the perils of modernity, holding back a global tide of immorality that could, at any moment, sweep away our culture and Christian tradition.
So yes, our ever-vigilant spiritual watchmen are now advocating for the banning of pornography after their experience in an elderly woman's home who happened to be unable to operate the cable box. And, always thinking about the big-picture, instead of simply assisting her in setting parental controls, the BCC is attempting to take a single experience in one among hundreds of thousands of homes in the Bahamas and impose their conclusions on all of us. How could we ever doubt their value to our democratic society? I know I couldn't.
Always a beacon of reason, such a proposal is not without its well thought out rationale. They fear that the nation's standards of decency are being eroded by the media and implicate "Hollywood culture" in the rise of violent crimes over the last few years. Particularly important is the protection minors who are, the BCC argues, alone more often and staying up later. This, they assert, should be reason enough to implement "television down time" when explicit content may be on or even go so far as to remove illegal DirectTV installations.
Now, let's dispense with the sarcasm and get to the heart of the matter. Obviously no one wants children watching porn, but banning it isn't the answer.
Why?
Because you can't! This is, in effect, an attempt to plug a major societal laceration with a cotton swab.
Porn is everywhere. Perhaps, most recently it could be found on television at that poor elderly woman's house, but any other day you can find it on newsstands, computer screens, in mailboxes, under beds and at teenage sleepovers across the Bahamas. Will we ban it in all of those places as well?
Instead, why doesn't the BCC make itself useful and organize workshops to teach parents, and old women too, how to set parental controls on web browsers and cable boxes? And, why don't we encourage parents to talk to minors in a mature way about sex?
Zap the intrigue out of sex and teach young people how to protect themselves, encourage them to wait until they meet someone special—that they love—and explain to them that sex is a natural part of the human life cycle. The alternative is turning it into the juiciest of forbidden fruits, which they will eventually get their hands on anyway.
Dr. Timothy McCartney, in 1976, warned the religious and educational establishment in his book, "Bahamian Sexuality," that there needed to be a more open dialogue about sex between adults and young people. Without these necessary conversations, McCartney argued that teenage pregnancy and the other difficulties that accompany teenage sex would increase because of the changing social context. In 2012, we're still blushing embarrassingly at the thought of talking to our young people about sex and we are reaping the rewards of that hesitancy every day.
As far as a universal ban goes, I happen to believe that adult Bahamians should be allowed to watch whatever they want. It's called freewill. God gave it to us and despite their consistent butchering of Gospel teachings (especially concerning capital punishment), the BCC should respect that. Besides, if you want to see crime go up, take a single person's porn away from them. I promise you, frustration will abound.
As a student of sociology, I understand the effects that media can have on the individual and perhaps the BCC is right to fear the invasion of "Hollywood culture." This Anglo-American cultural imperialism has indeed been blamed for the erosion of traditional cultural values partly due to its hyper-sexuality and excessive violence. But this so called "Hollywood culture" also brings with it a hyper-materialism and particular bourgeois class aspirations that is a pillar of its successful cultural imperialism.
If we can agree on that last point then all that is left to say is, "What's good for the goose is good for the gander." What is more "Hollywood" than the Trinity Broadcasting Network with its gilded sets, bejeweled first ladies and well tailored pastors? TBN is but a taste of the profane material excess of the pastoral class. Private jets, swanky cars, expensive shopping trips; in the Bahamas the preachers are often the one's living like Hollywood stars. That unabashed, unfettered materialism is symptomatic of the very same "Hollywood culture" that the BCC would have as war against. To hear some tell it, Bahamian preachers are more concerned with building their mansions in West Ridge than in heaven, but I'm not one to spread rumors.
The final question is why, at this moment, is it imperative for the BCC that pornography be banned?
I believe that this is the most important question because it forces a larger political discussion. I want to argue that it is no coincidence that at this particular moment the BCC has offered a ban on pornography as a possible solution to our current societal dilemma, despite the futility of such an action. I want to suggest that this proposed ban is indicative of a dearth of novel ideas and the absence of any valuable solutions to address growing social ills. And finally, I want to propose that this dearth, this absence, is the natural by-product of the conservative political agenda which the BCC has chosen to adopt over the years.
This particular moment in our nationhood is important because of its difficulty. Bahamians are quite literally suffering. Widespread unemployment—especially among young men—increases in violent crime, a crumbling education system, empty party politics and a whole host of growing socio-cultural issues present a real challenge to the quality of life for Bahamians. And it is at this particular moment, that Bahamians have choice to continue to believe in a politics driven by a conservative agenda or to take a more progressive approach. The BCC has given you a ban on porn in the face of these troublesome times. If that doesn't exemplify how utterly disconnected they are from the present then by all means, ban porn until you're satisfied.
Like their right-wing, Christian fundamentalist, Republican counterparts in the United States, the conservative BCC is reading from the same play book they've been using since the Regan era. I'm not talking about the Bible either; at least that book has had a couple of version over the last 2,000 years.
Conservative politics is essentially about keeping things the same—it offers no new ideas and is exceedingly predictable. In the place of something original it concerns itself with presenting an imaginary and innocent past when we never had to worry about things like porn. The goal is to go back to that imaginary, ahistorical past, not to move forward. According to Dr. McCartney's book, if that past ever did exist, it's been gone for quite some time.
As an alternative, a more progressive politics remains flexible. The goal is not to return to the past, but learn from it while being acutely aware of the contemporary context. Armed with the lessons of the past and an understanding of the realities of the present, it is only then we can hope to approach the future in a critical way. That is what this particular moment in the Bahamas requires because it makes clear that the social and political solutions of the past are not working.
The truth is, anytime attention shifts from social to economic concerns, when conservative politics can no longer play on people's fears and prejudices to consolidate its power, it finds itself grasping at straws. What becomes immediately apparent is that in times when people need new solutions and fresh ideas to confront the problems of the day, stalwart conservative institutions like the BCC can offer little of value.
I am reminded of Hans Christian Andersen's children's classic, "The Emperor's New Clothes." In it, a vain emperor hires two tailors to make him garments fit for a king. Instead they trick him into believing that the new garments are invisible to those who are incompetent or stupid. Although he can't see it himself, he goes along with the charade so as not appear unfit for his position. When he finally parades his new garments before his subjects, a child, unable to keep up pretenses shouts, "But he isn't wearing anything at all!" Alas, out of the mouths of babes.
After all these years of weaving what seemed to be a messianic garment of righteousness and morality around what is really an anachronistic, secondhand, conservative attempt to rehash Sadducean authority, in this moment we are seeing the Bahamas Christian Council for what it truly is: naked.
I'm not a child but I think it's time we dropped the pretense. If prayer breakfasts, and the well-worn, well-rehearsed conservative ideological deadweights like banning porn, capital punishment, homophobia and patriarchal sexism are all the Bahamas Christian Council have to offer; if the ponzi scheme of "prosperity ministry" is the extent of what the pastoral class in the Bahamas can give us as we teeter on the brink, then someone has to point out that, in actuality, the emperor has no clothes!

Joey Gaskins

is a graduate of Ithaca College, Ithaca, NY with a BA in Politics. He was born in Grand Bahama Island and is currently studying at the London School of Economics and Political Science (LSE) where he has attained his MSc in Race, Ethnicity and Post-Colonial Studies and has begun a Doctoral Degree in Sociology. Joey also writes for the

Nassau
Liberal
www. nassauliberal. webs.com and the Tribune

. You can reach him at

j.gaskins@lse.ac.uk