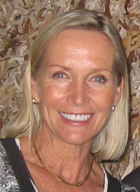 This sounds pretty simple. Do you know that all truths are simple? That does not mean that it is easy to follow through and live your truth. Nevertheless the simple truth of how to bring about change into your life lies in your ability to change your mind about what you are doing now.
Do you have a goal? Of course! You create goals all through the year in different areas of your life. This is January; your New Year resolution must be still at the top of your internal dialogue occupying your brain. How do you feel when you think about the implementation of your goal? Is it a sinking feeling, or an uplifting one? Do you feel strong and self assured, or doubtful and weak? This is important, because your success depends on how you think and feel.
There are three qualities that help greatly in achieving your goals; they all start with an "F" (no, not that one!) Here are the three qualities I am talking about: be fearless, be focused, have fun! But of course you still have to create a detailed plan; there is nothing better than writing a plan for your goals. It may take a while until you have the wording right, and this is important too. Why? Because if it sounds boring or complicated, it will not hit your core and create energy and passion; find the words that fire you up! If you need help, call me. Sometimes an experienced coach can pull the right phrases out of your sub-conscience, and you get the "ahah" feeling, as if a light just popped up. When you put the right wording down on paper, your excitement and passion to achieve your goal must be running high; your heart races, your energy flies! As a coach I would rejoice in your elation for a while and then ask you a question that may bring you off the mountaintop for a moment. My question to you: "Why do you want this"?
There must be a reason so great that you feel that nothing will deter you from achieving it. Your first thought in the morning when you wake up should be seeing yourself having achieved your goal already. You feel so energetic that you skip your morning coffee or tea and go straight to your plan of action for the day. This is what I mean by "focus" and "fun". There will be challenges though! Every day brings unexpected situations. Your attitude is your best tool to turn each situation into the most perfect perspective where the challenge becomes fun. Remember when you were a child… nothing seemed to be difficult because you knew no fear. Your excitement as an adult will activate the powerful and invincible inner child in you. You know that you can dream big, but you must have a strong enough reason for achieving your goal. Never ask "how" to achieve it: the 'how' will flow from the 'why'. "How" will always be revealed if "why" is big enough in your vision, and your mind! When somebody comes to me with a goal to, lets say, lose weight, I always look them deep into their eyes and ask:"Why"? If they don't have a strong core belief about why they want to lose the weight (just an example, could be any goal), I know that they will probably fail.
Do you get overwhelmed with goals that seem so big, or so far away? Your excitement can get easily dampened if the change you desire is substantial. You have to break it up into small steps and get one thing done at the time. Follow your plan, but be prepared to risk bearing your own burden when temptation pulls you off course; risk catching yourself in the act. Refuse to be self- compromising and observe your thoughts and feelings; always trust your inner voice of truth and wisdom: "temptation shouts, but truth whispers". Become still and listen! You know the difference. Fear will rear its ugly head and you will become unsure of yourself; still take the steps that your fearful thoughts tell you you can't, because every time you conquer a fearful thought, it vanishes as an illusion and you know that it had nothing to do with you. Practice joy. Relax and breathe consciously; take a deep breath right now! Yes good. Now another breath, ..even deeper. You see how your body follows your mind? You decide to relax or to let your inner child out and be as silly and playful as you want to be, and your body will follow. Isn't this fun?
You have no idea how powerful you are when you have peeled away all the stuff, like fear, that makes up the illusion of who you think you are, and unveils the Real You. Then nothing can threaten you. Life becomes rich and colourful and fun; it becomes your playground of experiencing your authentic life, and it becomes easy no matter what happens. With every goal you reach comes an incredibly empowering feeling of knowing that there is nothing you cannot achieve if you make up your mind to really do it. Let us start the journey…. If not now, when?
Dr. Angelika Christie is the Managing Director of Radiant Health Center You can contact her at 352-1010 or email radianthealth1@mac.com