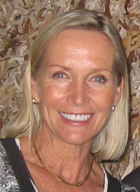 Of course you don't do this consciously, but you still do it if you use 'Accent' or any other form of MSG in your cooking. I know how hard it is for people who are used to flavoring their food with 'Accent' to leave it out; they claim that the food does not taste the same, that it does not have a good flavor. Let me tell you the reason for this statement: You are addicted!
That's right: MSG is a poison that messes with your brain as much as with your taste buds. There is so much scientific evidence for this, that I am surprised and actually angry that it has not been put on a health-risk list, or even better banned from use in food all together. MSG stands for "Mono-Sodium Glutamate" and is everything but a natural additive to food, yet you find it in almost all processed foods: yes even in coffee (Starbucks) and hundreds of items from Campbell's soups to Top Ramen to Betty Crocker Hamburger Helpers, almost all potato chips, salad dressings (especially the so called healthy low fat ones) and Swanson frozen prepared meals, and the list goes on and on.
As I said, even if you don't actually flavor the food you prepare from scratch in your own kitchen with Accent, or any other flavor-enhancers, you get MSG from almost any packaged food you buy off the shelves at the supermarkets.
Do you know what purpose MSG had for over thirty years? It was used to fatten up rats in laboratories in order to test diabetes and obesity. Newborn rats were injected with MSG, which tripled their amount of insulin response by the pancreas and made they obese in no time. This may be a necessary way to study the effects of diabetes in rats, which the pharmaceutical companies are interested in to create medicines for humans, but why is it in our food?
MSG is added to food because it has an addictive effect, in other words, you want to eat more of the food that contains MSG. The Glutamate Association, which supports the addition to MSG to foods claims, that it helps the elderly to eat more! That may be o.k. for stimulating the appetite of our seniors (I am almost there and do not find it o.k. for me!), but what does it do to our middle aged, still young, and children?
Is it any wonder that the problems with weight are so prevalent in our communities, which includes our children? The FDA has set no limits on how much can be added to our food supply, and consequently MSG has been added to a larger and larger degree in more foods than you can imagine. Our children become more addicted to Fast Food (Junk), and even your defenses are dulled to giving in, because you eat the stuff yourself and became addicted as well.
How can you tell your child not to eat the chips, cookies, or "children meals", if you crave the stuff yourself? You know, I am not angry with you, but with the agencies (government) that allows the greed of big food companies to put a scientifically proven addictive substance in your food, in order to sell more of their products and be competitive, with the devastating side effects of ill health. What is the price on your health, your life?
In hundreds of studies since the early 60th, it has been established that MSG plays a major role in the growing obesity problem. But it does not stop there, many common diseases like Diabetes, Autism, ADHD, Migraines, and even Cancer have been linked to this slow poison called MSG. There are countless study papers on the Internet at the National Library of Medicine: www.pubmed.com, where you can read about the devastating effect that MSG has on your health and wellbeing. I also recommend a book by John Erb: " The Slow Poisoning of America", just in case you are still not convinced that you may be slowly poisoning your children and yourself. If you don't start reading labels, and stay away from Fast Food, you, and especially your children may be doomed to obesity and it's many health issues by an addictive food additive. Don't let it happen.
Where you unsuccessful in your efforts to drop some weight? Even if you have tried everything to shed the extra pounds, you may not have been able to because MSG kept the fat sticking with you by keeping you addicted to unhealthy foods. If you say: O.K. I will stop using Accent and other Flavor enhancers and read labels, and don't eat Fast Food (that includes Kentucky Fried Chicken, which is loaded with MSG), you may have an uphill battle. Why? Because you may not even know how addicted you have become to the cravings of the foods containing MSG. You may go into withdrawal symptoms from cutting it out suddenly. I will help you with this if you call me. Otherwise become smart; maybe create a support group with other concerned people and neighbors. Even write to your government, the Ministry of Health, demanding to send out warnings about this health destroying substance; shouldn't they be concerned about the health of their populace? We don't produce it in the Bahamas; it comes from the mighty United States, shipped right into our country and ending up in our bodies. Now that you know, or have been reminded again, your conscience will "tip on your shoulder" the next time you grab a food laden with MSG. Listen to the wisdom of your mind and act.
So in the final analyses we come back to the my pleading for you to eat as much fresh, unprocessed foods as possible and, please, throw out your Accent, Meat Tenderizers, Hydrolyzed Vegetable Protein, or any other flavor enhancers. Of course all natural herbs like sea salt, peppers, lime or lemons, natural vinegars and mustards are great to use. You will see your weight drop and your and your children's health improve by just staying away from MSG and the rest of artificial food flavor enhancers.
Dr. Angelika Christie is the Managing Director of Radiant Health Center You can contact her at 242-352-1010 or email radianthealth1@mac.com