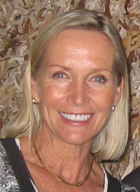 Transformation is a big word with an even bigger meaning and is active in many areas of your life. Your physical body is a gigantic 'transformation device' by which, in more or less complicated processes, your food gets transformed into energy and building blocks for cell renewal.
But that is not what I want to talk about today. Let us look at transformation from a mental, emotional and spiritual point of view.
Most of us in the Bahamas just celebrated Easter. I practice a personal tradition of fasting on Friday. When the body is not busy digesting food, mental, emotional and spiritual awareness is heightened. On 'Good Friday' I spend most of the day in quiet contemplation about the meaning of remembering Christ's journey from prosecution to crucifixion and glorious resurrection. Is this not a magical transformation? Even though the man Jesus went through pain and agony, suffering the greatest injustices and cruelties from the people he was chosen to save, he endured. Did He complain? Did He defend himself? No. Not because he was so godlike that it could not have bothered him; he must have felt every insult and assault to the highest degree because Enlightened Beings are highly sensitive. He had enough Love to see beyond the appearances and embraced the larger picture, his mission.
How does this relate to our lives? On a smaller scale, we all have our mission on earth. I believe our bigger picture is to hone and expand our capacity to love. What does this mean? It means to include rather than exclude, to allow rather than control, to be open to allow what we don't understand by honouring our differences without judgments. How do you handle the challenges in your life? Are you a complainer? Yes? Don't feel bad; most of us are at one time or another. Lately it got much worse though; almost everybody complains about the economy and adding a whole list of others on the tail end. Does the complaining help though? It does nothing but add to misery through bad feelings, freezing you up in the energy of fear. We often cannot get directly involved through direct action, but we definitely have a choice to find and focus on a positive solution rather than lamenting about how bad it is. What really is lamenting and complaining all about? It covers up fear; it focuses on a single event or picture in your mind without seeing the 'Whole'.
If you focus on something you don't want, you still give it more energy. Unless you can transform your feelings into a different emotional experience, you are stuck with the old feeling of fear. Let's say you are upset with your partner, or boss.….the very picture in your mind when the "incident" happened will stay there even though you think you got over it by not thinking about it anymore. You actually just covered up, and you know what happens when you cover up anything…sooner or later it always gets uncovered.
The next similar situation will trigger a response …and there it is again in a flash, big and very much alive: Your anger, your fear. What if you could take something bad and change it into something good? Right, " The bad" would be resolved; it could not exist anymore. Is this magic? No, it is the process of transformation. What makes transformation so powerful? It is a creative process that is rather permanent. It is not "letting go" of something, nor "getting over" or "just forgetting about" something. That is only a temporary band-aid. Transformation can only happen when you do not resist what is, but find a creative solution to change; replacing the Old with the New. In other words: the only permanent change from something painful or undesirable into a positive and life- affirming situation is through the creative process of transformation. Just become aware of your thought processes… are they supporting you, or dragging you down? We all want happiness and love and joy. It is all available, no matter what outer situation exists.
Of course all the attributes I have told you about in my previous articles are not only helpful but essential for a deeper understanding of this concept. They include: awareness, choice, responsibility and willingness. Do you remember we talked about willingness versus ability? Willingness is important here to learn the "magic of transformation". You have to be willing to be a novice, a beginner. Like everything you have learned in your life, you started at the beginning. Even if you felt a bit clumsy and overwhelmed, by applying yourself to the process and learning curve and diligently practicing along the way…mastery can be achieved.
Even though you may not believe now that a particularly difficult situation in your life can be transformed…if you just allow the possibility…you have opened a door for positive change, for transformation. Most of us need guidance through a teacher in order to stay on the path and a successful monitoring of the process. I did until I was ready to apply these principles to my life and now are able to teach them. Why is proper instruction helpful? Because there will be doubts when obstacles arise. Just like peeling an onion; there are many layers of resistance and even reasons to cry (I mean literally), you will get through the rough parts, and then you will reach the soft and desired center. Not speaking anymore about the onion here: that soft and desired center is your true essence. It is Love and Light and Peace…everything you desire you already have, including the ability to transform any discord in your life into harmony. Start on this path today, in honour of the 'Christ-Consciousness' within you. Come into your Center of Being where you can experience your magic of transformation.
Dr. Angelika Christie is the Managing Director of Radiant Health Center You can contact her at 352-1010 or email radianthealth1@mac.com