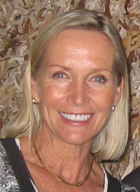 Did you decide on all the things you want to change in the New Year?
How strong is your conviction that this time you will succeed? Any doubts?
If you belong to the 90% of us who have tried radical change before and failed, you see that you are not alone. Change is exciting, but difficult and sometimes outright scary.
Statistically, in January most gym memberships are received, most weight-loss programs purchased and most conversations revolve around what will be different in the New Year. By February it starts to fizzle out; disappointment and a feeling of failure sets in and you find yourself in the same position by the end of the year, at which time new attempts for change may be considered.
The reasons why most people fail to follow through with their new resolutions are manifold; for example not having a detailed plan, having unrealistic expectations, and "trying" instead of "doing". What can you do to succeed with your New Year resolutions? There are proven steps toward change. Let us explore what is necessary to succeed with the # 1 New Years resolution: weight-loss.
Most of us cannot accomplish a healthy weight-loss without a comprehensive plan, combined with a strong will to take big action. One would think that this alone should work… but it usually does not. Why?
Willpower and a plan are important, but not enough; you also need to understand the reasons why you do what you do. It is difficult to understand this on your own; therefore you want to hire a coach to point things out to you, to support and guide you through the tough times. You may think that you can read up on the subject and do it on you own? Very few of us can make up their mind and follow through without fail. Those who can are self-starters and high achievers; they are natural leaders! Some manage to start that way, but fall short and stop frustrated after a short time. Most of us need to be coached (guided) and motivated along the way. When it counts and you want the best results, coaching is absolutely necessary.
The most common pitfalls in changing a habit include the following:
You don't set a precise plan how to get from A to B (starting point to result).
You have unrealistic expectations regarding the timeframe or the end-result.
You say in your mind that you will "try" to stick to your plan; never works, bound to fail because there is no try. You do or you don't do!
You give up, because your enthusiasm wanes after a set- back for any reason; this is when you really need guidance, encouragement and help.
You may say that you knew all of this, but are you also prepared to take big action? In theory and in our mind we can envision our desired outcome because it is pleasurable to behold a healthier, slimmer and more energetic body. You have to be prepared for tough times along the way of change. Discomfort has to become your friend, and you have to love yourself through it all. Can you do this? Or can you only think lovingly of yourself if you have achieved your vision?
Tonight, or tomorrow morning step in front of your bathroom mirror and lock at yourself (no, not just your face, your whole naked body) and smile and say with deep love and appreciation: I love you! Louder and with much more passion and conviction: I LOVE YOU the way you are now. I am sorry for not having taken good care of you. I will give you what you need from now on. If you can embrace and love yourself totally where you are now, you will love where you are going to be later even more. Do this exercise every morning and say it with love and gratitude for your magnificent body that has taken so much of your abuse without shutting down.
If you read this, you are alive. Change for the better is possible, which means that this time, if you really want to change, your New Year resolution can be successfully executed. Your desire and commitment to follow through, a smart personalized plan, guidance and support from your coach, and you will get to the finish line.
Once you have achieved a real breakthrough, your regained self-worth and personal power will make change easier throughout all areas of your personal life. What you have done is; you created a new brain, well a new part in your brain that knows how to manifest the things you want in your life. Self doubt and fear of failure have been overridden by your new program: Yes I can! I did it! What a magnificent feeling. Is it not worth any sacrifice? This time you move beyond all odds and will not fail your New Year Resolution. It is up to you.
Dr. Angelika Christie is the Managing Director of Radiant Health Center You can contact her at 352-1010 or email radianthealth1@mac.com