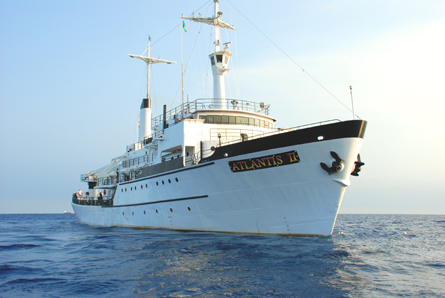 Our home for the coming weeks...
After thinking we were going to have a stay-put summer, a sudden gift comes our way….and a chance of a life time results!
Just a note to let you know my four children and I have left to travel aboard the Atlantis II research vessel! There is more written about this historic vessel below that was involved in the discovery of the Titanic. We (the children and I, and the crew) will be leaving directly for Wood's Hole (near Boston) where the ship was commissioned (1962) to be built by the Wood's Hole Oceanographic Institute (world's largest non-profit oceanographic institute). Their community is anticipating our arrival and are thrilled that the ship has been reborn. She was retired in 1996, and sat idle for 10 years, was about to be sold as scrap metal after surviving Katrina in New Orleans, when she was purchased, then was taken to Grand Bahama and completed refit. She is back in action and the kids and I are so very excited to be going on this trip!
Stay tuned as we will be sharing our trip with you. We will only be 3 – 5 miles off the shore so will have internet access via the cell phone system and satellite.
The vessel has sailed around the world over 10 times and has put in over a million miles at sea. Jacques Cousteau has worked on her, and persons like Hubert Humphrey, and other celebrities and notables such as the Emperor of China have been on board. It was the first vessel to have women work on board as crew, as well as the first to have women scientists. We do believe that the children will be the first to travel aboard. (…to be confirmed in Wood's Hole).
Stayed tuned to my column, Robbin's Nest to hear and see what we are up to. We are told we will have internet access (via cell phone/satellite systems) on board as we hope to never be more than 5 miles off the east coast.
We'll be back in time for school…
Bon Voyage,
Robbin, Loryn, Tohni, Nathen and Jackie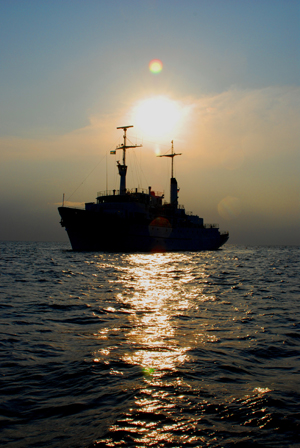 Into the sunset we go...
News
Research vessel, Atlantis II, re-christened in Freeport Harbour and ready for service - Jul 19, 2007 - 12:18:54 PM
The 210-foot research vessel, Atlantis II was re-christened at Freeport Harbour on Wednesday, July 18, 2007. Special guests and dignitaries, along with the media, gathered on a hot afternoon next to the vessel to be a part of a historic moment. Rev. Canon Harry Bain first blessed the ship, and having the honour of re-christening the vessel was Anita Doherty, Chief Councilor for the City of Freeport. Gray Henricksen, the ship's captain had earlier prepared the bottle of champagne for the christening by having it etched for easy breakage – this went awry when the bottle exploded on the vessel, so a subsequent bottle was bought for this purpose, but when trying to break...
[ Read More... ]
Community : Service Organizations
Rotary Club of Freeport holds Installation Ceremony on board the historic Atlantis II - Jul 17, 2007 - 4:15:33 PM

It was not your usual Rotary function and not your usual venue! Wanting to do something entirely different for the Rotary Club of Freeport, President Mike Stafford decided to hold their Installation Ceremony and party on the historic research vessel, Atlantis II presently docked at the Freeport Harbour. It was a night to be remembered, and it had all the right ingredients to make it so, like great hors d'oeuvres, a free-flowing bar, live entertainment, and dancing under the twinkling lights of the harbour. All this, on a one-of-a-kind famous historic vessel built in 1962, which just happens to be the same year the Rotary Club of Freeport was formed...
[ Read More... ]

News : Local
Atlantis II begins a New Era - Feb 27, 2007 - 8:23:52 AM
When the research vessel Atlantis II was retired by Woods Hole Oceanographic Institution (W.H.O.I.) in 1996 the headlines read "…the end of an era".
If only they could have seen the future!
[ Read More... ]
News : Local
Historic Vessel comes to The Bahamas - Jan 19, 2007 - 12:17:53 PM
A piece of history has arrived on the shores of Grand Bahama. Atlantis II, the same vessel famous for assisting with artifact retrieval and deep-sea imaging of the Titanic in 1986, arrived in Grand Bahama in late 2006, and is now undergoing restoration. After being saved from a shipyard in Louisiana and surviving Hurricane Katrina, the ship and its new crew endured the 5 day trip across the Gulf of Mexico to The Bahamas, which will become its new home.
[ Read More... ]
About the author: Robbin Whachell has been a resident of Grand Bahama since 1998. She moved to Freeport from Vancouver, Canada. She is the mother of four children and is an involved volunteer in the community, in particular with the YMCA. She is a founding member of the Grand Bahama Writer's Circle, and The Bahamas representative for the International Women's Writer's Guild. Her passion for life on Grand Bahama comes across in her innovative and intuitive sharing and networking of information within the community she lives. She is appreciative of her opportunity to live in The Bahamas and looks forward to the continuance of being a team player within the larger community of The Bahamas. Robbin is the Editor of TheBahamasWeekly.com and can be reached at robbin@thebahamasweekly.com