Last Updated:

Feb 6, 2017 - 2:32:04 PM
---
Human Trafficking - Pratigya from Dalit Freedom Network on Vimeo.

Back in 1996 I came across a Reader's Digest magazine article on the Taliban and their drastic and tragic dominance over the women of Afghanistan. As a woman and new young mother, it was heart-wrenching to read how the sudden oppressive actions of this group were dominating and changing the lives of women in that country, women who previously had 'normal' lives. They were forced to cover themselves completely with burqas and were stripped of their freedoms, careers, but mostly their dignity. I was so horror-struck by this article, that I tore out the pages, photocopied it 50 times and snail mailed it to most of my family and friends. I simply wanted people in my life to know what was going on. I felt so blessed to be living in Canada.

We rally for the rights of animals, we rally for the rights of those of different colours of skin or race, but do we rally for the basic rights of human beings? How long do women and children have to be treated like dogs, or worse, 'rabid dogs', before we, humankind on this planet, will take a stand to say we are not going to allow such behaviour anymore?


Today one can open the paper and it's weekly that there is some report, most often of a Muslim woman being beaten or mutilated (yes mutilated) or even killed.
And what's shocked me, is that these incidents are happening in North America also.


The United Nations Population Fund (UNFPA) estimates that perhaps as many as 5,000 women and girls a year are killed by members of their own families under the guise of honour killings. Wikipedia says, "An honour killing, or honor killing is the homicide of a member of a family or social group by other members, due to the belief of the perpetrators that the victim has brought dishonor upon the family or community. Honor killings are directed mostly against women and girls, but have been extended to men."

Many watched the media coverage earlier this year of the Shafia murder case in Canada where three young girls were murdered in the name of honour.
What was most shocking about the Shafia case, was that the mother and son were charged along with the father.
Where does one feel they have the right to punish so abusively, or have the right to even commit murder?

How do we raise our children to resolve conflict without violence?

I was discussing my feelings about these atrocities with my teenaged son, and he said, 'I understand your upset mom, but how can we change it, it's cultural?"


"Well we can start talking about it," I told him. Start writing about it too. Why should a man be allowed to kill or disfigure his wife's face, and in front of his children, for the sake of his religion or culture?


Earlier this year I was invited to attend a charity dinner for the
Dalit Freedom Network of Canada, an organization committed to the oppressed Dalits (women) of India and their children. According to Wikipedia, "Dalit" is a designation for a group of people traditionally regarded as "untouchable". Dalits are a mixed population, consisting of numerous castes from all over South Asia; they speak a variety of languages and practice a multitude of religions. While the discrimination based on caste system (not the caste system itself) has been abolished under the Indian constitution, there still is discrimination and prejudice against Dalits in South Asia. The Freedom Network is helping to provide education and jobs for these women.

It was at this dinner that I met the author of

Black & Blue Sari, Kamal Dhillon, who is a survivor of horrendous abuses by her husband, not only during her life in Indian, but also during her life in Canada. Dhillon was the evening's special guest and spends her time touring and speaking on domestic abuse. Her message is, "Abuse is never justified. Abuse not only wounds physically, but destroys people emotionally and mentally. Is is a systematic breaking down of the person you were meant to be. No person should live in fear in their own home. All people should have the freedom to be who they are."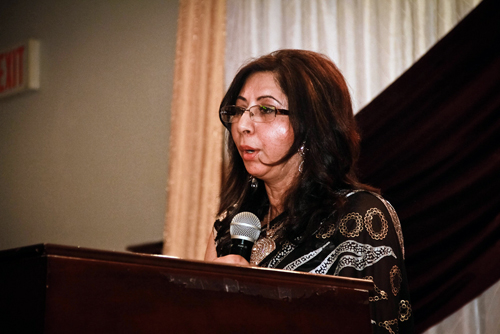 Dhillon says there are many types of abuse. "The most obvious form is physical abuse, but there are others, such as isolation from family and friends, constant phoning to check up on you, verbal abuse, shouting, rage, sexual abuse and even withholding money from you." Dhillon had her jaw broken several times, and reading her book was like stepping into a horror movie. The worst of it was that her children witnessed much of the domestic violence. The blessing is that they survived, and are leading productive lives, while supporting their mother in her quest to educate others.

If you are being abused, seek help. Tell someone. Kamal Dhillon writes, "Tell your doctor to document any injuries or past abuse. Have a journal hidden away. Your life is precious. Protect yourself and your loved ones. Even if you can't talk, you can call 911 and hang up, the police will still show up at your door."

After reading

Black & Blue Sari

, I went on to read another book,

Prisoner of Tehran

, a biographical account of a young Iranian woman's arrest and imprisonment at the start of the Iran revolution. The author, Marina Nemat who is now a Canadian resident says, "We sweep things under the rug, because it's easier than facing them."

In many cultures the mothers and relatives know about abuses happening in their own home or families but are turning a blind eye, most often with cases of incest.
International Women's Day is March 8th, and this year celebrates the 50 anniversary of women's suffrage. I feel blessed to be a woman, and a mother. In particular that I have the same freedoms in my country as men do for the most part, and that my three daughters enjoy this same freedom. I feel blessed to have been raised by a strong woman, my mother who encouraged me to be me, which had nothing to do with what sex I am, or my culture, or my religion.


Where have we come over the year's with the rights of women? The protection of our children? We are still being exploited, still being abused, and misused. Human trafficking is at an all-time high. Child pornography and prostitution remains rampant.

In order to change, we have to keep on talking about it, demand our rights, and keep on setting the bar higher. There are little eyes watching us, following our lead. Setting a good example is key. Media and film play a huge role in education or perception and acceptance. What are we doing as a collective? It's a big responsibility, but our future generations are depending on our words and actions.
Support the Dalit Freedom Network:
Canada: www.dalitfreedom.net
UK: www.dfn.org.uk
USA:

www.dalitnetwork.org
Womens' Rights and the GOP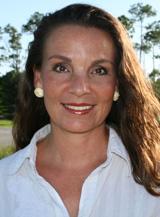 About the author: Robbin Whachell is a publicist, writer, photo-journalist; and co-founder/ editor of one of The Bahamas' leading news sites, TheBahamasWeekly.com. Ms. Whachell is a successful entrepreneur and pioneer in online marketing. Aside from being a recognized media personality and community builder, she is known for her networking and social media skills, and has a background in information management and film.She can be found on Facebook, Twitter, Instagram, LinkedIn, Skype. Reach Robbin by email at Editor@thebahamasweekly.com





© Copyright 2012 by thebahamasweekly.com

Top of Page