Last Updated:

Feb 6, 2017 - 2:32:04 PM
---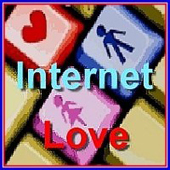 The internet has helped bridge the gap in those so-called extremely difficult 'long distance relationships'. Today we have the power of the internet to keep our love alive, and keep in constant contact with our family members and those we love. With the use of a web cam, we can now even

see

any person/s every day.

As long as you have internet access, you and your lover can potentially keep the vibe alive...

But, another interesting phenomenon has cropped up in these years of the technologically advanced. Now we even have

love that begins

on the internet. Popular dating or couple-matching sites are everywhere. But lets start a little more base than that. Here is a scenario:

Jean meets John while she is vacationing in The Bahamas. They chat, discuss their careers, and perhaps even swap business cards. Jean returns home, and John adds her to his IM (instant messaging) system. Within days they are talking online, learning more and more about each other. John can speak to Jane any time she appears online. The daily chitchat becomes an obsession, and they begin to look forward to their time 'together'. Jean plans another trip to The Bahamas.

The excitement is so intense as they have been building a bond online and between them. They have, in essence, begun a 'relationship'. The story continues of course any way you can think, but the point is is that John may have been married this whole time (or with a girlfriend), and avoided the truth because up until now he enjoyed the time online with Jean and didn't feel it did anyone any harm.

While Jean may be in an awful marriage and had been considering a divorce, and her new found excitement, his compassionate listening ear, brings her so much comfort, that she actually prefers to talk to John than her own husband. She is even feeling the 'fluttery love feelings' when they communicate. She is making the trip to see if they are truly compatible in person...she plans to surprise John. She is compelled to find out if she should proceed with the pain of a divorce. Perhaps her meeting John was fate, and her sign. His life seemed and certainly must be better than hers. She would find out...



Back to reality...whatever that is:



I know of couples that meet in The Bahamas, and the male or female returns home until their next visit and they live their lives online as much as possible until they can visit each other again, even using the internet in their bedrooms (via web cam) to ensure and 'show' their loyalty and love to one another. I am not implying sex here either, just the view of one another to show you are there, home, thinking of them.

But don't get me wrong, this new method of staying in touch has wonderful benefits we'd never have thought possible years ago. Think if you had to work in a remote part of the world? What if you have a new grandchild across the globe?

Let's complicate the scenario:



Add

more people to the IM of any of the persons mentioned above. Other lives, other chats, other worlds. John may have another women he met and is keeping a relationship online with. Perhaps Jean has reconnected through Facebook with her old high school sweetheart. That intrigues her. OR, perhaps John has helped Jean through a rough time after Jean and her husband argued. He supported her feelings of pain and frustration toward her husband. He tells her

he

would never treat her that way. She is so taken by his support, his being there for her, always, she uses the word,

love

. Just a little word... but she feels his love, or so she thinks. That little word then appears in all their correspondence. The flutters increase..

Question - Are we really getting to know someone by sharing our lives online? Are we cheating on our sweethearts, spouses, by continuing such relationships online?

I'll not answer, because I am an expert. I can speak for me but your truth is your truth. They have not yet written the

Golden Rules of Internet Love

. I am sure that one day this phenomenon will be studied... It should be interesting!

When computers first became really popular and my children began using them on a daily basis, the 'then' popular forums for kids were ones like CokeMusic.com, HabboHotel.com; and another called, Gaia.com. They shared these sites with me and they became friends with others online in these forums. I reviewed them and they seemed tame enough...

Time passed, life is busy, then one day my daughter would not get up for school. She seemed low as low. There was a buzz between my other children, and I asked what was up with their sister? They told me, "Jimmy died."... "Who?" I asked.

"Jimmy, sister's boyfriend on Gaia.com"... I was stunned.

I took the others to school and came home to see how my daughter was. This was amazing to me. 1) I didn't know about her affection for this person... 2) my daughter felt enough emotion about this person she'd never met (other than online) that she had become physically sick, depressed and was even crying.

She told me about him. That he was a friend for a year and a half. He'd been in hospital the past months with some chronic sickness, and his sister had just told my daughter he'd passed away at the young age of 15 years the day before. Kids were even calling my home from their breaks at school here in The Bahamas to console her! They'd received the news too.

Pretty heavy stuff! But it happens, and it will happen more and more in our modern world. We can live as insular as we like, but with the internet you can virtually speak to, get to know, feel emotion for,

anyone

,

anywhere, any time

.

Virtual love

is

real... or is it? I'll let you decide...


Comments? Write Robbin at Robbin@thebahamasweekly.com
About the author: Robbin Whachell has been a resident of Grand Bahama Island since 1998. She moved to Freeport from Vancouver, Canada. She is the mother of four children and is an involved volunteer in the community, in particular with the YMCA and the island's soccer programmes. She is a founding member of the Grand Bahama Writer's Circle, and The Bahamas representative for the International Women's Writer's Guild. Her passion for life on Grand Bahama comes across in her innovative and intuitive sharing and networking of information within the community she lives. She is appreciative of her opportunity to live in The Bahamas and looks forward to the continuance of being a team player within the larger community of The Bahamas. Robbin is the Editor of TheBahamasWeekly.com and can be reached at robbin@thebahamasweekly.com





© Copyright 2008 by thebahamasweekly.com

Top of Page