When I moved to The Bahamas from Canada I knew very little of pageants other than Miss World or Miss Universe. Through my work with TheBahamasWeekly.com and with the help of social media, I quickly became familiar with the many pageants going on in The Bahamas. I learned that through these pageants the Bahamian queens were able to go off to international locations to compete globally, so therefore pageantry was not only rampant in The Bahamas, but more-so world-wide.

My first thought was that The Bahamas had way too many pageants, and I felt pageantry in general were an exploit of women. I felt pageants featuring young girls wearing makeup and heels were simply uncalled for. I also could not understand the hierarchy of pageants in The Bahamas - was there a hierarchy? Or a governing body? Did one pageant feed and support the next?

I had so many questions like, is there money in pageantry? How does one live off of pageantry, and is that even possible? What benefits do they offer their country? or the queens?

I figured there had to be some misconceptions, so I went to the heads of the Miss Bahamas Organization, the Miss Teen Bahamas Organization and the Miss Grand Bahama Organization to get their feedback. I also canvassed on Facebook and Twitter to obtain public opinion. I learned I was not alone in my initial feeling that their were too many as it seemed to be a perception of the general public as well. Today I can say that I've now learned much on the value of pageantry.

In my personal experience it was not until I met the organizers, contestants, and winners of local pageants that I began to see there was something positive going on, as the girls I met were poised, polite and most often had something intelligent to say. The organizers I met seemed to be selflessly working their tails off to put on the best production they possibly could with what seemed little to no financial resources.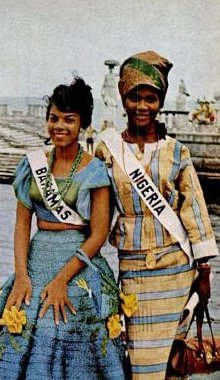 1964


When I got asked to be a judge in Theodore Elyett's Miss Teen Bahamas Pageant a couple years ago, I really had my eyes opened to the world of pageantry and gained a deeper appreciation. Much of the judging takes place before the big finale night. Meeting the young contestants, many or most who have never been in a pageant before, I could see that by the time they completed their pageant workshops, grooming and preliminary judging, which is very stressful to say the least, most of these young women had been taken from zero to one-hundred in personal development .


My interest in pageants grew after judging, as I witnessed first-hand how young women, who may otherwise never have these types of opportunities, reach personal heights they might have never imagined otherwise by their pageant experience.


Being the mother of three daughters, I would today encourage any of my children to participate in a pageant, as I now know that it equates to a successful self-development course.

But what about child pageants? One reader wrote me and said, "Children should be children, not little grown ups. I'd like to see a long-term study on how these kids turn out."

No stranger to the pageant world, Oswald Ellis of Grand Bahama offered his comments on child pageants by saying, "Sometimes parents make their daughters into little women... too much make up - too much hair - and often their wardrobe or talent is not age-appropriate; but when it remains a 'child' pageant the end result could be that later this child becomes a teenager, and then a women comfortable with pageants; and potentially an ideal candidate for Miss World or Universe."


I've been lucky to also liaise with Miss Bahamas supporter and beauty pageant enthusiast, Neil Alan Craig , who said he's been interested in pageants since the early 1980s.

Mr Craig was most helpful in providing the old newspaper clippings you see here. In fact he's started a new Facebook page called, Miss Bahamas Blast From the Past if you want to join it to see more photographs, clippings, etc.


He said that Miss Bahamas winners used to actually work for the Bahamas Ministry of Tourism and traveled promoting her country. "I would like to see the winners go back to working for the Bahamas Ministry of Tourism," said Craig.

Despite The Bahamas never taking the crown for Miss World or Miss Universe, Craig said, "In 1981

Linda Smith won Miss Amity (Now Miss Congeniality) making her the first Bahamian to win an award at any Miss Universe and the year later, Ava Burke (1982) won Miss Photogenic at Miss Universe - that was back when the press photographers themselves chose Miss Photogenic."



Craig goes on to say, "

Many of Nassau's top businesses and companies sponsored girls in the Miss Bahamas contest. Back in the 60's, 70's, 80's and mid 90's the Miss Bahamas pageant was one of the premier events of The Bahamas. When Brenda Major Barry was crowned the first winner in 1961, Lady Symonette the wife of the the Premier postponed a European vacation just so that she could be in town to Crown the winner

. In the 1960's the pageant was held with a dinner dance and was a black tie affair. In their year of reign the winners

attended all the premier events in The Bahamas

."


Craig goes on to say, "I don't think the pageants are about making money. People involved in pageants donate there time to the pageants and many businesses sponsor contestants and donate or offer prizes towards the pageant. International travel is costly, and that is where most of the money goes. "

"People don't always accept the winners, but they may not realize that a lot goes into the judging process that the general public does not get to see. People should accept the winners and support them. "

Mr Craig helped provide a list of all the pageants in The Bahamas. If we've missed any please email me so we can update this list.


PAGEANTS IN THE BAHAMAS:


Miss Bahamas: winners go to Miss World and Miss Universe. Runners-up compete in Miss Intercontinental, Miss Supranational and the Top Model winner competes in the Top Model of the World contest.

Miss Earth Bahamas: competes in Miss Earth while Runners-up compete in Miss International, Miss Progress International and Miss United Nations

Miss Teen World Bahamas: winner competes in Miss Princess of the World while Runners-up compete in Miss Teen Universe, Miss United Nations, among others.

Theodore Elyett's Miss Teen Bahamas: winner competes in Miss Teen International and Miss Teenager Universe

Miss Talented Teen Bahamas: winner competes in Miss Hal Jackson's Talented Teen International


Miss Galaxy Bahamas: winner competes in Miss Galaxy International

Miss Teen Galaxy Bahamas: winner competes in Miss Teen Galaxy International


Mrs Bahamas: winner competes in Mrs World

Miss Gospel Bahamas: no progression that we know of

Miss Grand Bahama: winner competes in Miss Bahamas, Miss Friendship International and Miss Coffee International, Runner-up competes in Miss Global Bahamas

Miss Talented Grand Bahama

Little Miss Bahamas: winner competes in Our Little Miss Bahamas pageant. Runners-up also compete Internationally.

Miss Jr Grand Bahama

Miss Spanish Wells: competes in Little Miss Bahamas

Miss Abaco: competes in Miss Bahamas

Little Miss Abaco: competes in Little Miss Bahamas


The following pageants may be discontinued: Little Miss Radiant Bahamas;
Miss Teen Eluethera; Miss Teen Long Island; Miss Pinnaple Festival (Eluethera); Miss Harbour Island

If you have old photos or clipping please feel free to join the Facebook page and share them there. Mr. Craig would love to hear from you.


Facebook: Miss Bahamas Blast From the Past

My next article in this

Pageantry in The Bahamas

series will feature input from the president of the Miss Bahamas Organization, Michelle Malcom.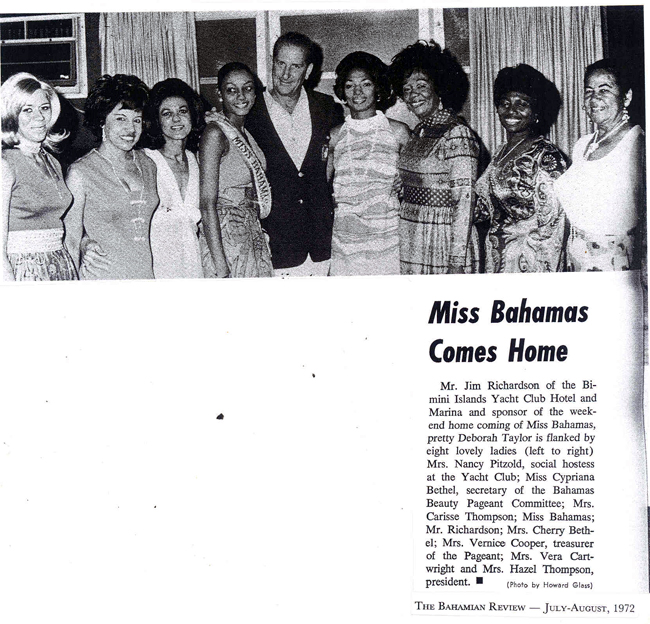 A Miss Bahamas comes home
About the author:

Robbin Whachell is a publicist, writer, photo-journalist; and co-founder/ editor of one of The Bahamas' leading news sites, TheBahamasWeekly.com. Ms. Whachell is a successful entrepreneur and pioneer in online marketing. Aside from being a recognized media personality and community builder, she is known for her networking and social media skills, and has a background in information management and film.She can be found on Facebook, Twitter, Instagram, LinkedIn, Skype. Reach Robbin by email at Editor@thebahamasweekly.com