Last Updated:

Feb 13, 2017 - 1:45:37 AM
---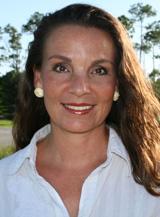 International Women's Day is upon us once again, and it's the perfect opportunity to reflect on the importance of the female component on this planet. It's interesting to note that there is no International Men's Day and I would have to think, that's because perhaps one is not necessary (?). There is a great need for an International Women's Day to express all that is required to change when it comes to the treatment of women throughout our world.

Having three daughters, makes this all the more meaningful for me. I want for them a world that treats women respectfully no matter their colour, creed or gender.

As a planet, we have still such a long way to go. In some regions I feel we've actually gone in reverse, as to what were once more liberated nations, sadly they have reverted back to archaic mindsets - some it seems, as far back as to the cave man days when it comes to the oppression of women.

I find no-sense in those that treat women poorly, in particular those who are the sons, husbands, and family of that woman. The woman is the keeper of the fire (home), and the carrier of our offspring. Where do minds snap to think it's okay to deprive or abuse those who love them so dearly? A woman raises you to be a good person to fit into your society. She's a person who loves you no matter what kind of mistakes you make along the way, and she's one who cares for you no matter what.

"We show our value by how we treat our women, girls, mothers, sisters," said Desmond Tutu in the UN's "He For She" campaign, which was unveiled on March 7th.

"Violence against women and girls is a global problem. It harms women, families communities, and societies," said Ban Ki-moon United Nation's Secretary General. He also appealed to men and boys of the world: join us, "Where men and women have equal rights, societies prosper."



The U.N. says, "Recent global prevalence figures indicate that 35% of women worldwide have experienced either intimate partner violence or non-partner sexual violence in their lifetime." Learn more about domestic violence (Intimate partner and sexual violence against women) here.

I am encouraged by the transparency that is bringing light to the atrocities around the world via the aid of the internet and social media. May it continue. The internet is also a place to promote equality, share ideas and spark progressive change.

It was not long ago that Malala Yousafzai was shot in the head while boarding her school bus in the northwest Pakistani district of Swat, and today she's "the most famous teenager in the world," according to Deustche Welle. At 17 she has her own foundation, and this week partnered with We Day. She is one of the lucky few who have been supported thanks to the world hearing her story.

UN Women have released a powerful and creative ad series (see bottom) by Memac Ogilvy & Mather Dubai, which "uses genuine Google searches to reveal the widespread prevalence of sexism and discrimination against women. Based on searches dated 9 March, 2013 the ads expose negative sentiments ranging from stereotyping as well as outright denial of women's rights."

"When we came across these searches, we were shocked by how negative they were and decided we had to do something with them," says Christopher Hunt, Art Director of the creative team. The idea developed places the text of the Google searches over the mouths of women portraits, as if to silence their voices.



"The ads are shocking because they show just how far we still have to go to achieve gender equality. They are a wake up call, and we hope that the message will travel far," adds Kareem Shuhaibar, copy writer.

For UN Women, the searches confirm the urgent need to continue making the case for women's rights, empowerment and equality, a cause the organization is pursuing around the world. UN Women is heartened by the initial strong reaction to the ads and hopes they will spark constructive dialogue globally.

But meanwhile back in Canada where I live, we've become a melting pot of nations, and although no country is exempt, I pray that through our police protection and our human rights laws, women from other countries where their rights are not protected can seek shelter here among us.

"Violence aimed at women and girls—including sexual violence, sexual harassment, and domestic violence—continues to affect one third of all women" says Amnesty International. " Gender-based discrimination, coupled with poverty, lead to high rates of maternal death in developing countries. Women often do not have access to sexual health education, healthcare, and the freedom to make choices about sex and pregnancy."

Where did we go wrong? It's no longer a problem where we can simply say, "Oh that's their/our culture or religion. That's how they/we do things over there/here." There are too many female (and male) children and women being abused. We must hear their cries if their own nation will not. It's a global problem, and we need global solutions.

The International Criminal Court (and thank goodness we have one!) says, "International Women's Day provides a moment to celebrate recent successes in strengthening and promoting women's rights, as well as reflection on the work that remains to be done," and the

ICC Rome Statute is the first international treaty to identify crimes against women such as rape and sexual slavery as crimes against humanity, war crimes, and in some instances, genocide. The Statute also features special provisions to protect witnesses and victims of sexual and gender-based crimes."



Going forward, I look forward to the day when we will not need an International Women's Day to remind us of what we still need to do, but rather one solely to celebrate from where we have come.

I believe in a better world...
About the author:

Robbin Whachell is a publicist, writer, photo-journalist; and co-founder/ editor of one of The Bahamas' leading news sites, TheBahamasWeekly.com. Ms. Whachell is a successful entrepreneur and pioneer in online marketing. Aside from being a recognized media personality and community builder, she is known for her networking and social media skills, and has a background in information management and film.She can be found on Facebook, Twitter, Instagram, LinkedIn, Skype. Reach Robbin by email at Editor@thebahamasweekly.com





© Copyright 2014 by thebahamasweekly.com

Top of Page