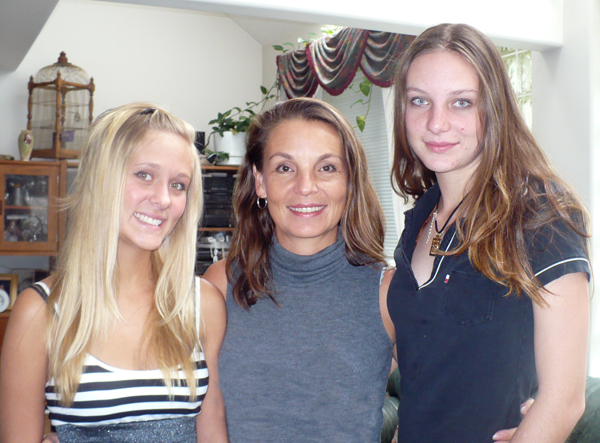 Me with my girls when we traveled to settle them in to Canada in summer '08.


There is no greater gift than our children. I am blessed to have four of them. Nothing in life prepared me for that first moment of knowing I was a parent. Of course, all that went with 'being a parent' unfolded over time, and it has allowed me to learn so much about myself. Our children are indeed our biggest mirrors.

Time passes too quickly and soon they are older, and old enough for a world of choices to open up for them, and also old enough to be presented with adult concerns and challenges.

My children were 2, 4, 6, and 9 when we moved to The Bahamas. It was idyllic when we first arrived. Life in the sun. Afternoons spent on the beach, exploring the nature and strange new sounds, sights and tastes that surrounded us in our new island home.

Now ten years have passed, and life has thrown many a curve ball since we arrived on Grand Bahama Island. At first my eldest resented the move from Canada. Life in the homeland was all she knew. A log home on the ocean with a waterfall crashing down behind the back yard, eagles flying overhead, and seals often seen in the little bay out our front view. Travel to school by water-taxi from the docks. Misty and magical West Coast weather. She was truly enamoured with life in Canada.

By the time Loryn turned 19 years of age here in The Bahamas however she had, over the years , grown to appreciate the life that she so often said she was "thrown into." When it was time to think of college or university, or simply to acknowledge the fact that she was still considered a foreigner and had to face leaving to work elsewhere, her appreciation for the island life came flooding in to her. She did not want to leave 'her' Bahamaland.

My 16 year old Tohni was different. She used to tell her older sister Loryn she was nuts not to be gone by the age of 18. She would always tell us she couldn't wait until she was old enough to leave. Her dream was to get back to 'civilization' and have a 'real life' back in Canada, even though she left that life at the tender age of 6 years of age and likely remembered little if any of it.

My brave, strong Tohni, had her breaking moment though...about one month before the pending move. She dug her heels in one night and said, "I am NOT going". The dreaming of 'getting off the rock' came crashing down in that very overwhelming and emotional moment where I can only assume she began to realise and see all that she was leaving.

It is oh so difficult as a mother to send your children away. While each was born, and for the first 17 years of Loryn's life, I was a stay at home mom. I breastfed my children for a sum total of 7 years. I home schooled all four of them for 4 years. To move my 16 and 19 year old daughters to Canada was tough indeed, but I had to follow my intuition with our 16 year old and the laws of the land for the 19 year old.

Tohni, 16 and Loryn 19 adjusting to Canada.


Once the decision was made, miracles unfolded right on queue. The perfect caretaker appeared. She asked me if she could help before I asked her. She had been housing foreign students for years. She just so happened to be my maid of honour!

Within a month it all came together. In late August of this year I took my girls to Canada. It was a teary last few days as they said their goodbyes to best friends, boyfriends, father and siblings.

We arrived back to the city they were both born in, and everything went very, very well, and it still is going well for them. A good thing is that the girls have loads of family in the surrounding area, all within an hour at most away. They have about 10 cousins close to their own age also.

I did enjoy those couple of weeks with them as we explored the new surroundings they'd be living in. They learned very quickly about bus passes and how to take the skytrain (light-rail transit) and how to max their spending for clothes at second hand stores. We had a field day buying good as new used items at Value Village with Kathy's (their caretaker) half-off everything coupon. We left exhausted with 16 bags of shoes, boots, coats, sweaters, jeans, shirts, skirts, dresses, scarves and hats!

Registering Tohni in the province's largest school, New Westminster Secondary was like taking a trip down memory lane for me. I went to school in another province but the whole feel of it brought loads of nostalgic memory.

Tohni went from an entire school of about 250 students in The Bahamas to one grade 11 class of 450 students alone! Each grade in her high school has a vice principal. She never flinched once. Never showed fear. She just walked into her first day of class like it was nothing!

Moving so quickly to Canada gave us little time to prepare for Loryn's next academic choices, in particular with her NOT wanting to leave, and also being so multi-talented she was not sure what she really wanted to do. The visit to Tohni's school lit a fire of inspiration in Loryn and we made a 200% effort to get her into college in the same area within a day. The college was great in assisting, but it came down to room for only one more in the program she wanted and another candidate had more qualifications, so therefore a January start was the only alternative left.

Loryn picked up a part time job or two and was snapped up quickly at a local theatre as stage manager, after getting such great experience here at the Regency Theatre. She held that position for a three week show.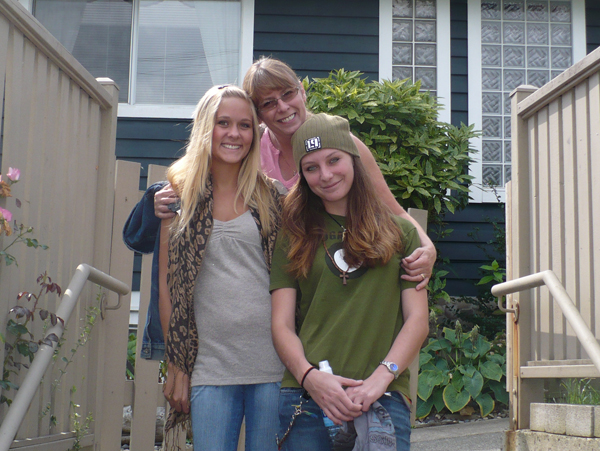 Tohni and Loryn with their second 'mom' Kathy in front of the home they live in in Canada.


And as far as life without them, an interesting thing took place. I returned home thinking I'd finally get a reprieve from the teenage repertoire, and instead came face to face with my 12 and 14 year old who now, no longer in the shadow of the older sibs, were spreading their wings to taste more 'grown up' life. It was as if they both instantly broke from their shells and jumped a few years. Talking more openly, and now with more space and room to grow. Finally after all those year, each now had their own bedroom, here and in Canada.

I realised that long gone were those wonderful days when I'd tuck and kiss each of them into bed all in one room in our log home in Canada. I had a young adult on the threshold of her new life, a 16 year old finding her place in a modern world that she so dreamed of, and two younger children who were looking for sunlight that was so rightfully theirs.

I am pleased to say they are all thriving, and we are all growing through our new experience.

The world of technology keeps us in close contact and for that I am truly grateful.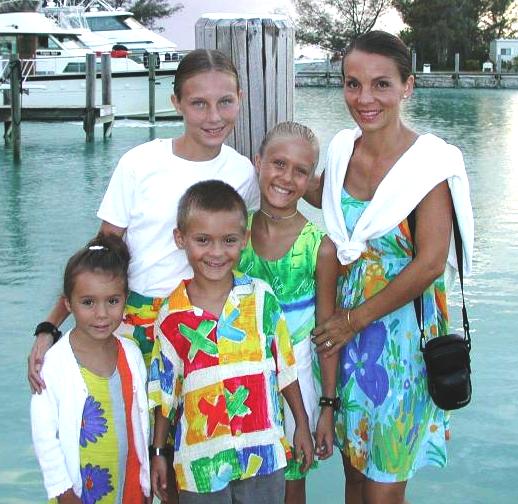 The way we were...My children and I approximately a year after we first moved to The Bahamas. Youngest to oldest: Jackie, Nathen, Tohni and Loryn.
About the author: Robbin Whachell has been a resident of Grand Bahama Island since 1998. She moved to Freeport from Vancouver, Canada. She is the mother of four children and is an involved volunteer in the community, in particular with the YMCA and the island's soccer programmes. She is a founding member of the Grand Bahama Writer's Circle, and The Bahamas representative for the International Women's Writer's Guild. Her passion for life on Grand Bahama comes across in her innovative and intuitive sharing and networking of information within the community she lives. She is appreciative of her opportunity to live in The Bahamas and looks forward to the continuance of being a team player within the larger community of The Bahamas. Robbin is the Editor of TheBahamasWeekly.com and can be reached at robbin@thebahamasweekly.com