Last Updated:

Feb 13, 2017 - 1:45:37 AM
---

St. Lucian born Parisian fashion celebrity, Vincent Mc Doom, has just been through one of the toughest times of his life! Two family tragedies hit within 24 hours, and he had to choose between leaving a Paris fashion event he was responsible for, or return to St. Lucia to attend his mother's funeral. Adding to the painful double loss, his brother was also seriously ill.

The famous actor, fashion icon, and Top Model judge last spoke to his mother on May 11th for Mother's Day. "I called to wish her a happy Mother's Day as I do every year, and tell her that I love her," he said. It was during that phone call that his mother, Victoire McDoom told her son that she had not been feeling well. She passed the phone on to his sister, Cyrina, whom she'd been residing with.

McDoom's sister told him she was going to be taking their mother in to the Victoria Hospital that day as her breathing problems were becoming more frequent after her strokes. The news was unsettling but Cyrina promised to keep him up-to-date on her progress.

On May 12th McDoom received a disturbing phone call from his sister-in-law Pearl Lambert advising that his younger brother Donavan was in Victoria Hospital in St. Lucia. He had suffered a major stroke and had been admitted the day before on his 43rd birthday. McDoom was shocked with the news.

"I had two family in the hospital. Mom was sent home early with medications, but my brother Donavan needed a brain scan so he remained," said McDoom.

"On the 13th of May, and with the help of some very prominent friends in St Lucia and the French Embassy, my brother Donavan was flown to Martinique for treatment, and the much required testing he needed. I have to wonder if he would have passed away had remained at Victoria Hospital?"

During all of this McDoom was busy preparing for a major Paris fashion event he was both artistic and casting director for called Labo Ethnik. "I felt better knowing my brother was in intensive care at the Martinique facility, but it was very hard having two family members in serious condition," he said. "I wanted to stop all my activities and head to the Caribbean immediately."

With Labo Ethnik only a week away, and with international designers and models he himself had cast for the event converging in Paris, and a heavy schedule in place for fittings and rehearsals, a decision had to be made. "I just didn't have anyone competent enough to replace me," McDoom said. "So I remained in Paris committing to my contract."

It was on May 16th that McDoom's niece Sue-Ellen, who also lives in Paris, called to tell him to contact his sister Cyrina for she had received a text message from his nephew Dwayne that things were not looking good for his mother.



"I called my sister Cyrina and was only on the phone seconds before she told me she was rushing our mother to the Victoria Hospital again. At the hospital, my mother Victoire McDoom, the wonderful, non-judgmental, very understanding, super-encouraging, with the sweetest disposition was confirmed dead. She was 72. I felt lost, and empty, and the tears would not come for I still could not believe it."

Vincent and his sister Cyrina would not speak until later that night. When they did, she had more news. "When it rains it pours... " he said. Cyrina told Vincent that their uncle Desmond had passed away just a few hours before their mother.

"That news was too much to handle, so I drowned myself in a very hectic work schedule preparing for the Labo Ethnik show that was less than a week away. The presence of the models I had to train and my workload kept me going. Life took over and I did not have the time to even think since I was constantly going physically and mentally for the show. I was just like the Energizer bunny, always on the move," said McDoom.

As the family started planning for the funeral, Vincent had to make a call about attending. "I probably made one of the most unselfish decisions of my life, I decided not to attend after speaking to my sister Cyrina and my father Justin Elcock. I wanted my mother to go in peace and honor. I did not want my arrival and presence in St. Lucia to upstage her memorial celebration. Being I am a celebrity on the island, I did not want her funeral to become a circus with press and photographers."

"My family understood and I offered to help with costs and decided I would later hold an intimate mass for my mom in Paris and again in St Lucia upon my next visit. That is all I could have done given the circumstances."

The funeral for Victoire McDoom took place without Vincent in St. Lucia on May 30th. Vincent wrote on his Facebook page that morning, "I can't see through the tears yet I am forced to continue, but that feeling of emptiness surrounds me especially today.... To my siblings Cornelious, Anthony, Cyrina, Cymee, Marz, and Madonna Mcdoom May The Lord give you guys the strength as the family gathers today for mothers send off... "

When asked about the legacy his mother has left he said, "My mother gave all five of us her good looks, her sincerity, her humor, and her love for life. She taught us to respect others, and to not be judgmental. She taught us to be ourselves no matter who or what we were up against... She gave me my strength of character and taught me to be honest and fare. She was my light, she was my rock."



Vincent McDoom was only 19 years old when he left St. Lucia and his beloved mother to make his way into the European fashion scene. He had received a scholarship to study in Paris. His training went on to include internships with Paco Rabanne, Guy Laroche, Guillemin, Angelo Talazzi, and André Walker. For a brief period he worked as an assistant to Marc Jacobs.

"She was very supportive of the life that I had chosen for myself. She encouraged me to leave the Caribbean and go in search of my dreams. She was my number one fan. Mom would often say to me, 'I am proud of you my son. You became your own man, and in your own way, and now you are respected for it... You are made in God's likeness, so honor him always.'"

Vincent McDoom recalls one of his fondest memories of his mother, "On one of my visits home to St. Lucia I was caring a signature Louis Vuitton bag, the Keepall, and she liked it instantly and ask me for it. I gave it to her without thinking twice, as she's my mother, and I have more than one Louis Vuitton. For her it was normal, for me it was natural. When I returned the following year it was raining quite heavily. When I got to her home something caught my eye, and I saw her Louis Vuitton on the ground in the rain. I continued in and greeted my mother, then asked her what the bag was doing outside in the rain. She replied quite innocently saying, 'Oh no, my cha coal bag (coal bag) is getting wet, please get it out of the rain.' Yes, my mother was using her Louis Vuitton as a 'coal bag' to keep her fire going, and I thought wow, that was so very chic! She had no idea of the price nor the value of that bag and I looked at her and smiled and told her its history. I promised my mother that I would ask my friend Marc Jacobs, Louis Vuitton's artistic director at the time to design a 'cha coal bag' especially for her."

With the Labo Ethnik 2014 successfully behind him, and the funeral now over, Vincent McDoom is still in mourning, as the loss of a mother is something one never gets over. The tears found their way out and Vincent has openly expressed his gratitude for the outpouring of support he has received family, friends and fans on his social media pages. He found great comfort during Labo Ethnik with the company of St. Lucian designer and friend, Lyn Bristol, writing, "Safe trip back to St. Lucia Lyn. You will be missed and thank you for all you gave to me, especially at this particular moment in my life... Our late night chats and your hugs eased the pain of mother's passing. For that I am eternally grateful."

And to the Labo Ethnik models he wrote, "I want to thank all of my fabulous and considerate models who worked with me on the recent edition of the #Laboethnik. For all the kind condolence messages they have been sending to me, especially today (May 30th)."

Vincent is looking forward to his return to St. Lucia later this year to reconnect with his family, and honour his mother. "My latest movie roll in Kickback is in homage of my mother Victoire McDoom, and so will be my next big event for St Lucia later this year, which I will name after her."

"If I could speak to my mother one last time I would thank her for giving me life and remind her how exceptional she was, like all mothers are to their sons... I would also tell her that she was and will always be my idol, and I think of her with every passing hour."

"The memory of Victoire McDoom will live on... I will see to that."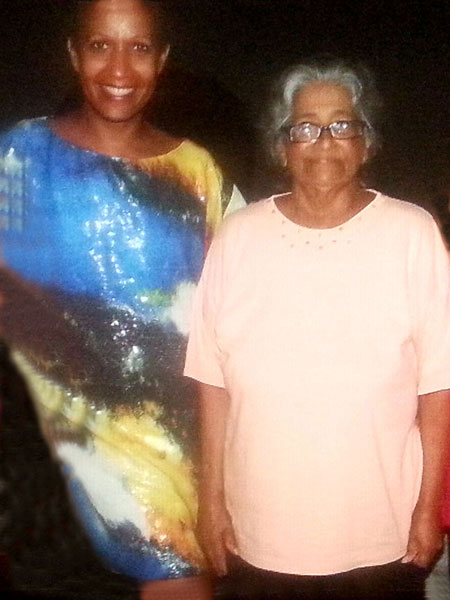 About the author:

Robbin Whachell is a publicist, writer, photo-journalist; and co-founder/ editor of one of The Bahamas' leading news sites, TheBahamasWeekly.com. Ms. Whachell is a successful entrepreneur and pioneer in online marketing. Aside from being a recognized media personality and community builder, she is known for her networking and social media skills, and has a background in information management and film. She can be found on Facebook, Twitter, Instagram, Linked In, Skype, or via her website, RobbinWhachell.com. Reach Robbin by email at Editor@thebahamasweekly.com





© Copyright 2014 by thebahamasweekly.com

Top of Page