I write you from Woods Hole, Massachusetts. Leaving The Bahamas, a little delayed on August 2nd at 9pm, we had five days of sailing up to Woods Hole aboard the Atlantis II - her inaugural voyage after her re-christening and restoration. We had amazing weather and beautiful seas up to our destination with the rough waters only the last couple of days. It was my children's first time out to sea and we had a great trip. Although we'd expected Internet, we did not have it, and so I was busy journaling the trip which ended up being seven days, instead of five to get us in to Woods Hole. You will have to read why we had the delay in arrival, and learn how we faired on the journey. It is so far an amazing experience we shall not forget.
Check this NEW PHOTO ALBUM for photos I've begun uploading - more soon. Click "View Pictures" then, "View slide show" for best viewing...no signing up necessary.

Our Atlantis II Adventure: Freeport to Woods Hole, Mass.
I sit in the William Teach cabin of the Atlantis II with my journal in my lap. My two portholes are open and a sea breeze wafts over my shoulders and fills the room. I hear an engine or generator cut off in some area of the ship. The hum is quiet now and I can hear only the sound of the ocean. There is no land in sight...

Our Departure: August 2, 2007


We arrived at the ship at 9:45am. They had just completed hoisting two vehicles and a boat onto the vessel. Some friends were there to see us off and were receiving tours of the ship. Former Minister of Tourism for The Bahamas, Obie Wilchcombe was also there for a tour. My son Nathen (12 yrs) had spent the previous night on the ship with his sister Jackie (11) as they were so eager to begin their journey, and could wait no more. By now they had a good handle on the layout of the seven level ship and took full command in touring our friends and then Mr. Wilchcombe, to everyone's delight.
My friend Susan had come in dress, hat and gloves to wave farewell as they do in olden days. We had hoped to leave around 10 am but the wait that ensued took us to nightfall unfortunately! Our friends slowly departed to get on with their own lives, and we sat patiently waiting for the fuel truck to arrive.


Nathen took to the boat like a pro and was so anxious to help out that he began assisting the two cooks. While carrying a dish of food to be set into a chafing dish for lunch, he ended up plunking it down and having hot water fly up onto him from the hot pan below, burning his stomach area. Minutes later I was there and we had him moved to the hospital room to assess his injury and treat him. Gordon set to telling him stories of his previous travels to keep his mind off the pain he was feeling.

By dinner Nathen was feeling much better.
Waiting to leave was hot and painful for all of us. Our captain David Allen, who came on board for this trip, was also disappointed on the slowness of the day. We were all thinking, "Where the heck is that fuel truck?"
The kids filled their time with walks down the dock to the Freeport Harbour shops to buy various things like ice cream and some much needed (and subsequently used) Bahamian hand-held fans.

While we waited endlessly for the fuel to come, Customs was cleared, and harbour bills paid. The kids were texting a friend to get the code for computer software (Sims) they'd brought along, but would have been useless without it. Success came with that around 7pm.
Our cooks, Patrice and Liz had dinner ready, but we were all so anxious to pull away, that we held off. Most of us were out on the upper decks with cameras in hand waiting in anticipation and to be certain we wouldn't miss it.

Finally fuel arrived and took about an hour to fill up with what we needed for our trek. We were all set, and we radioed in for approval to exit the Harbour. More delay! Our request was declined as they said bills were not paid. We were flabbergasted as they had been and Gordon (owner of A2) had the receipts to prove it! Very upset he told them to come down to view the receipts…minutes later they did and went back to their office. We waited again….Gordon finally walked down to the office and hearing that the staff still would not let him go (but didn't say why) the harbour manager was called. It only took one minute for Gordon to blast him and permission was granted. Finally, near 9pm, on Thursday, August 2nd we were on our way into the starry night. The kids excitedly called their dad on my cell phone to say we were finally on our way. After passing the last lights of the harbour we went down to the dining room for a well deserved meal.
After dinner a movie was watched in the Explorers' Lounge at the top of the ship with the luxury of air conditioning.

The cabins had been running a/c up until the day before departure. With so much to be done the parts were purchased but repairs had to wait.

Most of the sixteen people on board are suffered with very hot cabins, but the children, my friend Diane Johnson and I, were treated to sleep in either the lounge, or the hospital room ( both a/c'd). Diane chose to sleep that night on the upper deck on a cot, enjoying the smooth waters, the stars above, and the fresh air
I settled into the hospital room on the operating table. In that same room there is a bunk bed, and that was made up for my younger ones. We went to bed with smooth sailing, and were awakened at 1:30am to a loud grinding noise. Smoke filled the corridor outside our room. The crew scurried quickly to solve the problem, which ended up being minor – a shaft was packed too tightly, creating friction and heat. It was resolved quickly.
At approximately 3 am my pretty restful sleep was again altered when the ride became quite rocky. I was told this was because we were then meeting up with the Gulf Stream, which was faster but with much higher waves. My dreams began to tell their own story of the motion beneath my body.
The captain told us we passed a Disney ship that first night that was shooting off fireworks and Diane told us she saw some falling stars.
*********************
I am forced to rest. I am forced to stay put. When you are on a ship, you are limited to what you have, yet your mind opens to what you have also. Finally a rest for Robbin, and a change of pace from my busy, busy life…
*********************
Day One at Sea
Surrounded by the sea, but not able to dive into it is a tease… if only we had a pool of water on board to get wet in. The heat has become oppressive. A quick shower alleviates the body and mind, but in mere minutes, one is back to sweating again. ..
Breakfast is underway by 7:30am each morning.

Fresh fruit is cut up for us with choices of beverages, and eggs (your way), bacon (pork or turkey), potatoes, toast, pancakes or waffles are served daily. If none of that interests you, there is breakfast cereal.

The dining room is air conditioned (thank goodness) and a comfortable place with loads of room for us all; a time for us to get to know one another with small talk, and often the only socialization time for those working on the ship.
I felt very sick that morning! Was it sea sickness? Maybe, so I asked Gordon for a sea sick tablet, which he always carried in his pocket. I later learned it was only a placebo! But, I took the little pink chewable sweet pill and felt better in the matter of an hour.
Tempers flared today, but only within my family. Maybe it was the slow pace, the boredom one had to overcome, the swaying of the ship, the lack of a solid sleep, but we were suddenly at each other's throats, saying or doing things we'd soon regret. A warning I had heard before came back to haunt me, "Be careful who you go out to sea with"….well my kids are my family, and I am their mother, and I am stuck with that…or blessed with it. After the upset there was silence and separation. Distance seems greater on board a ship. It is easy to hide from one another if needed. We were quiet during lunch. On board a ship word travels fast, and by 2:30pm Gordon called a meeting to review safety procedures, very essential, but it was more so a time for him to read the riot act to hopefully ward off future upheavals amongst us.
We reviewed ship safety, what to do in an emergency, and he explained what to expect if we were suddenly boarded by the Coast Guard. He told us that shouting would not be tolerated and that if any offenses continued after warnings those culprits would simply be banned to their rooms.
Later we explored and hung out in our own areas of the ship, allowing wounds to heal. My friend Diane was very helpful, and I was so glad she was with us for this trip. It gave the kids another female perspective, while Gordon and Eddie (Gordon's longest standing crew member) were also great in involving the kids with as much knowledge of ship travel as possible, or just "telling it like it is" with one or more of my teenagers.
The emotion of the day hit my youngest Jackie (11 yrs) hard. By afternoon, after much crying earlier she was down with a major tooth ache. We all attempted to help her with her pain and tried to consider or offer her the best treatment. The day had started with such promise for her as in the early hours of the morning she was the only one to witness a sea turtle, but after sibling disputes she sunk low into her mood.
Diane was invited to climb up to the crows' nest, and then the yard arm by Gordon, and we were surprised to see her take up the challenge. The height is seventy feet in total and she climbed it stealthily, feeling the rush as she did so and the exhilaration at the top where she got to enjoy the stunning view. The climb back down was a bit more challenging but worth it when she arrived back on deck extremely proud of herself.

She gets to scratch THAT from her

100 things to do in one's life

list!
After dinner we sat and talked, and then Gordon got called away to man the bridge. I went in later and he showed me how to steer the ship. With the GPS system is was easier than I'd thought to keep the ship in line – the screen shows a small ship that you must keep in place on the line of intended travel, moving the wheel a few degrees to the right or left accordingly to adjust a delicate system that requires one's full attention.

Jackie fell asleep by 9pm and she needed it. I decided to try to sleep in my cabin but even with the sea breeze coming through the portholes it was hot and sticky. A rough night and Jackie waking with tooth pain didn't help. Eventually she went up to sleep with her siblings in the lounge and I managed to get back into a sleep for a couple more hours…



Day Two at Sea
No matter the time of day, every time I lay my head and close my eyes, this ship's rocking and rhythm take me off to my dreams….
The cooks and crew are adjusting just as we are. Patrice and Liz are experiencing their first times at sea, and were struggling with the motion, and hot cabins, little sleep, etc. Eddy had given up his room the night prior for Patrice to use, and had his tales to tell over coffee and fruit in the dining room. Apparently his clothes hanging device in his room had collapsed in the night. His new room had one porthole that did not open so it was stifling, but he did boast his own large bathroom with a porthole across a small hallway with a large shower area.
Eddie also told us of an incident the night prior when he happened to be checking on the bridge, and a U.S. Navy ship radioed to ask if we were okay as it looked like we were not on course by the way we were going one way and then the next (wafting they'd said).

We were in rough seas, and I guess one of our new crew was not used to handling the vessel as yet.
This day I had to accept the fact that we would not be having internet, and that we likely would not until Boston. Gordon had purchased cellular cards for this purpose but since they hadn't been used in months, the company deactivated them. He had spent time on the phone trying to resolve the situation but it became hopeless by this point. Atlantis II remained about 100 miles off the shore for the most part by this point. We did pull closer to obtain cellular service a couple times but by remaining further our we had faster travel and a more direct line to our destination.
The skies were grey and that meant much cooler weather. After breakfast, I went to check out the outdoors on our favorite top deck. There I saw two swallows fluttering around the ship. We were 100 miles out and they were with us – amazing. The seas were offering a ten foot swell, and I was amazed at how fast we were all adapting to it. Nathen and I went to the gym for a workout, and to be able to do this even with the motion was pretty amazing – the Atlantis II runs like a beauty. With Jimmy Buffet blasting, the door open with the ceiling fan on, I sat at the cycle machine, the tread mill, and free weights for an hour long workout while gazing off to the sea ahead through the ceiling to floor windows, as it began to rain lightly. This is the life!
The teens were on their second day of sleeping through breakfast and that had to stop! Nathen was given a job of doing some painting here and there around the ship. After lunch we continued with our meanderings. Toilets needed fixing, as A2 is an old vessel newly restored, and our very hardworking crew hands Gay and Nova worked hard on repairs alongside Eddie and Gordon. Most of the upper cabins that we were in have their own bathrooms with showers. Showers were blessings, but the ship has been in Bahamian waters for the past eight months, and therefore the water on board was around 90 degrees. A shower turned on cold only, was cold for about a minute, if that. We were looking forward to cooler northern waters to remedy this.
This day we past the Carolina's and Gordon fixed the auto pilot on the bridge. All the crew were pleased about this as then they would only require to have one person at that station, instead of two. The satellite phone was also used this day and Diane called her sister to get a message to her family that all was well, but advised we'd be without internet. A message was sent on to Dave Mackey in The Bahamas for me as well.
After lunch Loryn became involved with painting as Nathen now had a headache from the fumes. Tohni ate lunch and returned to her bed, obviously depressed…or bored. Jackie's tooth was better and so were her spirits; Diane was heavily into a good book and actually got a sunburn from spending most of the day on the upper deck; and I spent time writing in my journal and transcribing it to the laptop for easy posting to our site once I'd get to internet access.
Late afternoon the cooks baked bread and that lovely smell filled the corridors. Another sumptuous meal and we retired up to the upper outdoor decks to check out the sunset. The weather changed soon after and our plan to have a fire in the two fire pits was waved to another night, and instead we voted on a movie to watch together. It was Ghost Ship, in staying with some theme of nostalgia. Jackie has refused us to watch The Titanic, even though it is one of her favorites, but we hope to do so on this trip and win her vote too.
By bedtime, the weather shifted again, and it became calm, but still cloudy. I slept in the cabin as a wonderful cool breeze (the coolest yet on the journey thus far) came over the bed. Jackie opted to sleep with her siblings in the lounge under air conditioning again.
Day Three at Sea
I could feel it was going to be a special day…
The stillness woke me. The cabin was once again too warm. There was a soft gliding sound through the waves and I got up to peak above my bed out a porthole to see if it was morning. The ocean looked like mirror. The clock read 5:30am, and I felt wide awake. I got my housecoat and went to wake my friend Diane, who had told me the night before that she wanted to see the sunrise.
When we got to the deck it was cooler than we'd anticipated, and so we returned back under for cups of hot coffee and a cover. Diane went to wake Gordon, and I went to wake Eddie who also said they wanted to see the sunrise. We sat on our chairs and gazed at the hazy soft pink sky and reflecting water. It felt surreal, and so special. Loryn came out to join us, and then Eddy arrived chiding Loryn that we needed to document that she was up at 6am. Gordon did not show up and we figured he was getting his rest. It was such a beautiful day and although the sun rose behind clouds it was still amazing to see. Diane kept saying, "We are going to see dolphins today", and sure enough, twenty minutes after the sunrise we noticed movement on the horizon. I rushed to wake up the children. Sleepy faces got up and walked out with us. Tohni refused.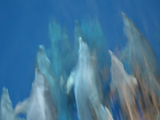 The water was perfect for visibility as they came right up the bow of the ship to greet us and "run" alongside us. I took many pictures as we squealed with delight at their speed and prowess. A baby was among them. Thinking of Tohni missing this spectacular show, I raced back up two floors to literally pull her out of bed and drag her out to see this. Of course she would never regret this perhaps once-in-a-life-time opportunity!
When they swam off we were all exhilarated, and disappointed that Gordon missed it and we didn't have the video camera at hand. We enjoyed a happy breakfast and discussed our arrival in Woods Hole. Today was Sunday and we hoped to be there in two days the latest.
All energized and with smooth waters to ride upon we set to work cleaning the ship - vacuuming, dusting, sweeping and mopping. With two dogs on board there was plenty of hair. Kenya, Gordon's dog, is part wolf and an amazingly beautiful animal with a gentle nature. She really sheds. The other dog, Scootchie, is Eddie's dog, and is just as wonderful. Eddy has trained her well and she performs tricks.
I swept out the gym, and then took the book I am reading, A New Earth (Eckhart Tolle) and cycled twenty minutes for more exercise. Then back to my cabin for writing, but I was called to see more dolphins! This time we were all able to enjoy them, as well as get them on video. There were approximately 15 dolphins on either side of the bow that gave us a beautiful show. What a great dolphin day!
After catching up on my journal I spent some time outdoors. The kids were occupying their time with Sims, movies, and games.

Before dinner, Gordon, myself and Diane had a planning meeting for our arrival and stay in Woods Hole. Diane is a resident of Massachusetts and her knowledge was invaluable.

We discussed our press conference we hoped to hold after our arrival to the area where we could advise the media that

Atlantis II

has been reborn and is back in service.

Remember this was her home for 33 years.
Our Sunday meal was a huge turkey dinner with Bahamian style crab stuffing, from our fabulous cooks. Another beautifully calm night on the water and we insisted this would be the night we lit the fire pits up on the top deck. We turned on the fairy lights, brought up music, computer, chairs and blankets to enjoy the fresh air. The kids had anticipated roasting marshmallows but after checking the storage it was discovered that we only had miniature marshmallows on board.
We enjoyed our time anyhow, and the satellite phone was brought up for a few calls home. It was touch and go with the cloud coverage and our location, but some of us had successful calls.
It was Jackie's choice for the nightly movie that night and we watched Water Boy before retiring. Again the kids chose the air conditioned lounge instead of their warm cabins to sleep in. I again slept in my Henry Morgan cabin. All the cabins are named after a famous pirate or sailor, and the children and I are in William Teach, Black Beard, and Henry Morgan.
Day Four at Sea
I am amazed at how comfortable I have become on this vessel. At first wondering how I'd handle the motion, and now, it is like it is one with me. The motion has almost disappeared…
Overnight I remembered the sound of pouring rain. I was told that there was a heavy thunder storm with lots of lightning in the middle of the night. I slept heavy and well for a change. The morning was cool and cloudy grey with light rain off and on.
Patrice was making bread pudding this morning as we had asked her about it the night before. She is such a mild mannered pleasant person. Always humming or singing, and great at what she does. Liz runs the food up to the bridge to feed whoever is manning it. They are very on top of who eats what, and very accommodating to specific requests. Breakfasts are staggered as the kids are not usually up at 7:30 to eat.
Gordon was busy today going through things in the conference room and file room/office. He was gearing up for the big arrival. The gym got a good soaking last night during the storm as we failed to close up the door, not anticipating the change in weather. We'd been keeping it open to keep it cool for our workouts.
I put in hours today working on the press release. Writing, printing and presenting it for review. I did some more research via the book from Wood's Hole Oceanographic Institution called, Down to the Sea for Science – it is about their history and achievements.
Loryn and Nathen worked very hard today! After cleaning the lounge (their hangout) in great detail, they went on to help with moving supplies from one room to the next, which involved carrying large items up stairs and down.

They were doing some hard physical work.

They broke mid afternoon to watch most of movie,

The Titanic

. Yes, Jackie had approved us to watch it. She enjoyed the entire show once again. and It seemed perfect to be watching it on this vessel, as

Atlantis II

assisted in bringing the first images to the world of that wreck.
The children got a lesson on the bridge today by Second Captain, James who explained how they chart, measure distances, read the GPS, radar, and us the equipment to run the vessel.

The countdown is on for our arrival, but Nathen, Gordon and I went to work out for an hour in the gym which can be quite therapeutic and truly a modern luxury, showing one of the many enhancements made to this ship.
More dolphins after dinner! We got a new update from the bridge saying we anticipated getting into the Woods Hole area by 11am the following day. Passports are checked, and forms for all of us prepared and handed in to the Captain.
I planned for the next day (our arrival day) to video-interview all the crew, and I wrote out the questions to ask for the children. That would be their 'waiting project' as we'd wait for the Coast Guard and to clear U.S. Customs and Immigration.
I didn't want this initial voyage to end so fast! I felt we were just starting to get used to it. I knew it has been great for my children. An experience never to be forgotten!
BUT, there would still be more to come! We will have internet once we are into the U.S. and our plan is to visit the Boston area and stay with our friend Diane who has a place on the Cape. Loryn's birthday is coming up on the 14th (her eighteenth) and Nathen's on the 17th (his thirteenth).
Day Five at Sea - Our waiting day
Today a lovely new sea smell fills my nostrils. So different from the waters of The Bahamas, and the smell I was used to – reminding me of my homeland, and flooding my mind with memories…
I woke just after 5am, and I was filled with awe. What a wonderful experience I have been having. I feel the gratitude. I think of my life in The Bahamas, and how things are so different on board a vessel. Many times I asked myself if I could get used to sea life. I think I could.
At 5:30am I am startled by the blast of the ship's horn. What is that about? I recall Gordon and Diane talking about watching the sunrise…was this a wake-up call? Two minutes later another blast. On the third blast I got my robe and went to see Diane. We both thought it had to be a wake-up call, but when I went back into the hallway, Gordon opened his door and was coming out. It had waked him as well. He said it was the fog, and usually a blast is done every two minutes to warn other vessels. I failed to see the difference between fog and a pitch black night.
So the kids were sleeping right under the horn area and all were wide awake in the lounge when I went up to check on them. Thank goodness they went to bed around 10:30 the night before. I explained what was going on.
We were told we were approaching land. When we get close we have a channel we must go up to get to Woods Hole. So we were very close and all were getting excited. The crew were actually pretty stressed, and I am not sure why, but it must have been the fog.
We ate our breakfast as a family, as the crew were still either staring into fog, or bustling about the ship getting her all tidied up for tours later.
We were now back in cellular range and Gordon received his first call from Dave Gallo, an oceanographer from W.H.O.I. that visited us in Grand Bahama last month. They had anticipated our arrival on Monday night. We were then only about 12 – 24 hours behind schedule from our late departure out of The Bahamas.
The dogs were pretty upset with the 2 minute blasting, and were placed into their cold room in the retail space area.
We continued to get ready, showered, tidied - we and the vessel had to be in ship shape for our arrival.
This day was a day of discovery and recovery. Although we, the crew had all our documents in order we had a surprise when we found out we needed (and did not have) insurance for oil pollution. This is to ensure that our vessel does not leak or dump oil and we silently slip away without being responsible for the cleanup. Having such a document would mean (guarantee) that our vessel does not leak oil.
We were told to remain out of U.S. waters until this was sorted out.
The fog never lifted this entire day but burned off to give us a short distance of sight, so we had nothing to look at but the fog or a very rare vessel that may have happened to be up close. We did what we were instructed to do and dropped anchor. We were sitting at the mouth of channel that we must travel up to get to Woods Hole. This trek can only be done at high tide due to the draft of this ship. Our window of opportunity was 4:30pm that day. We came close, made arrangements for the insurance, but the details necessary to complete the transaction were not done in time. Plan B was to leave at 4am (next high tide) if the insurance was sorted out by that evening.
The kids passed their time with computer games, reading, napping (they'd been up since 5:30am remember), and squabbling (those that didn't nap!). Diane and Eddie got them started on fishing off the stern of the ship. The waters were very calm today, but that fog never burned off – something I'd not seen before and was totally unfamiliar with from living on the west coast, especially with it being August. Fishing occupied about an hour or so of their time although they did not catch anything.
Gordon stayed up in the lounge near his cell phone trying to get the insurance issue dealt with. Some of us adults went up to keep him company and we ended up opening some wine (first of the trip) and enjoying a nice evening around the bar talking amongst ourselves and waiting for his cell phone to ring. Although we were close to complete it was decided to wait for 4:30pm the following day instead of sailing through fog (the continuous horn blasts) at 4am, and an entrance and arrival at 7am would not provide us the best coverage.

The kids began the video interviews in the conference rooms with one another. Then they opened the Dread Pirate game and played that until 10:30pm. Patrice got two calls from home which brought her much joy, and it really was pleasing for all of us as we overheard her talking to her four year old grandson Shaun. I was able to make a couple calls to Grand Bahama myself which was comforting.
Diane's brother Bob lives in the Woods Hole area and has been waiting for our arrival, and will be taking photos of us as we come in. Her sister Linda drove four hours to greet us as well, and they both ended up staying at a hotel last night when they got word of our delay.
It was a pleasant day even though we were anchored in one spot for most of it…
Day Six – Our Second Day of Waiting…
The fog lays all around us…like a thick blanket, hiding us from the world and the world from us. I wonder if when it lifts we will see how close we really are to the land…peek-a-boo!
Although we've been anchored all night, the bridge is still being manned. We listen to the radio for news around us. One vessel is calling in as they are out of oil. A Hoby Cat has capsized and is missing; all are to keep their eyes peeled for her.
I woke at 7am and got ready to eat breakfast at the usual time of 7:30 but when I got down to the galley and dining room no one was about….strange I thought. I later realized I'd set my clock wrong and it was actually 8:30am. The kids were all sleeping and we decided to let them as they had not much else to do, and it would be an exciting day later with our anticipated arrival.
I am rushing to complete this journal entry and get it uploaded to the website. I do not want to miss the opportunity for our Wednesday mail out on The Bahamas Weekly. So much of my family is waiting to hear from us. Gordon thought he could put his cell phone chip into his computer for internet access, and I was hoping on this.
As I wrote this in the conference room, the winds change. Rain started coming sideways through the four portholes down the side of the room. I rushed to close them, and ran to our cabins on the same side to ensure beds were not getting wet.
Tohni was not well today and I paused to get her some food and drink. We wait to get moving, which would have beed at 1pm.
By 11:30 am we were getting quite stressed as we have not heard back on confirmation from the insurance company. We couldn't miss this window with the tides or we'd have another 12 – 24 hour delay and would have to remain anchored still. We had enough food, but were now low on fresh vegetables and our drinking water was extremely low and must be replenished today. The good news was that the fog has finally lifted. We could see islands around us and even a lighthouse. Diane took me to the map to show me where she thought we were. We were off Cuttyhunk on the start of the Elizabeth Islands on Vineyard Sound, Mass.
Great news at 12:15pm - we'd been cleared by the Coast Guard to come in! Anchored up and away we went. Rough seas, but it would be interesting, and we were more than ready to finally see our destination on the first leg of this adventure.
Only about 20 minutes underway Gordon is called to the bridge. Upsetting news that we could not fathom! The Coast Guard, after giving us clearance to proceed, now tells us we must come in with a pilot! Talk about taking the wind from our sails (that we don't have). Why hadn't the Coast Guard advised us of this yesterday? It did not seem fair. So we had to stop, then turn and head back out – truly unbelievable.
We held a meeting up in the lounge to discuss our situation. Our anchor had been damaged that morning when we were pulling her up and the crew was concerned about dropping her. We would have to keep in motion so as not to risk losing the anchor all together, or not being able to pull her up next time. Our water was down to one small single drink size bottle a piece! We had other liquids on board and the cooks were advised about preparing other water by boiling etc to use as backup.
The problem with getting a pilot as we later found out that only one pilot worked this entire huge area! We advised the Coast Guard that we had children on board, and were out of water, as well as had a damaged anchor, but they didn't seem to care any.
With very low moods we all got pretty quiet, which had an underlying of frustration and anger of our situation, but what could be do, but comply with the authorities. Our next mission was to locate this pilot and see if he could get to us for our 4:30pm that day window with the tides, Plan B was at 4:30am the next morning, and worst case was another 24 hours from that time, arriving around 4pm the next day.
Gordon heard from the pilot late afternoon, and he will be meeting us at 11am Thursday morning to take us in, to the tune of $1300.00! They have us over a barrel.
The waves were very rough today as the winds were high. Many of us felt nauseous, especially Tohni. We all kept busy in our own way and movie-fested for most of the rest of that evening. By 8pm we had over three movies running in various parts of the ship. We headed to bed at 10:30pm but before settling in, Tohni ran into the hallway to get to a toilet and vomited all over the hall. I was feeling similar but managed to clean it up and mop and get my children settled into bed. Not pleasant, but we slept. O
Day Seven (Arrival Day)
The light peaked into my room, and I knelt on my bed to view a blazing sunrise in clear skies through my porthole. If you Google' images' for Atlantis II someone once posted an image just like this on the Net – I dare you to check it out…and you will see similar to what I am saw this morning…
So we've been at sea for seven days – two days over anticipated. Today is a brilliant day however, as high winds came in over night to blow the fog away. We have clear blue skies, with a chilly wind, but if you sit out of the wind you'd get tanned and be very warm.
Word is out in Woods Hole that we are out here, waiting to come in. Some boaters saw us coming in yesterday and turn and go out. We are anticipating a good reception. Diane's siblings are being as patient as we have had to be.
Tohni slept with me last night. In the middle of the night around two o'clock I woke and remained awake for an hour. Today I feel there is almost a feeling of complacency, as if we can't really believe we will actually be going in. Like "wolf" has been called too many times…
I go outside to sit in the sun and look at the day. I over heard Diane and Eddy who were going through the trash to sort out the recycling, something we were not able to do in The Bahamas, but have to now begin thinking of.
I am writing this last entry at 10:30am, and we should be underway soon with our pilot.
Stay tuned for more on our arrival next time. I will have internet access once upon land, and have had to surrender the fate upon me.
Click HERE to view photo album

About the author:
Robbin Whachell
has been a resident of Grand Bahama since 1998. She moved to Freeport from Vancouver, Canada. She is the mother of four children and is an involved volunteer in the community, in particular with the YMCA. She is a founding member of the Grand Bahama Writer's Circle, and The Bahamas representative for the International Women's Writer's Guild. Her passion for life on Grand Bahama comes across in her innovative and intuitive sharing and networking of information within the community she lives. She is appreciative of her opportunity to live in The Bahamas and looks forward to the continuance of being a team player within the larger community of The Bahamas. Robbin is the Editor of TheBahamasWeekly.com and can be reached at

robbin@thebahamasweekly.com