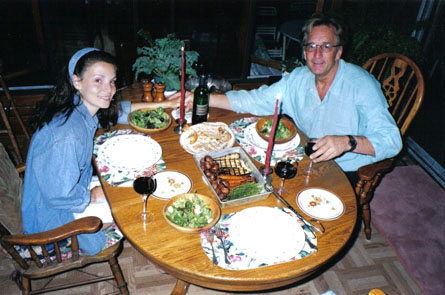 TABLE FOR THREE: Our weekly Friday night dinners in Canada over 9 yrs ago.


It is a busy Saturday and in the middle of my rush, as I am preparing sandwiches 'to go' for my kids as they all hurry off on their separate ways, the photo on the refrigerator stops me in my tracks. It is one of Leah and I from years gone past. We are sitting at our dining table amidst a sumptuous meal prepared on our barbeque, a weekly ritual from our life back in Canada.

"Jeez" I say to myself, thinking on what date it is. "Next week will be two months since his horrific death, and his body still lies in the morgue here in Freeport!"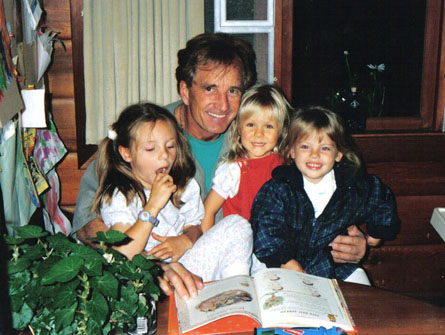 1995


The photos were placed on the refrigerator after the shocking news of his death on March 1rd, 2007. The other photo is one of Leah with my second eldest sitting on his lap, my niece and my oldest daughter Loryn. The three young girls are between the ages of 3 and 6, and as cute as can be. Leah is beaming ear to ear, definitely "feelin' the love".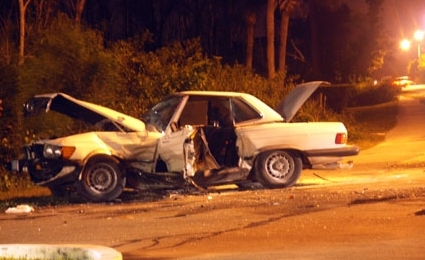 March 1, 2007


Leah died in a car accident on Midshipman Road (that road again!) almost two months ago. Some of you knew him, many have heard of him, and most of you don't know him at all.

His first name is "Leah", and you may ask why a man would take a name that looks to be a woman's, but he pronounced it like the name "Lee". I know the reason it was spelled this way and will let you know that it is because of Numerology; something I know well about, as my own mother studied the science of numbers and names. Many people say Leah had aliases, and maybe deep down this was his way of having an alias, but as I knew the man and talked about this often with him, I do know for a fact he changed his name to better himself. To learn about Numerology one can easily find information online today.

I met Leah a week or two after dating my husband, as he was a friend and a client. Leah was proud when I would tell people that he was the reason we moved to The Bahamas. You see we came to visit him here, loved it; and learning that there was no one in my husband's occupation in Grand Bahama, we committed to the move, which ended up taking two years. We moved here nine years ago, and he had moved here about 5 years prior to that.

In our life in Canada, [my child-bearing years] Leah came to our house for dinner almost every single Friday night, in particular during the days he was a bachelor; not as frequent while he was in relationship. Such a steady fixture in our life, he was therefore suitably known as 'Uncle Leah' to our four children.

Leah was a character! Eccentric to a fault; he had the knack of driving us crazy, but was always there to lend advice or offer support. The good always outweighed the headache. We had many a good laugh with Leah. Friday nights we'd enjoy a great meal, and he usually brought his favorite dessert – pie, often making his own. Always with ice cream and usually a glass of port or Grand Marnier. After dessert we'd sit outside under the stars, or in front of our fireplace and talk about life.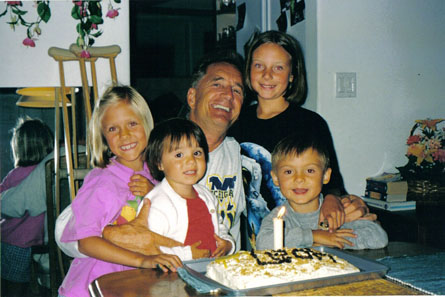 Celebrating one of Leah's birthdays, March 7 at his home in Freeport after his hip operation 1998.


He was there for every holiday and birthday party. We have twenty years of photographs of him in our life. He was a private man. We knew very little about his family; other than that he had a sister, loved his mother like a saint, and that he had a nephew too. He hated to tell anyone his age, and my children used to enjoy teasing him with "how old are you Uncle Leah?" while I'd shoot them a look of "STOP, don't you dare!"

Prior to The Bahamas Leah lived for about twenty-five years high up on Hollyburn Mountain in West Vancouver, Canada. The property was once a ski chalet. He was the caretaker of the large many-acre property, and in return lived there for free. The view from his mountain home was incredible. Above the clouds, and so high up you could see the U.S, –Canada border in the distance; and the incredible view of the Vancouver harbour and ocean dotted with ships, with Vancouver Island in the distance. Winters were rough for him as the snow removal service never cleared his private road and those months he was his fittest as he'd have to hike up to his home or down to his car in piles of snow.

Leah's career was eclectic and I'd say he was an entrepreneur. He worked in real estate development and sales, building construction and design; and even owned a jean company at one time called, " BeeBop Jeans". Sexy styles in stretch denim in the days when stretch denim was king. Leah loved his car, in particular his previous vehicle that he carted from Canada - his burgundy Subaru, that he finally gave up for his last car, the Mercedes.

At our piano in Canado one Christmas.


Leah would surprise us when he'd sit at our piano and play beautiful pieces, remembered from years of lessons and study as a child.

We miss him!

So why is his body still in the morgue? Well, firstly after he died, we had no way of contacting his remaining family, and we couldn't even remember his sister's name. Secondly, although we were likely the closest thing to family, it means little when someone dies. Authorities only want to hear from the family. You have no rights. Twenty years of this friend becoming 'family' meant little or nothing…but such is life, and the way things are.

A miracle did happen, and I was able to find his sister, quite by chance. The police here, and in Canada, the Canadian Consulate and all the authorities could not find anyone. It of course did not help, that his name had been changed, and his sister having a married name. I contacted her on April 5th to tell her the grave news that her brother had died over a month prior. The next day I contacted her son, who is now working with us and local legal council to get this settled. What must be proven now is that this body is indeed "Leah Harlingten", who was born with a different name, and that individual is indeed related to this woman and her son in Canada who are now dealing with this crazy aftermath and the remains of his life.

Leah had taken my eldest daughter out for lunch just a month or so before he died. This was new for him, and I know he felt that taking my daughter, who is about to graduate from high school out to talk about her future meant a lot to him, and to her. He took special time to talk to her about her past, present and future. He told her he would help her with her college or university fees, he told her he would help her with her first car, and her first business one day. This whole meeting with her was all premeditated. He had written notes on his computer that we came across, and my daughter now has that as a reminder of her last time with him. She also asked him at that lunch if he had a will, and she said, "He just smiled and said he wasn't going anywhere…"

We've learned a lot from this. Mostly to be prepared. Have a will. Find out who your friends are, in particular if they are older and alone. And it makes me think of the personal responsibility it leaves our loved ones. If you were to die today, what would you be leaving behind? Death is not something we want to think of, but it is inevitable.

I know Leah would not have liked the outcome of his fatal death. He would have wished he had his life in order for us, and for his family. He wrote everything down it seemed, but not what to do with his remains, or his estate. BUT, he never wanted to age or get 'old', and I guess this may have been his way around all that.

I am writing this in memory of Leah Harlingten, our friend, my children's 'special' uncle – the mountain man who left his life in Canada, and moved to sea-level in The Bahamas to become 'Mr. Lee'. Through the power of the Internet, may it one day reach those that could be looking for him, or who knew him. ..

In fond memory,
Robbin

Ps. For those of you who have been waiting for the funeral or memorial, we are still trying to get his body released. Notices will be made when the date arrives, and hopefully we won't have to wait much longer...







About the author: Robbin Whachell has been a resident of Grand Bahama since 1998. She moved to Freeport from Vancouver, Canada. She is the mother of four children and is an involved volunteer in the community, in particular with the YMCA. She is a founding member of the Grand Bahama Writer's Circle, and The Bahamas representative for the International Women's Writer's Guild. Her passion for life on Grand Bahama comes across in her innovative and intuitive sharing and networking of information within the community she lives. She is appreciative of her opportunity to live in The Bahamas and looks forward to the continuance of being a team player within the community of Grand Bahama. Robbin is the Editor of TheBahamasWeekly.com and can be reached at robbin@thebahamasweekly.com