Nassau, Bahamas - A classy night at the Fort: That's what is in store for Nassauvians on Friday night, February 5th when the Bahamas Humane Society holds it's
B-Humane launch: "A Night with the Arts"

, generously sponsored by the Swiss bank: Lombard Odier. This event has been painstakingly put together by the Fundraising and Events director of the BHS Rebecca (Becky) Armbrister. She first started to dream about it when she took the job at the BHS in May 2009.

It took months of planning, talking, cajoling, persuading, begging, pleading, patience, and…Oh

yes, hard work! On Friday that dream will become a reality at our very own Ft. Charlotte lit up by flairs, with a carpet scattered with paw prints and a host of guests all dressed in white and aqua…. with the splendid eighteenth century Fort as a majestic backdrop. What a great evening this promises to be.
The ever increasingly popular band "The Illest" (formally known as Willis & the Illest) will be playing during the evening and guests will also be treated to a performance by Shiraz. When not listening to live music there will be a DJ making sure the night will be filled with familiar melodies.
***image2** Art by Dede Brown, Dylan Rapillard, Kelley Knowles, Jonathan Bethel, and Patricia Vazquez will be on display and on sale; the artists are generously donating part proceeds to the Bahamas Humane Society. This is a celebration of youth and art reaching out to the less fortunate members of the Bahamas. Reaching out to those unable to speak for themselves, those unable to defend themselves against intolerable acts of injustice and cruelty.
There will be film clips for the guests to see of both "Children of God" by Kareem Mortimer and "Rain" by Maria Govan, both highly acclaimed and respected Bahamian made full-length films. These two films are powerful in their own way sending out a clear and important message to the people of the Bahamas that the time is now to change attitudes and love and nurture all that we have in our land, including the precious animals the good Lord gave us. For those who like to shop Anne Maura will have her exquisite Venetian glass jewelry for sale, 242 people will have their exciting new line available and of course the new Bahamas Humane Society T-shirt…with the very distinctive white paw print will be available for sale.
**image3*** Perhaps, though, the most exciting will be the unveiling of the 14 banners carefully and lovingly put together by Becky Armbrister. Bahamian photographer supreme Scharad Lightbourne photographed 14 different and beautiful, young, talented, vibrant animal-loving Bahamians to grace these banners that will hang in our streets and remind people that we need to love and respect animals every day of our lives.
This evening will also serve as the launch of the "Travel Bonanza" raffle.
1000 tickets only are to be sold by the 26th of March. First prize is a trip for two to London and a five-night stay in a five Star hotel; Cruises and long weekends make up the remaining four prizes. Tickets are $100.00…the odds are pretty good for the gambling man! The tickets will be on sale on Friday night at the Fort. Maybe a little magic will rub off those ancient walls that have seen so much and witnessed myriad changes in our little town of Nassau!
This glittering, glamorous, high profile evening also offers drinks, and food, served thought-out the Fort…Fun, exciting, and affordable (for all pocketbooks) silent auctions, and a raffle. There is truly something for everyone…
At a time when the world is hurting, there is room for a little merriment if it serves to help those less fortunate. The Bahamas Humane Society dedicates itself to the care and protection of all animals around the Bahamas, on occasion we have been known to reach out across boundaries to help in times of need. The BHS is a non-profit organization that runs solely on money earned from the services it renders and the generosity of the general public… There is a grant for $15,000.00 a year from The Government of the Bahamas, once a grand sum, and now barely sufficient to keep the doors open for more than a few days. Events such as this one help to raise funds and generate awareness.
The amazing enthusiasm and willingness of the artists to pitch in and participate, be photographed, exhibit, and perform is warming to the heart. There is still so much good left in this world, and in this country. Tonight's event organized by a young Bahamian, with young Bahamian artists participating is a portrait painted with hope, passion, and empathy is a testimonial to this very fact. For those of us, not quite so young any more, it is energizing to see the next generation step up to the bat and move forward in the right direction, a road peppered with pitfalls but softened by dedication and love.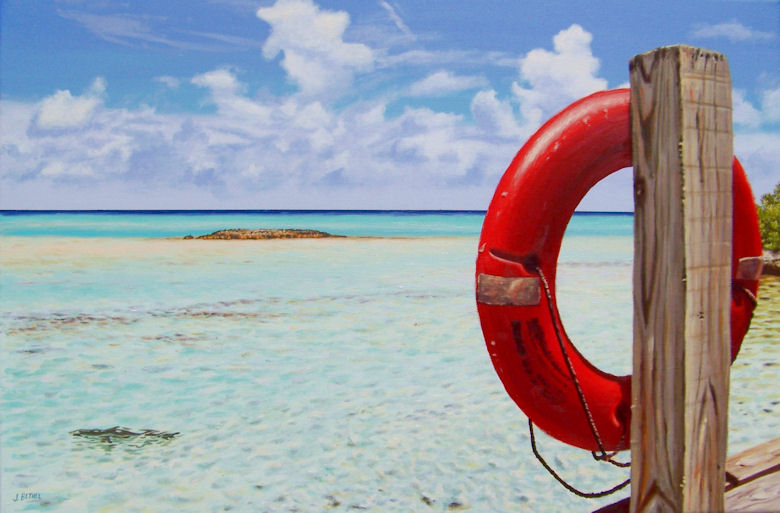 The support of a strong and respected bank such as Lombard Odier who stepped forward and offered to sponsor this event gave the BHS the essential funds to be able to have the banners printed and installed, and to be able to provide the necessary infrastructure at the Fort to make this event possible. It is very important for the business sector to involve itself in matters of social importance. There is no doubt that the protection of animals and the desire to stamp out cruelty is a very important cause, Lombard Odier is to be commended for their generosity and forward thinking in their dedication to the mission of the Bahamas Humane Society.
The AMMC (The Antiquities, Monuments and Museums Corporation) was quick to step up and allow the Bahamas Humane Society to use the Fort as a venue for this fabulous event. This launch has been a meeting of many minds, the brain child of one, and supported by many… I hope that many of you will join us all on Friday to celebrate the arts and support the animals of our nation.
The tickets for "Bhumane a Night with the Arts" are still available, though, it is exciting to see the speed with which they are selling. They can be purchased at the Shelter (323 5138) Fab Finds at both Lyford Cay and Harbour Bay Shopping centers, Tommy Bahama at the Mall at Marathon, and Headlines at the Hoffer Shopping strip at Cable Beach. The price is $75.00 per person, $100.00 at the gate….
Come one, come all, raise a glass, a vibrant toast to the beauty of our nation and the power of art and youth! Together we will make a difference for the animals in the Bahamas.
About the author: Kim Aranha grew up in the Berry Islands with her first dog, a beloved potcake named "Friendly" (who was anything but!). First educated at home, and then in boarding school in Switzerland, Kim moved to Rome, Italy in 1974 to pursue a career in the dramatic arts and ended up working as an interpreter. She moved back to The Bahamas in 1980, and now lives in Nassau with her husband Paul, and their two grown sons. Kim has 3 dogs, 3 goldfish fish, a tank of freshwater exotic fish, 11 turtles (2 babies, 6 adolescents. 3 adults), 1 Asian box turtle and 4 Budgerigars. Her idea of relaxing is being home to take care of all her pets. Kim is President of the Bahamas Humane Society, and serves on the board of BREEF, and is co-chairman of the Bahamas Sea Turtle Conservation Group. Kim can be contacted at berryislandgirl@gmail.com