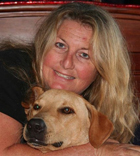 Hurricane Ike left a trail of destruction in its' wake. Homes, businesses, fields, roads, were all destroyed or damaged.
Relief work started up quickly, Bahamasair flew heads of Government Departments on a special flight with NEMA officials aboard. There was a flurry of activity. Within days there were collection depots all over the town of Nassau to collect clothing, bedding, and food for those effected by the ravages of the storm. The charter section of Nassau International Airport was full of activity. Boxes, and pallets of supplies lined the walkways as harassed pilots and porters alike tried to safely load as much cargo as possible into one plane. Everything had been thought of, the plane doors closed, the planes lifted off, carrying with them hope and promise of a new day dawning with food and dry bedding…..that is, for the humans.
Somewhere in this equation people forgot the animals, God's creatures too. The dogs, cats, donkeys, parrots, and other birds, the flamingos appear to be able to cope for themselves. These are the quiet crowd who cannot speak up for themselves or ask for help. They will often lie down and accept their lot quietly, suffering silently as the world goes by around them. They are perhaps too weak from lack of nourishment to react normally. It is our moral duty to remember that our Lord created these creatures just as painstakingly as he created us, and it is our duty to be their custodians in a time of need.
As I watched with interest the relief work getting under way, I was saddened when initially there was very little interest in the efforts made by the Bahamas Humane Society to get food down to the animals of Great Inagua. A truckload of animal food had to leave Nassau International Airport on Saturday because no plane had space for it. Our original plan was thwarted when the plane we thought we could use became unavailable.
I decided that I should sit down and send an email to my friends asking for help. I sent this email out on Sunday afternoon. One hour had not gone by before I started to receive phone calls and emails of support. People were offering donations of all kinds. The original email got sent from person to person to person, I was hearing from people I did not even know. It was totally wonderful.
By Monday, I had been contacted by several of the other animal groups in the Bahamas offering help. Advocates for Animals (Jane Mather) had taken it upon themselves to help raise money and contact their supporters for help. The Grand Bahama Humane Society (Tip Burrows) had posted the letter and forwarded it. They offered to receive donations on our behalf and pass them on to the Humane Society. Pet Pals (Joan Carroll) of Eleuthera emailed to say they are sending a donation. ReEarth (Sam Duncombe) posted the appeal letter for all to see. Friends of Abaco Animals (Jane Thompson & Candace Key) along with other animal lovers in Abaco raised a large amount of money going door-to-door and soliciting funds.
Free planes were offered to carry the food down, 70 bales of hay were donated, 950 pounds of dog food collected by one man over the weekend, was delivered to the Bahamas Humane Society headquarters, cases of apples were purchased and delivered.
The Nassau Guardian and The Tribune both put in nice long articles in their papers echoing my appeal letter, seemingly everybody read those articles. How nice of the papers to be so conscious and responsible and help us achieve what we were set out to do. Thanks to those articles I have been contacted by several youth groups who also want to help out.
And I thought that people had forgotten the animals! It was a humbling experience to witness the generosity and kindness of the past 72 hours. Perfect strangers come up to me in shops or restaurants and offer me $20.00 or more to "help out". The emails are still pouring in. My heart is quite honestly singing with joy at the outpouring of love and compassion shown by so many since I sat down and wrote that email on Sunday. It is Christmas day in the middle of September. My faith in the human race has been somewhat restored.
A beautiful off shoot from this generosity is to see how so many animal organizations have reached out their hand to help out. Advocates for Animals, Grand Bahama Humane Society, Pet Pals, ReEarth, Friends of Abaco Animals, in America Pegasus and the International Humane Society of the United States have also sent in generous donations: All pulling together for a common goal.
There is so much bad and sad going on in the world. The papers are full of woe and disaster, murders and pillage, accidents and disease that I am overjoyed to be able to write an article finally about something so perfectly wonderful: The kindness of so many, for a worthy and silent group of victims on a little dot of an island far away and often forgotten.
Those people behind the organizations, those people who brought in food to the Bahamas Humane Society, those people who sent in money, those people who help get planes and boat space, all of them should go to bed tonight knowing that they did a really good thing today. They opened up their hearts to a group of animals who will not say thank you to them, who do not know who or how their food got there, nor do they care, but with a bray, or a squawk, a purr or woof, they will eat and go their way and that is all the thanks that these wonderful, kind, giving people who answered my plea wanted in the first place.
This article is a love letter to you all, a thanks from my heart and the hearts of the animals, a cheer and a pat on the back for being such very special people indeed.
About the author: Kim Aranha grew up in the Berry Islands with her first dog, a beloved potcake named "Friendly" (who was anything but!). First educated at home, and then in boarding school in Switzerland, Kim moved to Rome, Italy in 1974 to pursue a career in the dramatic arts and ended up working as an interpreter. She moved back to The Bahamas in 1980, and now lives in Nassau with her husband Paul, and their two teenaged sons. Kim has 4 dogs, 5 fish (1 Beta, 4 Goldfish), 10 turtles (6 babies, 4 adolescents), 1 Asian box turtle and 4 Budgerigars. Her idea of relaxing is being home to take care of all her pets. Kim is President of the board of the Bahamas Humane Society. Kim can be contacted at kimvba@coralwave.com