Last Updated:

Feb 6, 2017 - 2:32:04 PM
---
It has been really a long time since I wrote anything about Buddy and what he has been up to. He successfully turned two years old back in March, and is probably one of the sweetest boys in the world. A blunt nosed, inquisitive, happy, floppy Labrador, his good disposition causes him to get his chew stick stolen by the other dogs frequently. He has figured out that the best way to deal with this dilemma is to rush into whatever room I am in and franticly jump up on me (taddle tail!), I now know what this is supposed to mean, I quickly hand him a new chew stick and he runs into the other room with a jaunty step where his two friends are, showing off the newly acquired chew stick, and throwing it up in the air in triumph as if to say "naadi, naadi no ho….mine is better than what you stole…..


He is not a big Labrador, he weights about 65 pounds, I tease him and call him my Dabralor, the pocket Labrador… In response to this, I get a swift lick, with a mighty tail wag as he pushes up against me. He is faithful and loyal to a fault, his guard dog instinct is ever present, aided and abetted by his good buddy Chief, who has trained him in the finer points of "guard doggery" that only a Potcake knows by instinct. They can both be fast asleep and they will suddenly leap up barking fiercely and dashing down to the front door, a couple of seconds later the door bell will ring…they hear the person ages before the bell rings.

Buddy loves to sit in my chairs, as you see in the photo that accompanies this article. This is a new habit. He has only been doing it for the last couple of months. I walk into my den and Buddy is sitting behind the desk. The first time this happened I couldn't believe my eyes. I will come into the sitting room in order to watch the news and there my little friend is, curled up on the chair and fast asleep. He looks so cute that I cannot bring myself to disturb him, so I end up sitting somewhere else, whilst Buddy snores.

Talk about snoring, at night when he gets into bed he stretches out and becomes seemingly six foot long, he lies on his back, puts his head on something a little elevated, a pillow would do very nicely thank you, and falls into a very deep doggy sleep. Sometimes Chief is positioned at the end of the bed and the two of them snore in "stereo", quite the concert! Sometimes I wake up in the middle of the night and hear them breathing their little concerto and I think of all the other poor, unloved dogs here and around the world and it makes me feel very sad, little Buddy will move ever so slightly and I end up holding his paw, like a small child!!! So much love to give…we just don't realize how lucky we are to be at the receiving end of such unconditional love. I hope they feel as loved as we do.

A couple of months ago, Buddy got out. I won't go into the details of his escape, but Buddy and Chief got out of the garden, they cold not have been out longer than 10 minutes when I realized that the gate was open. I went out onto the streets calling frantically. No answer, within a very short time Chief returned home, a little sheepish…NO Buddy. I was frantic. I called security and told them that my dogs had got out, the guard replied "are they; one black and when gold dog", when I said "yes" he told me that there had been an accident on the main road and that a black dog had been involved…I almost had a heart attack. I rushed down to the man road, and there was a car, and security. No Buddy; the man who had hit Buddy was distraught, he was very shaken up. Apparently the two of them were playing in the middle of the road and suddenly Buddy ran into the car. Buddy has never been on a road when not on a leash with us; of course he didn't have a clue as to what to do. I was so upset and took off calling for Buddy frantically. My husband found him some 200 yards from home, around the corner, sitting at the side of the road. He was a bit confused, and shaken up, but fortunately had only scratches and a cut pad on his back left paw. I immediately bundled him into my car and dashed him downtown to see his vet Dr. Grant. Whilst in the car I realized that Buddy smelt awful, he must have found a dead rat or something to roll in. It certainly was a dead, decaying stink… How my little boy had got himself into so much trouble in such a short time I will never know!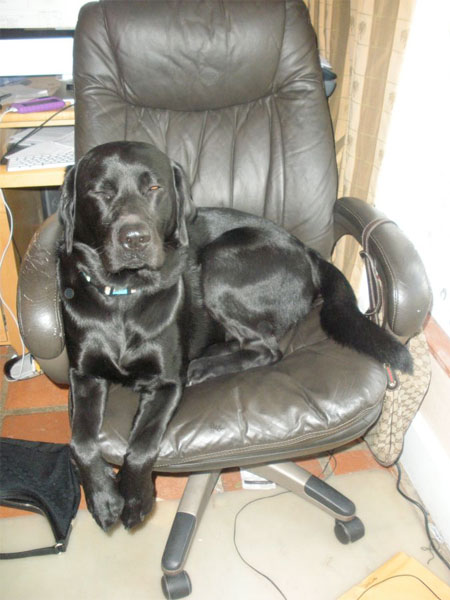 Dr. Grant checked him thoroughly, but did not take any x-rays, Buddy was not limping, and we decided it was best if I just observed him for 24 hours. We put him on vitamin K immediately; in case he had eaten any of the dead whatever and in case it had been a rat with rat poison…we sponge bathed him down on the metal table with some good smelling stuff and Buddy just sat there like a very good boy, knowing he was being helped. He had a shot and some antibiotics and pain killers. After about an hour he climbed into the front passenger seat beside me and put his head on the divider For the next few days he would not leave my side, and slept so close to me on the bed that I thought he was going to push me out of bed. We finally had to put one of those plastic collars on his neck to stop him messing with his foot and pulling the stitches out with his teeth.

This was almost three months ago and fortunately it was a nightmare with a happy ending. My blood still runs cold when I think of what could have happened that February afternoon. I spend my days asking people to please be sure that the gate closes behind them (I sound like a broken record). Buddy does not appear to be emotionally scared; his pad is as good as new, no physical scars. It was a huge lesson learner for everybody in this house, that, even people who are experienced animal owners can have a split second when things go wrong. We were lucky that the split second of inattention did not cause irreversible damage and that our little Buddy was not seriously hurt or he could have been an angel with wings. Buddy is unscathed; I am just that little bit more paranoid than I was before (my kids would say…"is THAT possible?").



My sweet little friend is out playing in the pool with my eldest son as I write this. Not a care in his smooth, muscular little body. He has a tail that wags constantly; he bags it up against everything in sight as he wags his way through life, drumming randomly away on all he passes. His close friendship with Chief remains firm. He drives Chief mad sometimes with his devotion and insistent licking: feet, ears, anything to show his love. Chief growls, Buddy ignores him, and they live happily ever after. Buddy does acknowledge Abigail's superiority and still refuses to go past her if she is blocking the doorway. She is the Alfa dog, the Matriarch of the family and both boys bow down to that.

Perhaps Buddy's biggest trademark is the need to always have something in his mouth. The act of carrying something around with him is of great importance. Socks from the laundry hamper are a great favourite, second to my shoes, or a stick, ball, chew stick, pen…anything big enough to carry. He dashes around the room to find something to carry, lifts it up, head held high, tail up and wagging, he bolts out the door or down the stairs to find something to conquer or somebody to shower with love!

God Bless him!!!

About the author:

Kim Aranha grew up in the Berry Islands with her first dog, a beloved potcake named "Friendly" (who was anything but!). First educated at home, and then in boarding school in Switzerland, Kim moved to Rome, Italy in 1974 to pursue a career in the dramatic arts and ended up working as an interpreter. She moved back to The Bahamas in 1980, and now lives in Nassau with her husband Paul, and their two teenaged sons. Kim has 3 dogs, 3 goldfish fish, a beta fish, a tank of freshwater exotic fish, 11 turtles (2 babies, 6 adolescents. 3 adults), 1 Asian box turtle and 4 Budgerigars. Her idea of relaxing is being home to take care of all her pets. Kim is President of the Bahamas Humane Society, and serves on the board of BREEF. Kim can be contacted at

berryislandgirl@gmail.com





© Copyright 2009 by thebahamasweekly.com

Top of Page