A lesson to be learned about the power of determination.
It was about two years ago when the magnitude of the sea turtle situation really hit me. I had always had a nagging concern for them, and had always been disgusted by the deplorable way they were treated after capture and prior to slaughter, but two years ago I realized that we had to do something to protect this fragile species tottering on the brink of extinction.
The Bahamas Sea Turtle conservation Group was born one evening at Debbie Krukowski's home when a bunch of us gathered together to discuss the recent rash of large turtles being caught and paraded, lying miserably on their backs, on the side of the road. Of course this was pure and total extortion tactics. The fishermen who had captured those large turtles had done so deliberately to cause people such as us to stop and pay exorbitant sums of money for the release of these animals.
That particular evening there were perhaps a dozen people gathered. All the people there represented some animal or conservation group on the island. The discussion focused on the depleting numbers of turtles globally. By the end of the evening The Bahamas Sea Turtle Conservation Group was reality. No-body wanted to be chairman, so the best solution was three co-chairman, who were and still are: Debbie Krukowski (ARK), Jane Mather (Advocated for Animal Rights) and myself (Bahamas Humane Society). At first the organization had no money, of course, so everybody there pitched in some dollars to open a bank account. Within a short period of time we had bumper stickers out in the community with the intention of drawing attention to ourselves…..it worked!
The uphill part of our campaign was trying to get people to care enough to get involved at first. So few Bahamians eat quantities of turtles that most people did not feel that turtles were an issue at all, and as a non-issue, they didn't care. Gradually with determination, the cooperation of the press and visiting schools, people began to listen to the message we were trying to send…..it was plain and clear: All sea turtles were on their way to extinction….Zip, nada, no more….there would not be turtles swimming free in the sea for generations to come unless we took the responsible step to protect then NOW!
The finances started to improve so we were able to have t-shirts printed; we were delighted when the Sports Center offered to sell them for us free of charge. What a help that was to get them out into the communities! T-shirts and bumper stickers are a wonderful form of advertising because they are readily displayed for all to see and often (if you get lucky) the person who is displaying actually paid you for the t-shirt or bumper sticker!
Still, in spite of the advertising, there was not enough momentum. This is when we started to write articles and get the media involved. The press was fantastic and extremely interested in all facets of the "Turtle Issue". Debbie, Jane and I went to countless radio shows and TV shows. The Daily Boil with Chrissy and Eddie, perhaps the funniest, those two together had me laughing from the get go.
Patty Roker, Chrissy Love, Sieska Adderley, Etoile Pinder, Eddie Carter were all people who interviewed us repeatedly. I cannot tell you quite how much fun we had on those shows and the camaraderie that was built up.
Of course during this phase the three of us, had countless meetings with the Government. Minister Larry Cartwright, Minister of Agriculture and Marine Resources was the long-suffering official who met with us the most often. There were times when it was weekly…Back to the power of determination. Minister Cartwright was always gracious to the "turtle ladies" and always found time to meet with us.
We circulated a petition. We started with the original petition started by others some years ago on line, however, we became aware that on line petitions did not appear to carry any real power. We changed the petition around to a paper petition…we asked Bahamians to write letters to the ministry. So many letters came in that they had to change the ink in the fax machine twice. The inbox of the Ministry email address was overflowing…the power of determination. I personally carried in 1000's of individual letters to the Ministry of Marine resources; I still have the photocopies of each and every one in the boot of my car!!! Filing cabinet draws were so full that they would not close!
Yes, it was very disheartening when on three separate occasions we had been told that we would have a ban. The first one was due on January 1st, 2009, the second promise was April 1st, 2009, the third was supposedly August 1st, 2009…these dates came and went and with them a chunk of our optimism did too, but they fight did not die out and the power of determination remained…
We had an amazing candle light vigil, with footage of a turtle swimming and feeding on a reef, donated by Troy Aitkin. Members of the public voiced their support and two perfectly wonderful "little turtles" performed a skit (Brent Whittingham and Anna Nixon)...the following week we held a town meeting with Dr. Alan Bolten from the University of Florida presiding and answering questions.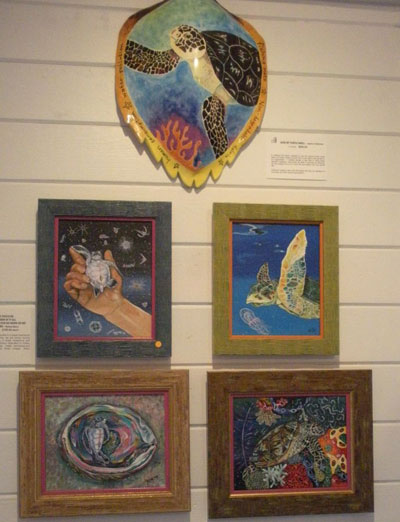 We were so heartened by the support of so many people who were convinced that not only would we succeed in protecting the turtles but that we would do so with an over whelming majority. This was when we were contacted by Pam Burnside of Dongoolik Gallery to inform us that they had decided to mount a "turtle" show, inviting each of the artists they represent to submit a piece of art depicting a turtle in some shape or form. This was wonderful news, and was yet another way to keep the cause alive in the public's mind. We gratefully accepted, and out of that idea was born a remarkable display by some the finest artists in the Bahamas. I bought a wonderful small painting by Melissa Maura of a baby turtle in a human hand with the sky and celestial signs behind it, which is now proudly displayed in my entrance hall.
One other innovative idea was born out of the art show and that was the remarkable "eat cookies, not turtles" cookies designed by Sam Moree at "Something Different". These enchanting cookies not only spread the word but also tasted delicious. Sam also organized a cookie painting (all edible) competition for kids one Saturday afternoon.
Whilst all these events took place, and all the letters were being written, and all the interviews being aired, the Ministry of Marine resources was conducting town meetings around the islands to ascertain if the turtle ban was a viable proposal.
Things went very quiet for a while and we at the Bahamas Sea Turtle Conservation Group decided to increase the pressure a notch and thanks to a very generous donation were able to take out weekly full-page ads in the Tribune. These ads were designed to promote awareness… The day the fourth ad. ran I received a phone call from Patty Roker asking me if I had seen the press release…I had not. I promise you that my heart quite honestly skipped a beat, then, I did what most women would probably do…I cried !!!! For happy and for relief…
The last few days there have been so many phone calls, email, and face-book messages from well-wishers who are so happy that the bill was passed. There have been countless requests for interviews from local and foreign media…but the very best part of all this is that the turtles can now graze safely in our waters, we can hope to see them multiply and our grandchildren can count on seeing turtles and showing them to their own kids.
However, we must remain vigilant. If we see somebody catching a turtle, the police and the National Trust and the Bahamas Humane Society should be notified immediately…this is a law, people who catch or kill turtles or their eggs are punishable by a year in jail and or $3,000.00 fine. We must no turn a blind eye.
Those of you who gave of yourselves to achieve this ban should rest well and happy this weekend, knowing that somewhere today a turtle swims who otherwise may well have been dead. The success of this campaign proves to us the power of determination!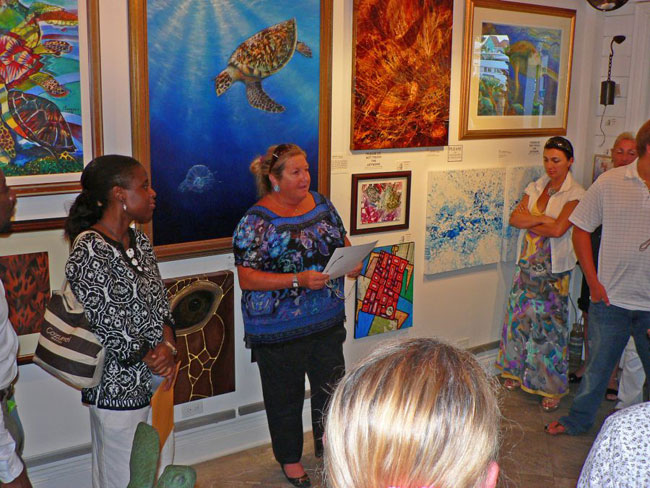 About the author: Kim Aranha grew up in the Berry Islands with her first dog, a beloved potcake named "Friendly" (who was anything but!). First educated at home, and then in boarding school in Switzerland, Kim moved to Rome, Italy in 1974 to pursue a career in the dramatic arts and ended up working as an interpreter. She moved back to The Bahamas in 1980, and now lives in Nassau with her husband Paul, and their two teenaged sons. Kim has 3 dogs, 3 goldfish fish, a beta fish, a tank of freshwater exotic fish, 11 turtles (2 babies, 6 adolescents. 3 adults), 1 Asian box turtle and 4 Budgerigars. Her idea of relaxing is being home to take care of all her pets. Kim is President of the Bahamas Humane Society, and serves on the board of BREEF, and is co-chairman of the Bahamas Sea Turtle Conservation Group. Kim can be contacted at berryislandgirl@gmail.com

Related article:
Ban on Harvesting Marine Turtles in The Bahamas