Last Updated:

Feb 6, 2017 - 2:32:04 PM
---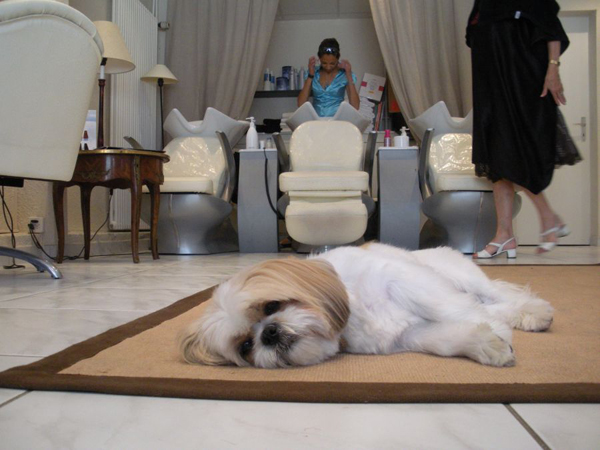 Oh dear", said the lady in front of me at the cash register in the large Swiss store Manora, "Where are you, Dolly?". I immediately looked expecting to be searching for a small child, probably adorned with an over sized pink bow in her hair…Dolly ! The well dressed lady looked around the corner and with a little squeal of "delight" went into a litany of baby talk, seconds later a bear like Bernese mountain dog, big flat tail wagging, lumbered over to her ecstatic owner, leash attached to her collar, dangling down. The beautiful 140-pound Dolly had been sleeping whilst her owner paid for her purchases. The shoppers in the large Department store stepped around or over Dolly without a backward glance….this is life in Europe, if you have a dog. Fast forward to a similar picture in the Bahamas or even the United States of America…. You can't! Why? Because, it just would NOT happen. If it were in the Bahamas all the other shoppers would be backing off and asking with true fear in their voices: "He bite?". If it were in the United States of America health inspectors would descend upon you within minutes demanding you move the dog immediately because of "sanitary and health issues"


When you think of the Europeans and their pets and us (Bahamas and the United States of America), off the bat you would presume (or at least I did) that the European would be far more stuffy and strict as far as their animal friends go.

We are the ones who go on for hours about how much we love Spot of Fluffy
and that they are a real part of the family. We love them like another child, I often hear….. Yea, right!, that is until it comes to going to dinner or shopping at the mall.

When we go out our dogs are left at home, locked up safely in the kitchen, or have the run of the house, or in some safe spot in the garden…. European dogs? When they sense that their owners are going out they rush to the door with their leashes in their mouths and get ready for a night on the town. How's that? In Europe dogs are welcome all over the place, I often find myself in a restaurant with four or five different dogs under various tables throughout the room. In general, they are very quiet indeed, and you often do not know that they are there at all. Invariably a bowl of water is readily available or a bowl for food if the owner feels that Fido wants to join in.

I really became aware of this European phenomenon when we decided to get our two wonderful Bouvier Bernois (Bernese Mountain dogs). Rascal and Star were born in the little village of St. Cergue nestled high in the Jura Mountains overlooking the Lake of Geneva (Lac Leman). This picturesque village was home to countless dogs of all shapes and sizes. Star and Rascal's breeders were bakers, and ran the largest Tea Room and bakery in the village. When we made our appointment to see the puppies we were instructed to meet them at their shop. Upon opening the door we were greeted by a huge, fully grown, Bernese Mountain dog… right in the shop whilst people were being served. I can just image the scenario if that was in Nassau, not one client would have entered the shop even if they were reassured a hundred times that the dogs was not going to hurt them.


I remember years ago when our son had just started boarding school and was coming home for the first time, we brought beautiful, sweet, Rascal to the airport, Star stayed home. Rascal would not have hurt a fly, and spent his whole time wagging his tail with his big tongue hanging out of his mouth with a lopsided grin on his face. Anyway this old female taxi driver immediately saw him and freaked out…now, she was hysterical, she yelled, she screamed, she demanded that I that "get that dog otta here". Talk about carrying on…She threatened me with the police, and anything else she could throw at me, all this time sweet Rascal just stood there looking at her and wagging his tail. And all of this time I was standing on the side-walk several paces away from this shrieking apparition. Finally I gave in to the lunacy and put Rascal back in the car. I did not want to expose him to any more human insanity. Time later, my husband checked with airport security, and there was no rule that forbade us to bring Rascal to the airport, just the stupidity and bigotry of the general public.

Rascal has been in heaven for two years now, I still see that same old lady taxi driver at the airport and she knows that she remembers me, but her memory fails her as to where, so she smiles at me. I wish she didn't bother. I pretend that I don't see, but I feel pity for this poor soul who has not opened her heart up to all, or perhaps, on second thought, ANY of God's creatures.


In Europe people really bend over backwards to make places animal friendly, installing special water bowls and places to tie off your pet if need be. When you sit down in the local café they ask you what you want and then they ask if you want anything for your dog. They make a point of not sitting two dogs at adjoining tables. They are very civilized and treat pets as members of the family. The only thing is that you cannot take them into the supermarkets and I can understand this. Honestly everything looks so good over there, that it is all I can do not to grab one of those inviting sausages and start to gnaw, how could any dog resist?

This Saturday is the feast of Saint Francis of Assisi, the patron Saint of animals.
The church of St. Christopher's, in Lyford Cay, is holding a one of a kind service at 4:00. A traditional Blessing of the Animals. Last year St. Christopher's was the only church in the Bahamas to hold a blessing of the animals, and I suspect that this year they will once again be the only church. Archdeacon Keith Cartwright, who used to be based in Grand Bahamas for many years, is the parish priest of this little white church. He is an avid animal lover, a member of the board of the Bahamas Humane Society, and a firm believer that God created every creature on earth therefore they deserve and require our love, respect and neutering.

So when you think of all they do in Europe and how little we do over here, it kind of makes you wonder: "Why can't we be more like Europe?".


About the author: Kim Aranha grew up in the Berry Islands with her first dog, a beloved potcake named "Friendly" (who was anything but!). First educated at home, and then in boarding school in Switzerland, Kim moved to Rome, Italy in 1974 to pursue a career in the dramatic arts and ended up working as an interpreter. She moved back to The Bahamas in 1980, and now lives in Nassau with her husband Paul, and their two teenaged sons. Kim has 4 dogs, 5 fish (1 Beta, 4 Goldfish), 10 turtles (6 babies, 4 adolescents), 1 Asian box turtle and 4 Budgerigars. Her idea of relaxing is being home to take care of all her pets. Kim is President of the board of the Bahamas Humane Society. Kim can be contacted at kimvba@coralwave.com





© Copyright 2008 by thebahamasweekly.com

Top of Page