Last Updated:

Feb 6, 2017 - 2:32:04 PM
---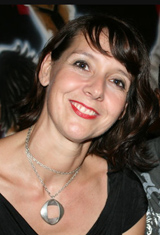 19 Artists & Makers - 6 Countries - 6 Weeks to Collaborate & Deliver



The idea for "I" came from a delightful Christmas present from Santa Claus! The Art of Not Making by Michael Petry, did not quite fit into my red Christmas stocking, but was welcome all the same!

The premise of the book is an in depth look into artists who use 'makers'. In other words artist who sometimes find others to fabricate their exotic ideas. This is usually due to the technical requirements that the artist may have no experience with. However, even if the artist never touches the work, it is usually the sole property and ownership of the artist – the maker is not acknowledged.

I was intrigued by this now established, and controversial artistic practice.

Decanted to Scotland, away from direct access to artists and exhibition spaces in Grand Bahama, I decided to embrace the online community to create an art happening exploring these issues.

The project, succinctly called "I", set out to investigate and experience the relationship, connection and dissonance between artist and maker using the most intimate of themes- Self Portrait.

Self Portrait is the private realm of the artist – prompting unique self discovery, intimate reflection and an ultimate expression of self. Therefore how could this be created by anyone else? A self portrait, blatantly made by someone else, would also bring a depth and layering to the idea of ownership and authorship. This is not always addressed authentically in the current trend of artists using makers.

For "I" to work, each participant had to experience being an artist and a maker. As the artist, they created a brief for their self portrait. To keep it clean, and free from bias, briefs were allocated to unknown participants. And includes artists working in The Bahamas, U.S.A, Scotland, China, Costa Rica, and The Netherlands. The makers were then at liberty to consult the artist (through Face book) or use their own discretion to produce the 'Self Portrait'.

In this project, unlike, for example, Shan Shan Sheng (b. 1957, China), who required the Beregano Studio to create approximately 2000 glass bricks for Open Wall 2009, the briefs could not be so skill specific and therefore each maker had to involve their own creativity for resolving the brief.

The briefs were shared in January 2014 and now in February the works have been created and submitted electronically on to the online forum.

Some of the responses have been surprising, and certainly diverse, using methods such as imagery, deconstruction, addition, nuance, innovation, abstraction and embellishment, and in ranging media. Here they are:

Contemporary digital bar code:
Jonathan Murray;

Video:
Susan Jensen Sweetings;

Collage:
Lisa Chrisjohn,
Del Foxton;

Paintings and sketches:
Laurie Tuchel,
Boryana Korcheva,
Erin Cordes,
Chantal Bethel,
Ashleigh Werner,
Samantha Hedge Hanback,
Devon Sweeting,
Lisa Codella;

Photo montages:
Scott Mackay,
Auxilia Tromp;

Photography:
Gustavo Zeledon Garcia;

Music:
Margot Bethel;

Art quilt:
Lauren Austin;

and I made two, Susan Moir Mackay for Chantal Bethel - Susan Moir Mackay for Lisa Codella.


In contemplation of the collection of works, questions abound:

Who owns the work?

How can a piece of art made under an artist's direction not belong to the artist?

And yet, how can a piece of art that was created and interpreted by a maker's skills and imagination, not belong to the maker?

Can we recognise the makers or artists style? Is it recognisable as a Bethel or an Austin? Or is it a new fusion of ideas and interpretation? Has this experience pushed the artists out of their comfortable working practise and resulted in a new integration of unfamiliar methods?

This project has produced fascinating results. Without definite conclusion – the many questions around ownership unresolved – there has been, however, an alchemy between the participants, a genuine morphing and collaboration. For example, Garcia sends the concept of self portrait back to Murray who gleefully finds himself in technology; Foxton consults Mackay for further information; Korcheva resists and acquiesces to the indelible image of Welch; Garcia finds new imagery for the metaphorical and elusive pomegranate for Jensen Sweeting; Werner delves into the improbable reality of Murray; Chrisjohn immerses into the nuance of Moir Mackay.

"I" seems to break down the old hierarchies by entwining the artists/makers – the artists are makers and the makers are artists. It is a complex relationship that pulls against familiar allocations and labelling. Thus there is a possibility for a new paradigm of egalitarian balance and acknowledgement between makers and artists, novices and professionals, males and females, and respective nationalities.

Or as participant Laurie Tuchel notes,

"Firstly, I loved the concept of connection. Connecting people unknown to each other in such a creative way. I loved how each of us was given the chance to freely describe ourselves, opening all kinds of interesting avenues. And then I loved how we were left to interpret our assigned brief, proving that art in itself is alive and evolving. What starts out as one thing can become something completely new and different from its origins. I don't feel like the owner of my painting. My ownership was its creation but as it was inspired by another person, she too is part owner. The project was a wonderful artistic step for me. It has added a new layer of genuine understanding of how it can tell a story, both personal and universal at the same time".

As a forum, an online project, where works are not physically displayed and artists may never meet, "I" fulfilled itself as a meeting place- an intricate and intimate dance of art and minds. A truly curious collaboration into an old and new conundrum between makers and artists, exploring the lines between craft and art, nationality, experience and gender. It found, in its unlikely and impossible premise, a union between duality, if only by the inextricable connection between the participants and their work. And it rediscovered and deepened the meaning and our understanding of 'self portrait' – paradoxically shifting 'self' and "I" into community and collaboration!

About the Author:

Susan Moir Mackay is a professional artist with a B.A. (Hons) in Art and Design from Edinburgh College of Art. She is an impassioned advocate of art and has a deep abiding belief that art benefits individuals and communities. Susan has travelled extensively, observing art in all its forms and has invested much of her time to art education projects, as well as developing her own art works and exhibitions. After twenty years living in Freeport, Grand Bahama, Susan has returned to her homeland, Scotland with her two children, Fiona and Dylan. She can be reached at sozmac@yahoo.com
www.susanmoirmackay.wordpress.com





© Copyright 2014 by thebahamasweekly.com

Top of Page