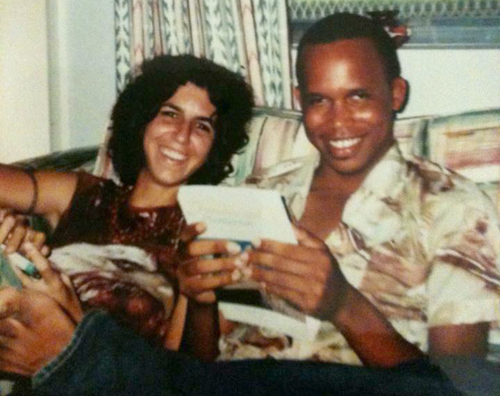 Maria Govan and I in 2003


I first met Maria Govan 13 years ago and since that time we have worked together on many projects as collaborators and have enjoyed a close friendship. As our 'Caribbean Storytellers' series at The Island House is almost nearing its end for 2015, it would be incomplete without showing Maria's debut film, Rain.

I recently chatted with her and asked a few questions about her film and career.

Can you tell us a little bit about your history? How did you get involve in filmmaking?

I have wanted to make films since I can remember. I decided that I would rather than go to college, move to LA and begin working in the industry. I did that for four years and then returned home, bought a digital camera and with my friend Erika Robinson, made a film about Junkanoo. That was 1999. I then took a camera workshop in Havana and returned home to begin making a film on HIV/AIDS in the Bahamas. That film though one of the most challenging times in my life, it really was a huge gift. That world really inspired the world of "Rain," which in so many ways really celebrated all of the films leading up to it.

What is your film Rain about?

Rain is the story of a young fourteen year old girl, Rain who lives with her Grandmother on a rural family island. When her Grandmother dies she travels to the big city of Nassau to reconnect with her estranged Mother. It's really a film about their reconciliation. It's a very common story here at home.

How do you connect to this story?

A big piece of Rain's journey is grounded in her finding her voice and speaking up for herself. I can relate to that very much.

Can you tell us some of the achievements of this film?

"Rain" premiered at the Toronto International Film Festival in 2008 and won awards at several international film festivals. The film was sold to Showtime Networks and also distributed by Image Entertainment. It has sold over 70, 000dvdsin the US alone.

What are some of the challenges you face as an independent filmmaker?

I think the biggest challenge is financial. It's very difficult to find financing these days and therefore films are being made on a dime so that we, the artists who have spent a year writing, a year producing and another year directing the work, are not being compensated in a way that is sustainable for our lives. It can be tough at this ripe old age of forty, but then again, at the same time, it is such a huge privilege to do what we love -- to make work that has meaning and resonance. Being a filmmaker and artist is a choice I have made and continue to make with gratitude. Besides I do believe that when we work at something for long enough it does eventually give.

What are you working on next?

I have just completed filming my second narrative feature called "Play the Devil." We shot it in Trinidad in the spring of this year and have been working on the edit during the summer. It's a coming of age film set against the backdrop of Carnival about a working class boy named Gregory who interfaces with many challenging aspects of his life. We were incredibly blessed to have significant support from the Trinidadian government. It was a very different experience from "Rain," in that it was a lot easier on so many levels. I'm excited to share it when it's all said and done!



Amy screens everyday from August 14-20th at 7:30 pm

Rain screens Saturday August 15th at 5pm

Life is Beautiful screens Sunday August 16th at 3pm.





Reservations must be made at The Island House at 242.698.6300

Email: cinema@the-island-house.com



About the author: Kareem Mortimer is an award winning filmmaker and artist who has completed several films including Children of God, Wind Jammers, Passage, Float and The Eleutheran Adventure. He is the President of the production company Best Ever Film and is the curator of the film program at The Island House Cinema, a boutique 48 seat theater in Western New Providence dedicated to showcasing the best in independent, foreign, art, Caribbean and Bahamian film. He is also in development of the feature film Cargo.