Last Updated:

Feb 6, 2017 - 2:32:04 PM
---

Nassau, Bahamas - The Bahamas Historical Soci ety is pleased to present a presentation on Nev

ille's Island with
Claire Simpson

on Thursday 14th March at 6pm.

Claire Simpson lived on Andros Island during the early 1990s whilst her husband, a Royal Navy officer, was stationed at the AUTEC base. Always interested in 'matters historical' she joined the fledgling Andros Historical Society, meeting Grace Turner in the process. Her travels on the island made her aware of the attempts of the Chamberlain family to set up a sisal plantation at Mastic Point in the late 1890s. On her return to the UK she moved to Birmingham, England, where by happy chance the 'Chamberlain archive' resided in the university.

Over the next five years she carefully researched the many letters written by Neville Chamberlain to his father Joseph and his siblings – and their letters in return. Research was greatly assisted by Claire's personal knowledge of the area. The seven years of the young Neville's life in what was then an extremely isolated community have been largely ignored by his later biographers even though it is obvious that this experience, from the early age of 21, must had had a profound influence on him. Claire's book, Neville's Island, is intended to bring this period to the public record in a readable and non-academic way – particularly interesting are the many photographs taken by Neville himself and later found by his grandson in a family attic.

Claire continues to live in Birmingham and is the Chairman of her local History Society.

The e-book is available in the Amazon Kindle library. Readers will need a Kindle device – or free software can be downloaded from Amazon to enable e-books to be read on a PC. It is necessary to sign up for an Amazon Account in order to pay for the book – currently £3.28. The book is called 'Neville's Island' and the author is Claire Simpson

An email from Joan (Bethel) Lightbourne

"Jim, I have been enjoying reading your articles on Dr. Paul and Harbour Island. In re last Saturday's, my father's ancestors on both his father's and mother's sides came from HI. The Bethels left HI several generations before his birth, but his mother, Eunice Julia Johnson, daughter of Samuel James Johnson, was born on HI as were her siblings Ellen Menendez Johnson, MBE the postmistress of the Parcel Post Office, and Lambert Samuel Johnson* who was in the Imperial Lighthouse Service and used to visit all the lighthouses in the Bahamas, collecting native orchids as he went. These Johnsons and the ones mentioned in your article are all members of the same family--quite a remarkable one, I think!

But it is my father who I wish to bring to your attention as I consider him one of our "Bahamian heroes", though that term seems only to apply to sports and political figures these days! He was John Percival Bethel, b. 5 January 1904 here in Nassau. He was educated at Queen's College (where 2 of his maiden aunts Florrie and Laura Bethel taught--Anne will remember them) and at 16 went off to McGill where he obtained his BA degree in 1924. Then he went to Harvard for his MA and PhD (1927) in English and Philosophy. He remained in the US, at first working at Popular Science Magazine and teaching English at the then Buffalo State Teachers College where he taught my mother. Within a few years, he went to Springfield, Massachusetts to work at the G & C Merriam Company, compilers and publishers of Merriam-Webster Dictionaries. He quickly rose to become the General Editor (Editor-in-Chief) and remained in that post until his health determined his return to Nassau in 1952. He continued as a consultant editor until my parents moved to Miami in 1957 so that he could be near medical facilities and an assured source of oxygen upon which he had become dependent. He died in Miami 28 May 1958.

A little island boy, with roots in Harbour Island, who became a prominent lexicographer.

From a proud daughter, Joan (Bethel Lightbourn)

* I think Lambert Johnson was the artist, who built models of The Dart and The Marie J Thompson that are featured in the BHS Museum

And Priscilla Benner sent me the front page of the Tribune dated 29 April 1974 – in essence the headline was:

Historical Society 'was near bankruptcy'



'it was only due to the late Sir Harold Christie's appeal for funds from his friends that saved the Society….

This was told to the 150 member strong society by re-elected president Dr Paul Albury ….Governor General Sir Milo and Lady Butler became Honorary Patrons….Dr Albury paid tribute to Sir Harold, who died on a business trip last year………Sir Harold paid more than $5,000 for renovations to the Cumberland Street Headquarters………the expenses were $5,244 and at least $1,000 were needed for maintenance to the building…it was suggested that the headquarters be given up and store its belongings and that a building fund should be started…….Said Dr Albury "In the pall of gloom brought on by such severe retraction of our activities…it was even suggested we should consider disbanding the Society…..but the majority of members looked on this as unthinkable. And to my mind it is unthinkable that a city like Nassau and a country like the Bahamas so rich in history should not have a Historical Society.

So our history shows that the IODE saved The Bahamas Historical Society from extinction by the donation of the IODE Headquarters in 1976 which is now our museum.

We are thriving with visitors, meetings and a strong band of volunteers (most of an advanced age)

But we are again struggling with maintenance and renovation…so any help you can provide even with just the payment of your yearly dues would be greatly appreciated.

The Bahamas Historical Society (BHS) is a non-profit organization dedicated to stimulating interest in Bahamian History and to the collection and preservation of material relating thereto. Its Headquarters, the former IODE Hall, was a gift from the Imperial Order of the Daughters of the Empire (IODE). BHS is on Shirley Street and Elizabeth Avenue in Nassau. www.bahamashistoricalsociety. com
All talks at our museum corner of Shirley Street and Elizabeth Avenue Parking at the ex Psilinakis carpark north of the museum on Elizabeth Ave. Entrance via First Caribbean Bank on Shirley Street. – Thanks to Manager Byron Miller (Thanks to Philippa Moss COB English Dept for Map below)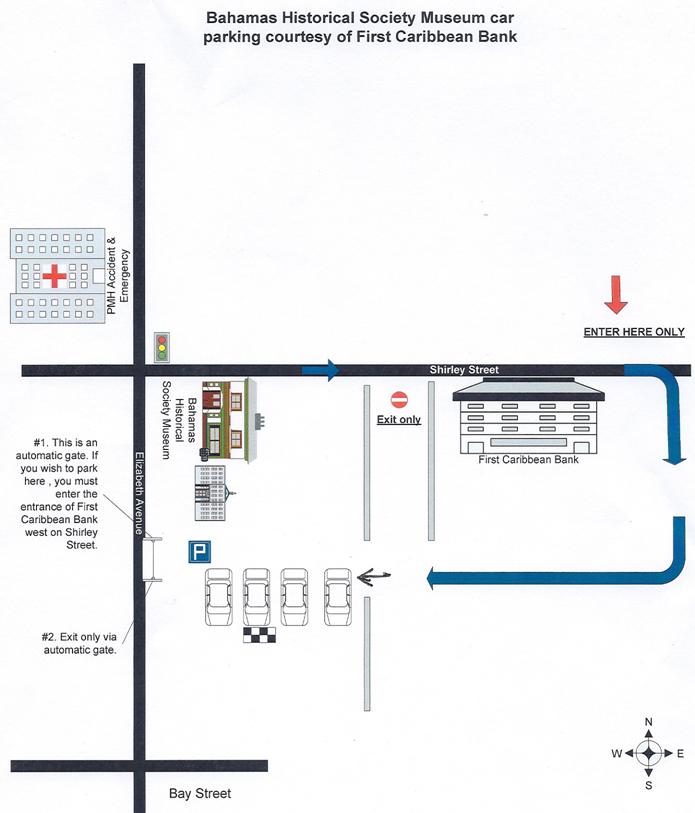 © Copyright 2013 by thebahamasweekly.com

Top of Page