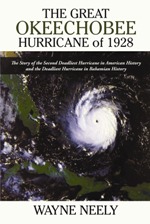 Nassau, Bahamas - The Bahamas Historical Society & Museum invite the public to attend the following free lecture at #28 Shirley Street and Elizabeth Avenue on

Thursday, 26th February, 2015.




Wayne Neely, Published Author will speak on his book, "The Great Okeechobee Hurricane of 1928 - The Story of the Second Deadliest Hurricane in American History and The Deadliest Hurricane in Bahamian History."


Mr. Neely will offer a book signing immediately after the talk. His book is based on the great impact this storm had on the Caribbean, The Bahamas and the United States in 1928.


Parking is available at the First Caribbean Parking Lotjust behind The Bahamas Historical Society. Entrance to the Lot is on Shirley Street, Nassau, Bahamas.


Telephone 322-4231 or 393-1696
The Bahamas Historical Society (BHS) is a non-profit organization dedicated to stimulating interest in Bahamian History and to the collection and preservation of material relating thereto. Its Headquarters, the former IODE Hall, was a gift from the Imperial Order of the Daughters of the Empire (IODE). BHS is on Shirley Street and Elizabeth Avenue in Nassau. www.bahamashistoricalsociety. com