Nassau, Bahamas - The Bahamas Historical Society presents 'The Great Bahamas Hurricane of 1866', with Wayne Neely, one of the world's leading authorities on Bahamian and Caribbean hurricanes on
Thursday 23rd February at 6pm at the BHS Museum
. Neely will give an engaging account of this awe-inspiring meteorological event. He will reveal how this hurricane literally devastated the entire Bahamas and actually altered the course of Bahamian history.

Wayne Neely is a certified Bahamian Meteorologist and Forecaster working at the Department of Meteorology in Nassau, Bahamas for the last 20 years. Prior to working in the meteorological field, he majored in Geography and History at the College of the Bahamas in Nassau. He then attended the Caribbean Meteorological Institute in Barbados where he majored and specialized in weather forecasting.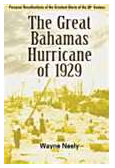 His books include: 'The Great Bahamas Hurricane of 1929.' 'The Major Hurricanes to Affect the Bahamas' 'Rediscovering Hurricanes' (Foreword by Herbert Saffir). 'The Great Bahamian Hurricanes of 1926'(Foreword by Bryan Norcross) and 'The Great Bahamas Hurricane of 1866.'

His sixth book on Bahamian Hurricanes called 'The Great Bahamian Hurricanes of 1899 and 1932'(Foreword by Professor William Gray) will be released on June 01st of this year.
COMING UP at BHS:



Thursday 29th March at 6pm

The Bahamas in American History

by Dr Keith Tinker
The Bahamas Historical Society (BHS) is a non-profit organization dedicated to stimulating interest in Bahamian History and to the collection and preservation of material relating thereto. Its Headquarters, the former IODE Hall, was a gift from the Imperial Order of the Daughters of the Empire (IODE). BHS is on Shirley Street and Elizabeth Avenue in Nassau. www.bahamashistoricalsociety. com
Thanks to Robert Dorsett: Here are the links to the latest presentation at the Bahamas Historical Society by Wayne Neely.

http://www.youtube.com/watch? v=Cgqt7YPVxz4
http://www.youtube.com/watch? v=ateAcBJr5mQ
http://www.youtube.com/watch? v=0ZrwsD-M9WM
http://www.youtube.com/watch? v=k_L966rZUWU
http://www.youtube.com/watch? v=av79NGIN0TY