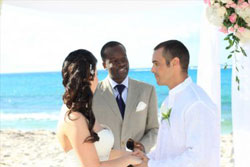 It's a question I hear tossed about all the time but, are prenuptial agreement legal in the Bahamas?

Well, we may now have the answer and from all indication it is a very clear and a decisive one.


So if you are toying with the idea of entering into a prenuptial agreement thinking that it does not have any weight in

"law"

in the Bahamas then you had better listen up.

In what is being herald as a precedent setting case, the Supreme Court of The Bahamas has ruled that a prenuptial agreement signed by a couple residing in the Bahamas is legal and binding.


So, I just had to put the question to the attorney at the heart of this almost seven year case Nerissa Greene, Partner at Halsbury Chambers; and according to Ms. Greene the answer to question is both

"Yes and no!"



Yes, in that prenuptial agreements are

"contracts"

and like any other contract the court can review it to determine the magnitude of its enforceability. Coincidentally, no it is not binding but the courts again would have to determine whether there was

"full disclosure."



This was the underlying factor in the decision by Chief Justice Sir Michael Barnett. According to Ms. Greene

"The Chief Justice's decision spells out in very clear and concise terms that a prenuptial agreement entered into voluntarily and with full knowledge carries the weight of any contract between two persons and as such is to be treated as a contract would be."



This case which is the first real test of a prenuptial agreement in the Bahamas has now opened the way for the courts to look at any prenuptial agreement and determine whether there was full disclosure of the assets owned prior to the marriage. And if there was

"full disclosure"

the precedent is there to uphold that agreement.

As the Chief Justice's ruling

"Reaffirms the validity of an agreement signed by two people exercising individual rights when heads are cool and no one is mired in the emotional heat of battle as often happens following a break-up."



Clearly indicating that a prenuptial agreement like a marriage, is an individual choice and should never be entered into lightly or unadvisedly.
Halsbury Chambers partner, Nerissa Greene precident-setting case involving prenuptial agreements


Glenn S. Ferguson is Resident Wedding Officiant & Wedding Planner at Bahamas Destination Wedding a company specializing in wedding services in the Bahamas.

Email any question your questions about wedding in the Bahamas to glenn@bahamas-destination-wedding.com or Tel: 1-242-327-2453 or 1-501-588-4621