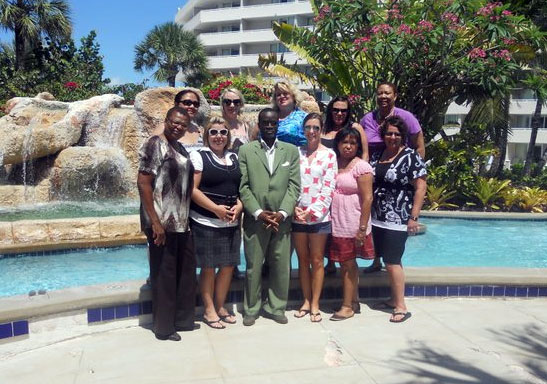 Nassau, Bahamas - The Wedding Planners Institute of Canada (WPIC), brought the world of wedding planning certification to the Bahamas when it held its International wedding consultant and coordinator certification seminar at the Sheraton Cable Beach Resort, May 27 and 28, 2011.

The two days event attracted wedding planners and coordinators from across Canada, United States of America and as far away as Australia. And Bahamas wedding planners from New Providence and Long Island.

The Certificate in Wedding Planning and Coordination course is Canada's only licensed in class wedding coordination program and is made up of lectures, industry speakers, group work and home-study. The course was conducted by Monica Hatala-Hill, Instructor and WPIC's Co-founder, President and CFO Danielle Andrews Sunkel.

Mrs Hatala-Hill, responding to the question "what is the value that planner will get from these sessions?" said

" the certification program it going to give them a base knowledge and basically arm them for their career in wedding planning. And ultimately our goal is to give the basic lay out on how your business should be set up, what prices you should be charging for your services, how to prepare yourself for meeting with vendors, which to me is one most important aspect of your wedding planning because the vendors you are recommending are a direct reflection of your company."



In commenting on the session Mrs Andrews-Sunkel said,

" The Wedding Planners Institute of Canada is a certification for wedding coordinators as well as an association for wedding coordinators. So what we do is first educate coordinators and then support them after. So we are different than anywhere else because we really want you to succeed. We want people to be doing the proper things and living up to proper industry standard and we want to help them every step of the way."



She continued by saying that "

WPIC is just strong ethic and it's so the client can be comfortable in working with WPIC certified person in knowing that they are following these ethic and that they are regulated."



This is the second time, that WPIC has held its Wedding Coordinator Certification seminar in the Bahamas and has now certified some 44 Bahamian wedding coordinators. With Alumni in Japan, Hong Kong, England, Australia, France, Mexico, Italy, Spain and across the Caribbean.

The Institute also held it 6th Annual International Wedding Professional Conference in the Bahamas in November, 2010.
Glenn S. Ferguson is your Wedding Officiant & Wedding Planner at Bahamas Destination Wedding – Helping You To Create Your Memorable Bahamas Wedding. Just email any question you may have about wedding in the Bahamas to glenn@bahamas-destination-wedding.com or Tel: 1-242-327-2453 or

1-501-588-4621

begin_of_the_skype_highlighting

1-501-588-4621

end_of_the_skype_highlighting

USA.