Freeport, Bahamas - The 10th annual Christmas Bird Count for the year 2010 was held this past Wednesday, January 5th, 2011.
The Grand Bahama birding community enthusiastically participated in the count and joined visiting birding experts to form five teams that observed, identified and recorded species from sunrise to sunset.
The count was fortunate to have Bruce Hallet from Atlanta participate. Bruce recently published the most comprehensive photographic birding field guide for the Bahamas and Turks and Caicos Islands. A twenty-five year interest and preoccupation with birds has taken him to some of the more remote regions of the world. For the past several years, he has concentrated his travels to the islands of The Bahamas. He is currently a member of the first Bahamas Avian Records Committee.
Dr. Elwood "Woody" Bracy, a retired medical doctor who makes his home in Treasure Cay, Abaco, was also one of the team leaders. Woody is considered the foremost authority on sea and shorebirds in the Abacos and he enjoys watching birds from his boat together with his wife Betsy. His expertise and enthusiasm is always appreciated when he joins Grand Bahama's Christmas Bird Count. Dr. Bracy is the compiler and organizer of the annual Abaco Christmas Bird count.
Everybody welcomed back Anthony White from Bethesda, Maryland. Tony is a retired Naval officer and has studied birds in the Bahamas for over 30 years. He brought birding into the local communities by introducing Christmas Bird Counts throughout the Bahamas over ten years ago. He is the author of the "Birder's Guide of the Bahama Islands" and a member of the American Birding Association's Board of Directors. Tony compiled 10 ABA regional checklists for North America and one for the Bahamas and Turks and Caicos. He has advised the Bahamas Ministry of Tourism on matters concerning birds, birding and conservation. His Bahama list records over 220 species.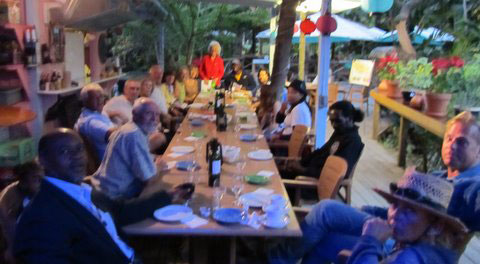 It was one of the best days in the history of Grand Bahama's bird counts. The weather was a balmy 75 degrees with winds around 10 mph - prerequisites for perfect birding. Five teams with over 30 birders went into the designated areas from dawn to dusk. When the recorded species were read out loud by each team during the "tally rally" at Garden of the Groves that evening more than 100 species had been seen. The exact number of species will be determined within a couple of days when additional species are added that are observed within the count week. Bruce Purdy, a former resident of Grand Bahama, came back from his new home in Destin, Florida, to be the official compiler for the count. Bruce has made a tremendous contribution to birding on Grand Bahama while residing here. He birded many times a week and frequently guided young Bahamians into the field to introduce them into the fascinating world of birds. During his outings he would patiently seek and photograph birds never recorded here. Bruce would report them to the American Birding Association and thereby increase the species account for the island. His expertise and enthusiasm will be missed but his return to this year's count was appreciated by all.
Erika Gates, who has organized the Grand Bahama Christmas Bird Count over the years, was delighted about its outcome and commented: "I am happy that we were able to observe and record such a large number of species. The count will make a significant contribution to environmental assessment and future conservation. When our observations are entered into the largest database in ornithology, declines and increases in bird populations will be determined. These findings can then indicate environmental degradation of bird habitats through pollution, deforestation or development that will affect human quality of life as well."
Christmas Birds Counts are conducted on one day during a four week period in December/January throughout North America, Central America, The Caribbean and South America with over 60.000 persons participating. In the Bahamas counts take place on New Providence, Grand Bahama and Abaco.
Erika Gates –

Bird Talk

:
owner of Kayak Nature Tours (one of the first Eco-Tour businesses in The Bahamas); co-founder of the Ecotourism Association; a published writer; and a Cacique award winner! Her column

Bird Talk

will enlighten and educate us about birds of The Bahamas, as well as the importance of Ecology. Erika can be reached at

gbntours@hotmail.com

or (242) 373-2485